Over the past few years, boutique fitness studios have undergone a mind-blowing surge in popularity throughout Denver as well as across the nation. With a recorded 450 percent increase in boutique studios since 2010, it's no surprise this magical combination of a trendy space, an innovative workout concept, great retail offerings and a buzzing cult-like following have made them a hit in the Mile High.
Boutique fitness studio
noun
1. a small trendy upscale gym space (800 – 3500 square feet) that focuses on group exercise and specializes in one or two fitness areas. One of the most remarkable aspects of boutiques is their premium price tag. Fitness goers enjoy smaller specialized classes, elite customer service and motivating,  knowledgeable instructors.
But with such a huge spike in availability, how do you choose which workout is best? Specializing in everything from barre, yoga, Pilates, cycling or even a combination of multiple disciplines can be overwhelming. But after three years of writing fitness for 303 Magazine, I can honestly say that I have done it all, from pole fitness to bungee-kickboxing and everything in between. If my rough estimates are correct I have spent approximately 1,100 hours exercising in Denver over the last three years. The following are my favorite boutique fitness studios where I can honestly say you are safe to spend your time (and your hard earned money).
The Dailey Method (Highlands)
Where: 4342 Tennyson Street
Cost: $20/class (memberships available)
On ClassPass: yes
Parking: street
Click here for website

The Concept: Founded by Jill Dailey, the fitness concept is a combination of barre, Pilates, ballet, yoga and orthopedic stretching. Unlike most barre studios, each workout is actually different. They still follow the traditional barre-path (warm-up, arms, thighs, seat, abs, bridge) but each class has different exercises so the workouts never get mundane. Led by the sweet and passionate Carrie Krane (owner) the class has incredibly simple instructions. They are some of the most knowledgeable iand encouraging in the business. They are sticklers for proper alignment and are not afraid to get hands-on in order to make adjustments.
The Vibe: Fitting with its Highlands location, the studio is open with lots of lighting and crisp, hardwood floors. Sporting its signature green and orange accents, the feel is chic but welcoming. The crowd is a mix of hot barre moms, edgy Highlanders and (unlike most barre studios) regular folks who do not own any Lululemon. No need to worry about "gym-timidation" here; the workouts are welcome to all levels.
Bonus: take your kids, the studio offers $5 childcare during classes.
This slideshow requires JavaScript.
CycleBar
Where: 7600 Landmark Way #201, Greenwood Village & 7824 Park Meadows Drive #150, Lone Tree
Cost: $22/ride (pay as you ride – no memberships available) 
On ClassPass: No
Parking: provided on site
Click here for website
The concept: CycleBar is stationary cycling mixed with a rock concert. Rides are set to upbeat music, lights, candles and on-screen stats. Denver transplants may recognize this type of luxury studio concept, similar to studios like SoulCycle or Flywheel. They offer specially themed rides in coordination with days of the week or world events: happy hour rides every Friday, bring-a-friend-for-free rides, even Olympic themed rides when the Rio games were going on.
The Vibe: Studios are posh, sleek, welcoming and fit in with their DTC and Lone Tree settings. They include all of the amenities: spinning shoes, towels, lockers, showers, even a hydration station where riders are able to pick between different temperatures of water and grab a snack for the way home.
The only downside: the high price tag. Without any membership options this studio is truly boutique to the core. It is not something most people could afford to do every day in order to lose weight or reach a certain fitness goal.
This slideshow requires JavaScript.
Samadhi Center For Yoga (Uptown)
Where: 639 E 19th Avenue
Cost: $19/class (memberships available)
On ClassPass: yes
Parking: street
Click here for website 
The Concept: Samadhi Center for Yoga is traditional, non-commercialized yoga. So many studios have taken yoga and turned it into a cash machine. We all know those places where they turn up the heat until you pass out, you feel like a peasant if you are not wearing a $300 Lululemon outfit and you are not even sure why you do any of the poses they ask you to do. Samadhi is the exact opposite.
The Vibe: It is hippy times 100 (but in the best way). Think prayer flags, intricate and exquisite Buddhist wall paintings, essential oils, chanting and yogis in headstands and you can imagine this studio. Located near downtown Denver, Samadhi is a beautiful escape from the fast-paced city that surrounds it. The instructors are required to go through some of the most rigorous certification training — studying poses, yoga history, chakras and meditation.
Try: the 'Candlelight Vinyasa' class, it is my favorite.
This slideshow requires JavaScript.
City Surf Fitness
Where: 2525 15th Street #1d
Cost: $25/class (memberships available)
On ClassPass: yes
Parking: street
Click here for website
The Concept: As residents of a landlocked state, most of us Coloradans have given up on our dreams of learning to surf — and our hopes of attaining a lean-cut surfer's bod. Insert the latest fitness craze, City Surf Fitness which is making waves across Denver (pun intended). This unique studio features four different classes that include balance, yoga, barre, Pilates, weight resistance training and cardio techniques.
The Vibe: Located in LoHi, this new studio will make you feel like you stepped into a building off of Huntington Beach. With brightly lit windows and nautical-inspired decor, the studio sets the perfect atmosphere for the workout. Most of the class takes place on the individual stability surfboards with other recognizable equipment. Instructors lead the different 50-minute classes with enthusiasm and encouragement.
This slideshow requires JavaScript.
The Barre Code
Where: 2252 Larimer Street
Cost: $20/class (memberships available)
On ClassPass: yes
Parking: street
Click here for website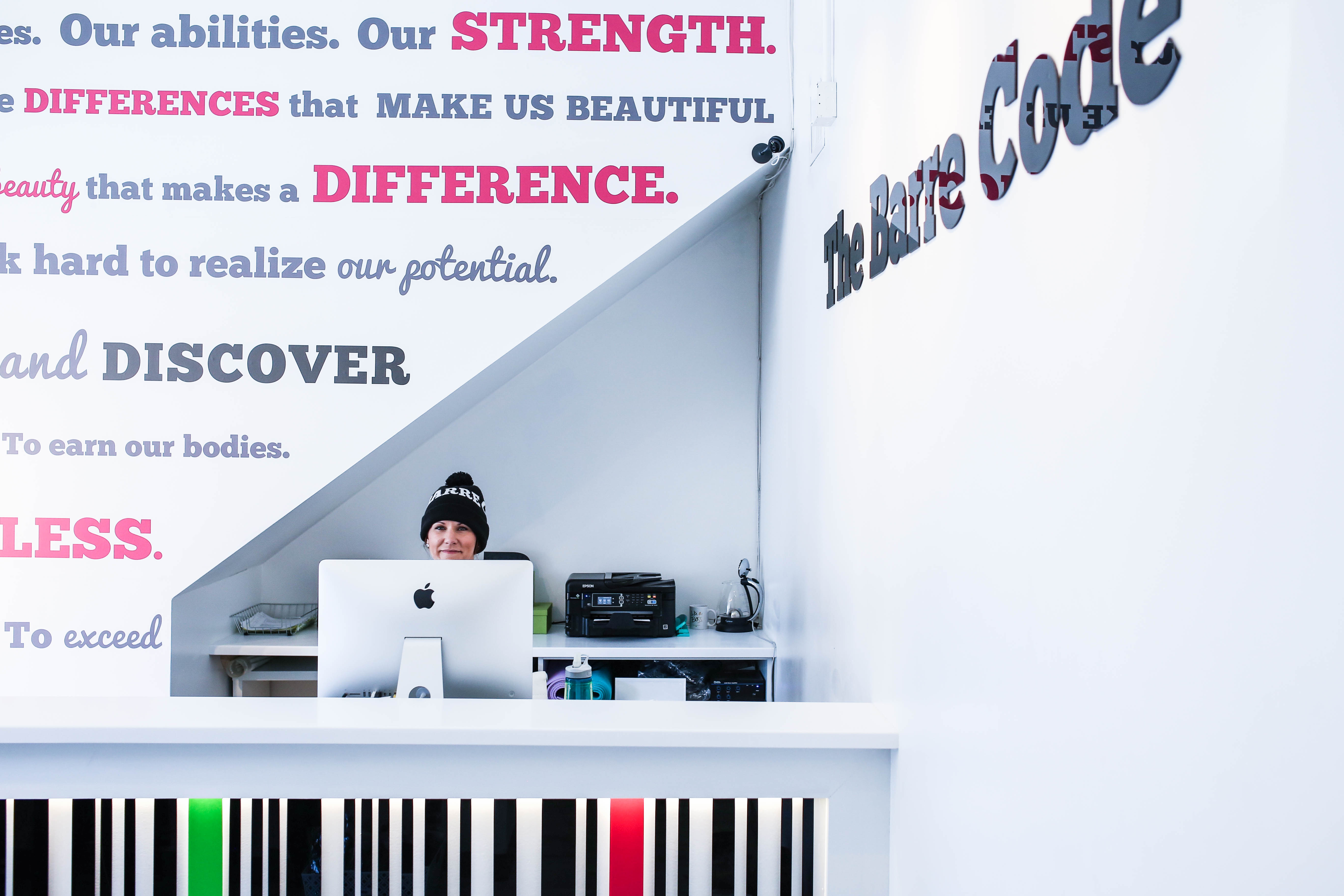 The Concept: It is barre with a twist; traditional barre classes are paired with concepts like boxing or heat infusion sweat-sessions. The instructors are enthusiastic and the classes are fast-paced. In other words, they kick your ass, and your arms and your thighs and your back and your shoulders, into shape. Oh, and you'll sweat. Literal buckets of sweat. This is partly because the studio is heated to 100 degrees, but mostly because The Barre Code offers a fantastic workout.
The Vibe: Located in Denver's RiNo district, this gym features a two-room studio, one large and used for their brawl-inspired classes, the other smaller and heated for its sweat-inspired sessions. The neighborhood setting and voguish indoor atmosphere are what truly makes The Barre Code stand out from its competitors. The studio features a clean white theme with different hits of color throughout.  Don't be surprised to see The Barre Code out in the community; they like to host workouts at famous outdoor hot spots like the lawn of ViewHouse.
This slideshow requires JavaScript.
Qi Flow (RiNo)
Where: 2636 Walnut Street
Cost: $20 drop-in (memberships available)
On ClassPass: yes
Parking: street or valet (If the attendant is actually there you are able to use the free service during your time at Qi.)
Click here for website 
The Concept: Qi Flow has recently changed to fit into the boutique scene. They used to offer both guided classes and open memberships (come whenever to use free weights or treadmills). But within the last two years they have evolved into only hosting scheduled classes. What I like the most about Qi is how they host classes split between concepts (cycle-barre, cycle-yoga, yoga-boxing), so you can get multiple workouts in each visit.
The Vibe: The garage-style, graffiti-surrounded decor of RiNo gives it an edgy and almost restless feel. You definitely feel like a badass while working out. The crowd is mostly millennials.
Tip: the restaurants in this neighborhood are top notch. Make it a date night with a workout followed by dinner in this revamped warehouse distric. My favorites are Osaka Ramen, Park Burger and Los Chingones.
This slideshow requires JavaScript.
Endorphin
Where: 7 locations in the metro area
Cost: $18/class (memberships available)
On ClassPass: yes
Click here for website 
The Concept: Offering 23 different classes, they have it all: yoga, barre, core blast, boxing, HIIT, hip hop, kettle bells and cycling. With so many locations the instructors do often rotate, so it can be hard to form a connection, but the other participants stay the same.
The Vibe: It totally depends on the location; each studio has a different feel. Take a sunset spin class two floors above Broadway Street in their simply-decorated Broadway location or take a hardcore rocking ride amidst the bustling complex of the Lowry Buckley Air Force district.
Pro tip: After trying all of the studios, my favorites for each workout are Broadway (SOBO) for cycling and Ryders for kickboxing.
This slideshow requires JavaScript.
Kindness Yoga
Where: 6 locations in the metro area
Cost: $18/class (memberships available)
On ClassPass: yes
Click here for website 
The Concept: It is yoga that is authentic without being cheesy. In other words, yoga without any of the yoga pretentiousness. This is a great place to catch a class on the fly or try out a few different styles of yoga to see what suits you. It has a homey, welcoming atmosphere and fantastic instructors.
The Vibe: A lot of yoga studios can be intimidating to newcomers. But the culture at Kindness Yoga is what sets it apart from other yoga studios. It revolves around kindness (who would have guessed) and compassion.
Tip: Get to the studio early. With affordable packages and a partnership with ClassPass, yoga practices tend to fill up. If you want a certain spot, you better get there early.
This slideshow requires JavaScript.
—
Hesitant to drop $20 for a workout you have never tried before? Give ClassPass a try;  you pay $90/month and you can visit each studio in their network (there are hundreds in Denver) up to three times in a month cycle.
Did we miss any? What is your favorite boutique fitness studio in Denver? Comment below.