At this time, Colorado may be most well–known for its legalization of recreational marijuana, a move that has opened a vast number of opportunities for jobs and has led to an influx of ganjapreneurs—people who are making weed their business, legally. One of these ganjapreneurs—the so–called Steve Jobs of marijuana— is Denver's own Joshua Haupt, and with his simple, straight–forward book about cultivating cannabis and his outgoing generosity he is revolutionizing the industry.
The book, titled Three A Light, was released with a big reception in November last year (a party that included Redman and Ky–Mani Marley) and has since sold 750 copies, an impressive number when the book is $500. But the price is worth it when you understand what Haupt is promising with his methods and nutrients—that is, a yield–to–light ratio of three pounds to one light, a harvest that most experienced growers drool over. "There hasn't been anything out there how to grow A to Z," Haupt told 303, "this [book] is how you grow, but more importantly this is how you grow with the most coveted secrets."
"If someone can see the value in this book and wants to support us, I want to support them and make sure they are incredibly successful."
But what makes Haupt special, more than his obvious talent with growing marijuana, is his desire to share his knowledge with the rest of the industry. The art of growing has traditionally been a fairly secretive process, something that took a mentor or the gathering of many separate pieces of information or trial and error. But Haupt sought to present the process openly and simply, offering potential or current growers the chance to improve their yields and quality in the hopes of boosting the industry standard to a higher level. It's not about competition to him, as he remarked, " it's gotta be good for everybody. I feel as though people are so self–driven that you have to be willing to give back to make a difference. I'm convinced that if you give a lot you are going to get a lot. It's easy for me to constantly give back, if someone can see the value in this book and wants to support us, I want to support them and make sure they are incredibly successful."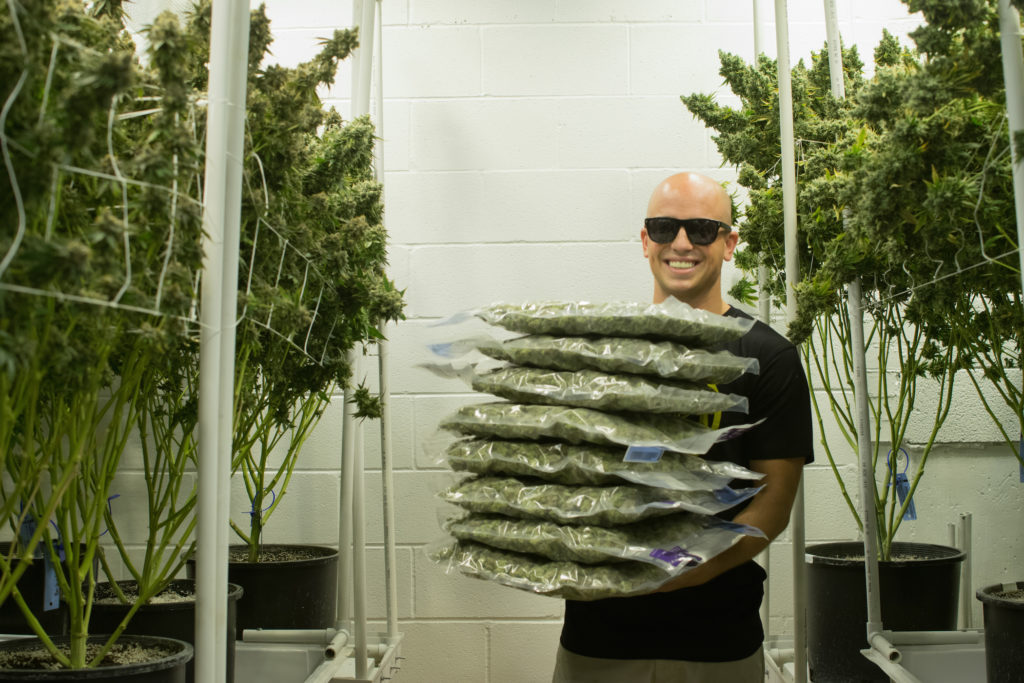 Though his demeanor is easy–going, Haupt has put himself on an ambitious path, attributing some of his entrepreneurial spirit to his family history of self–starters. And even though his company recently took on the ex–Vice President and CEO of Coca–Cola, Terry Fitch, Haupt still manages to give customer service personally to anyone who buys one of his books—proving that his success hasn't spoiled his original goal to help people. Many of his employees are personal friends or people who have a strong connection to the role cannabis can fulfill in their lives. Haupt said, "I want to give back to my friends. I tell my team all the time that we all sit at the exact same table and we all bring different things to it. There wouldn't be a table without all of us. I need all those people and they need me too, it's a beautiful thing."
Cannabis became hugely important to Haupt when he discovered its utility for his epilepsy, something that all the drugs given to him by traditional means had failed to do up to that point, even triggering him to lose his hair at 19.
"It's just amazing how much better it is for me, as a person, so I wanted the rest of the world to have access to that knowledge." And it is easy to see that more of the world is interested in that knowledge than ever before, with 25 states and the District of Columbia currently legalizing marijuana in one way or another. It's a tipping point and Haupt is placing his company on the edge, believing that "in the next 36–60 months, it will tip federally. When it tips federally it's okay for us to ship to other states, and when that happens the price per pound will probably go to $8,000–$10,000 overnight because you have way more demand than you have supply."
Haupt and his General Manager Mike Welsh took us on a personal tour of one of the grow facilities in Denver—Superfarm—where there are 16 flower rooms, 8 vegetative (veg) rooms and 82 employees. There we witnessed a schwazze—the somewhat controversial process Haupt explains with the help of a progression of photos in the book, where all of the fan leaves are removed from each plant not once, but twice during the flower stage—as well as some Research and Development rooms, all for the sake of urging plants beyond their typical output without sacrificing quality. Superfarm harvests every four days, with a profit of $90 per square foot—that is four times the average amount of other grow warehouses. And Haupt seems confident that three pounds per light is only the beginning, insisting that "we are currently doing four a light, soon five… and I think six is the roof. We'll get there."
The approaches in the book are not recommended without the nutrients that Haupt created with an agricultural chemist—Success Nutrients—after discovering that most nutrients on the market are not transparent about their formulas and often are misleading with their ratios and ingredients. It is another way that Haupt aims to improve the overall quality of cannabis and to prove he is confident about his nutrients, a starter pack is provided with the purchase of the book. His hopes are for Success Nutrients to reach 80 percent of the market share in the next 10 years, though at the moment they are only sold online and out of his warehouse in Denver.
This slideshow requires JavaScript.
"I think the world needs more voices of reason, someone who will want to give back and inspire others to do well for themselves."
Haupt's outgoing nature seems contagious in the warehouse, where employees complete a variety of tasks like watering, transplanting, cloning, pruning and schwazzing while listening to music. "Energy is everything when we are growing," Haupt insisted, "It might be silly but we play Marvin Gaye radio when we are cloning, we want everyone to know, hey we are making babies in here." And there is even an entire section in the book dedicated to Love, something Haupt feels strongly about and that is more than apparent when watching him interact with his employees and his plants.
There is something special about Haupt's approach to the business, and people are noticing. His warehouses in Aurora and Denver garner national attention from interested parties for legalizing cannabis. And seeing the immensity of his efforts paying off enlivens Haupt to live up to his success, "you have to have a why behind all your practices. My why is to take care of the ones I love. I want to make sure all my friends have great jobs. And I want to try to solve some of the problems in the world. I think the world needs more voices of reason, someone who will want to give back and inspire others to do well for themselves."
Visit the Three A Light website for more information and to purchase the book.
All photos by Sina Ghozati unless otherwise noted.