Does the thought of sifting through second-hand clothing have your pulse racing, beads of sweat forming on your forehead and leave you wishing you had packed deodorant in your purse?
It's ok, we understand. Thrifting can be stressful and we get it's not for every personality. If thrifting has you feeling all sorts of stressed out then we suggest starting with consignment. It allows you the opportunity to snag some great second-hand bargains, while still shopping local.
We love the ladies at Common Threads Consignment. This local boutique has endless possibilities when it comes to finding designer clothing at a great price point. Common Threads has two locations, Denver and Boulder, run by a dynamic sister duo, Libby Alexander and Jennifer Wilshire. Originally founded by Alexander, she later brought on her sister to open the Denver store  Together the two stores provide an eclectic mix of designer favorites such as Prada and Isabel Marant and fashion forward basics from stores like Anthropologie and J.Crew to offer the modern shopper affordable and sustainable fashion.
We spoke with one of the managers at the Denver store, Shelley Patterson, who gave us all the expert tips on how to consign clothes and style your treasures.
9 Tips for Consigning Clothes
1. Ask what is the payout to the consignors. Common Threads pays out a 50/50 split, but each store is different.
2. Most shops give you the option to donate your items that didn't sell or pick them back up. At Common Threads, items remain on the floor for 45 days.
3. Every consignment store is different so make sure to check the store policy on what brands of clothing are accepted. The profit margin is small on items from stores like Target and Old Navy because you can buy the clothes new, in store for so cheap. Common Threads starts with brands like J.Crew and goes up on price from there.
4. An appointment is required for your first consignment consultation, after that consignors are eligible for "drop and go." Again, every consignment store is different but inquire if an appointment is needed before you show up with all of your clothes.
5. Consigning is different than retail in that the items in the store are to be worn now, not three months ahead of schedule like retail stores. Keep this in mind for buying and consigning clothes.
6. Don't buy something just because it's cheap. When finding great deals, especially with second-hand items, it can be easy to think you love something just because of the price tag. Try not to even look at the price until you've decided if you can live without that item or not, then decided if you can afford it.
7. Have a designer bag or certain shoes you would just love to get your hands on? Many stores allow you to create a wishlist of items they will save specifically for you the second they walk through the door.
8. Branch out of your comfort zone. A consignment shop is a great place to "try something on" – funky heels, a bold pattern, something with leather, give it a try. Since you aren't breaking the bank for the designer item it's a good excuse to branch out.
9. Need to get those creative juices flowing? The Boulder store offers classes in their Creative Lab for kids and adults alike. The Creative Lab is a place where highly skilled fashion and craft industry professionals share their knowledge and passions with the community in a relaxed and inspiring environment. Grab your girlfriends and host a ladies' night. Get more info on it here.
Consignment Looks
It can be hard to break out of a style rut or step your wardrobe up a notch. Have no fear, we decided to live a little and have three amazing outfits to show you all from consigned treasures. These three outfits scream sophistication but still let our personality shine. That's a win-win in our book.
Look 1 – Prada Skirt
Rock 'N Roll Tee – $10.50
Prada Skirt – Originally $95, marked down to $30
Be Hippie Necklace – $110
Casadei Suede Wedge – $68.50
Flat Croc Clutch – $83
Look 2: Diane Von Furstenberg Leopard Print Pant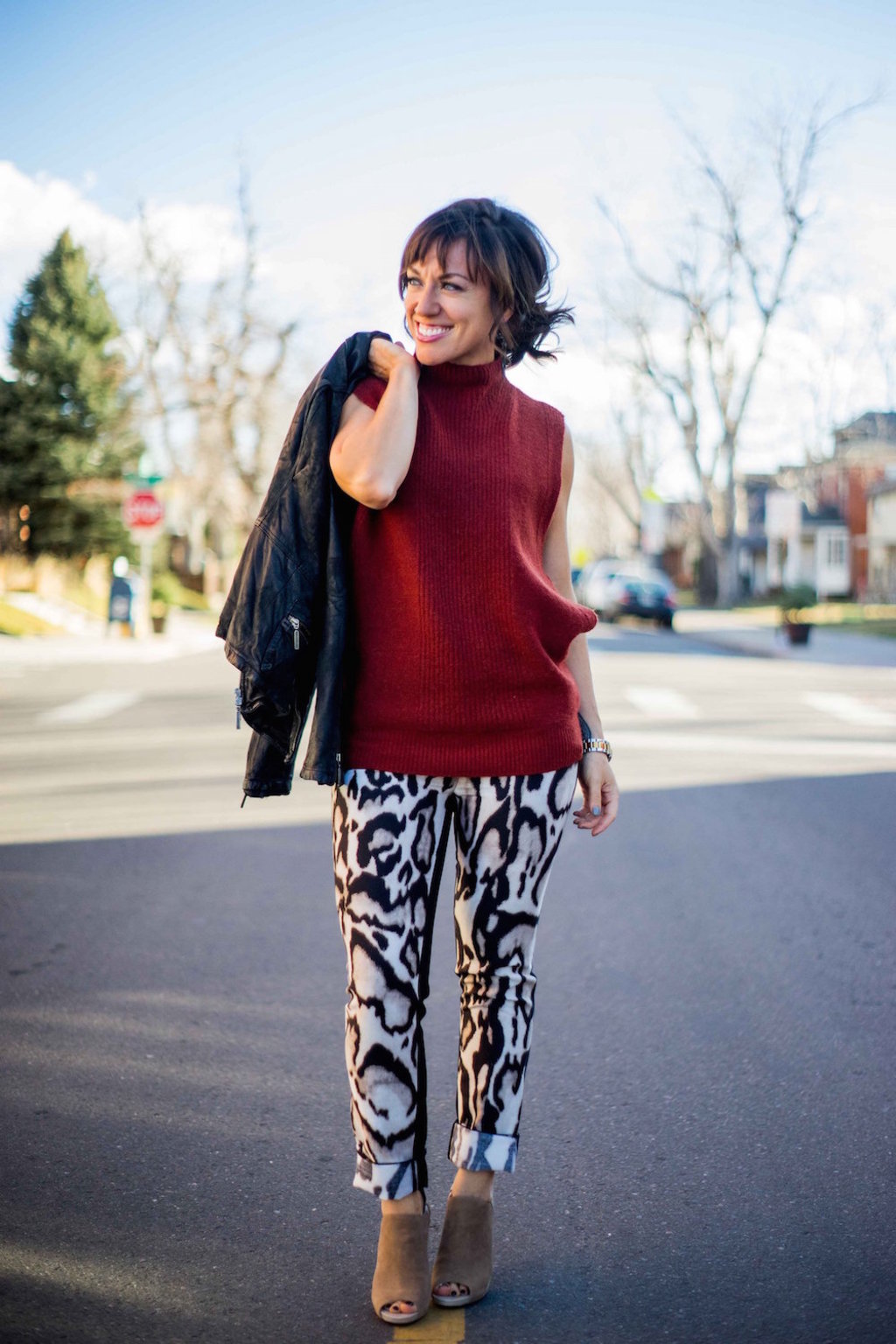 Diane Von Furstenberg Leopard Print Pant – $30
Banana Republic Turtleneck Sweater – $28.50
Vince Leather Jacket – $248
Vince Camuto Booties – $39.50
Look 3: Lodis Backpack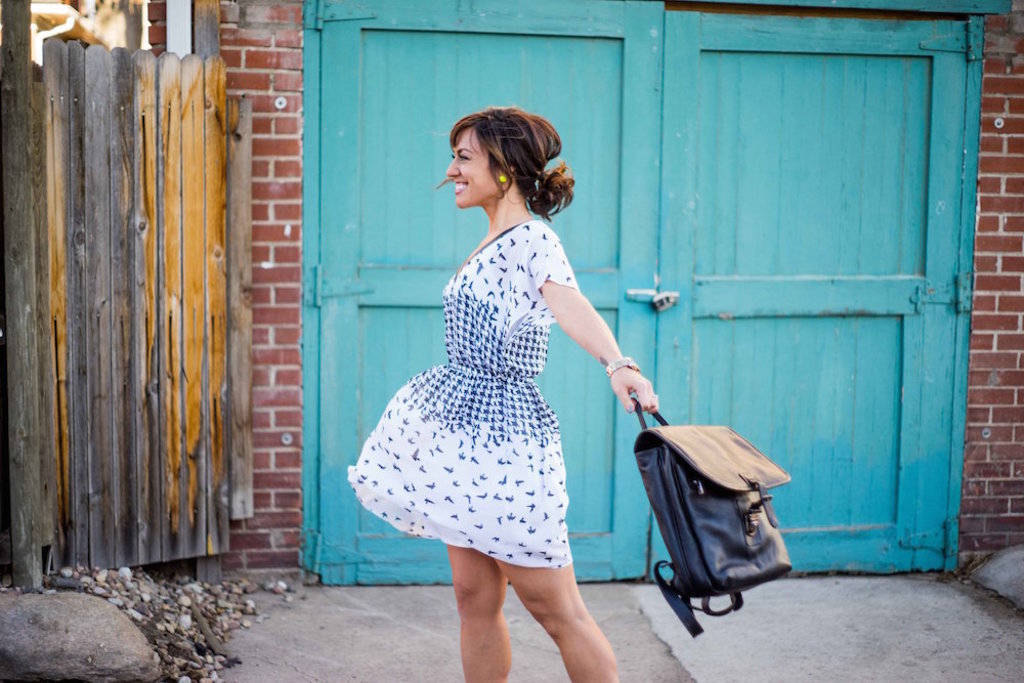 XOXO Dress – $26.50
Charles Day Two-Tone Platform Heels – $38
Lodis Backpack – $118
No matter your age or style, we are confident there are endless treasures awaiting you at Common Threads. A consignment store like this is a great place to take a fashion risk and try something new. Whether it's a complete success or fashion faux pas there is no risk, as you can march that outfit right back in to be consigned by the next customer. Break out of your shell and try something new. We promise you won't regret it.
Photos by Noah Berg 
Outfits styled by Shelley Patterson at Common Threads Denver
About the Author
Cat Golden and Lauren Corzett are two best friends who started The Resource Girls to encourage women to be the best version of themselves. They promise to keep you fashionable without spending a fortune. Whether it's homemade, thrifted or designer, they've got your back. Their motto is "be resourceful, be you."