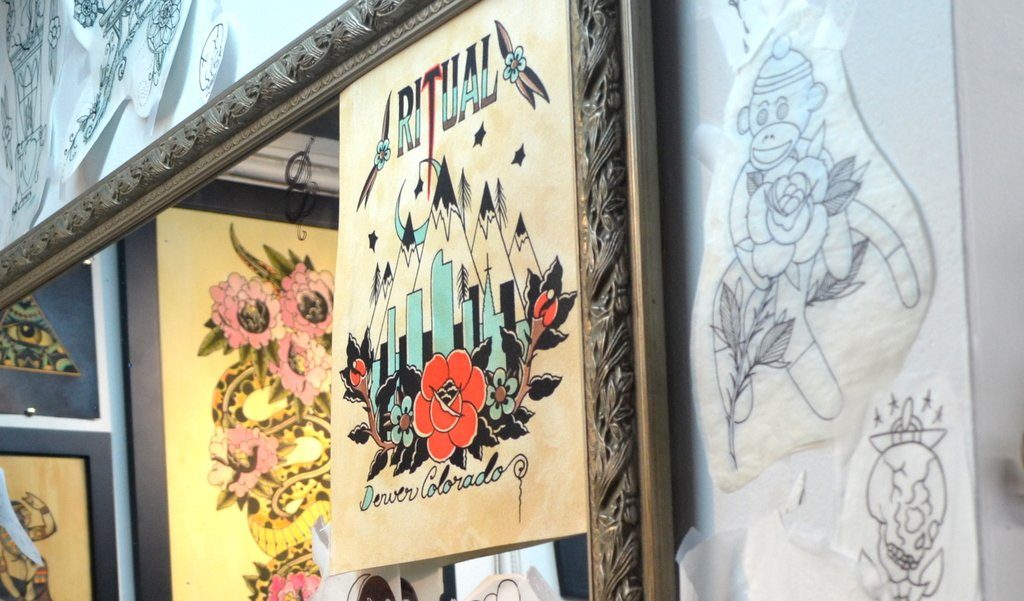 Trends come and go – tattooing, as an art form, is forever.
Ritual Tattoo & Gallery in the highlands is one of the freshest and most influential tattoo shops in the city. Owners Missy Rhysing and Sandi Calistro have each been tattooing for nearly two decades, learning from masters such as Rhysing's husband, Aries, of Sol Tribe Tattoo. Both are world renowned artists known for blending high art and ink to perfection. Meeting at Kaze, Calistro's former shop, the duo embarked on their own business just one year ago. Missy and Sandi created a one-of-a-kind tattoo parlor called Ritual.
The feeling you get walking in to Ritual emulates that of an intimate artist's workshop. Missy and Sandi have jewelry and prints all over the walls for sale, including gemstones from local artists and eclectic but affordable fashion pieces. It's visual stimulation at its finest. 
Missy's work is refined, modernist and straddles the line between beautiful and haunting. She has been in Denver about two and a half years but has immeasurable experience owning shops before Ritual for over 14 years. Her and Sandi are the proverbial "wifey" duo that make Ritual possible. When I asked Missy about the feminist feel of their shop:
"It's funny because we did not intend it to be that way, we really didn't. It just unfolded that way. I was working for Sandi at Kaze and when the building got purchased, we decided we needed to figure out what we were going do from there. I've owned shops for 14 years and didn't initially want to be married to a business. So me and Sandi were like, 'What are we going to do?' So we decided to do it together. We knew Rochelle – she had been getting tattooed by Sandi and I at the time, and we just saw her really developing her pointillism style and the geometry and stuff. We really wanted the shop to be a niche shop. Everyone is bringing something different to the table."
The shop is made up of powerhouse talents Sandi, Missy and the artist team of Rochelle Marion, Billy Crandall and Rachel Paton. Many people, once they discover the diversity in work from the talented team at Ritual, want to collect a piece from each of the five artists. We mentioned the idea of a "Mile High Club" prize for someone with a tattoo from each artist. Free t-shirt, perhaps?
Each of the artists of Ritual has their own unique style, unparalleled to anyone in the city. You can find Missy and Sandi tatting clients from around the world with a list nearly six months booked out for each. People even fly out from Africa to be a regular client of Ritual. You cannot get an art piece like those offered here anywhere else on earth, and that's what makes the experience so unique and profound.
Sandi Calistro's work speaks for itself. The stunning portrait characters emulate a sort of "big eyes" concept (I genuinely wonder if the new Tim Burton film was based on her illustration work).  She has shown fine art in California in collaborative shows, as well as all over Denver including at one of 303 Magazine's favorite galleries, SvperOrdinary in the Source. SvperOrdinary will host her next venture beginning on Feburary 21st with illustrator and beautiful juxtaposed talent Rebecca Green.
You can see Sandi Calistro's fine art work in her upcoming show "M I L D F I R E" with Rebecca Green at SvperOrdinary in The Source. Meet the artists and see the best of "M I L D F I R E" at the opening reception 6:00 PM on February 21

st.
Billy Crandall
Artist Billy Crandall holds his own among the female-dominated roster of artists at Ritual. He is a master of an old-school American tattoo meets a new school. His work has a Hawaiian influence, it is colorful, energetic and an homage to the classic while still maintaining a bold originality. Billy hails from Hawaii, where he said the tattoo scene is just a great as Denver but very different. Billy came next and as Missy said, he fits in perfectly and somehow seems to tolerate all of the girls. It's a match made in tattoo heaven.
I brought up to Billy the fact that tattooing sometimes skips a generation. For instance, my parents didn't have tattoos and I have them. And now, the fear is that my kids will think they're nerdy because I will have them. But Billy rejects this. Tattooing isn't new to this generation, but in  fact goes back hundreds and hundreds of years in cultures spanning the globe. It is tradition. So tattooing trends come and go but the art of tattooing itself is forever.
Rachel Paton
Rachel Paton specializes exclusively in hand-poked tattoos. She has quickly become one of the most sought after artists in Denver because of the unique look, style and concept behind her work. For those who aren't familiar, the hand-poked (aka stick n' poke) tattoo uses just the artists needle and no machine. 
I am inclined to say Rachel should continue to expand her clientele in this unique and truly one of a kind look, as opposed to starting on the machine. It opens the tattooing scene in Denver to a new world. She has found her niche in a short amount of time, partly attributed to her having her own artistic and graphic style off the bat.
Rachel first caught my eye because of the uniqueness of her work, the expertise of handpoking and the talent it requires. As an apprentice for Sandi, going back to their work together at Kaze (Rachel was shop manager at the time), she began hand poking about 6 months ago. Her work has skyrocketed to the front and center of the scene in Denver, hand-poked tattoos that began to draw more attention than Rachel herself anticipated. 
Her humility is what makes her such a doll to spend time with. There is nothing quite like the look of Rachel's work. Black and white, her stick and pokes generally take no longer than your average machine gun tattoo, depending on the shading required. The pain level is the same as well, something confirmed by the artist who has both on her body. She has exclusively black and white tats and is a walking example of the individuality her tattoos inspire.
"I'm into exploring anything that people want to do, really. I haven't found anything yet that I don't want to do. Some people come in from wanting a piece I've already done on one of my flash sheets, and a lot of times people come in with just an idea or two and I work from there. We mix and match from two of my drawings. We combine illustrations, if they want it more graphic, and it's a really organic process."
Powerful line work, characters, graphic pieces that pop off the canvas & person – Rachel is doing something completely unique. Missy explained that while she and Sandi apprenticed Rachel, she always had her own artistic vision and style. A vision like Rachel's cannot be taught, really, but comes naturally as a part of who she is.
Rochelle Marion
Rochelle Marion came to Denver from a small town in Australia and brings her stunning style of mandala, geometry and spirituality to the shop. The first to join Missy and Sandi at Ritual to bring her talent and niche to the table a year ago, Rochelle has been killing it ever since. She boasts an unwavering integrity in her artwork. Her work is also responsible for drawing an entirely new clientele to the shop. Not just the young but the older, the straight laced, to the highly spiritual customers who have never gotten a tattoo in their life. They see Rochelle's work and want to take the leap.
There is something really raw and humane about the patterns within her mandalas, her anatomically correct hearts, geometric and arabesque type look. Below are a few of my favorite pieces done by Rochelle. The upper left an homage to the talented artist duo Hari & Deepti.
To celebrate Friday the 13th, Ritual Tattoo is doing its second annual Friday the 13th themed tattoos for a great deal! First come first serve, come see the entire Ritual gang this Friday for a $50 tattoo from their brilliant Friday the 13th designs here.