The 57th annual Grammy Awards took place last night with today's hottest musicians, along with some memorable performers from years ago. ACDC opened up the show and the other performances combined creative collaborations, favorite songs from 2014 and some interesting style choices.
This year's carpet showcased some incredible gowns and ensembles, along with some straight weird ones. From Beyonce looking classically stunning to Katy Perry sparking with lavender hair, here are a few stand-out looks you'll never forget.
The best and worst dressed celebs at the 2015 Grammys
Gwen Stefani
Gwen Stefani makes 45 look damn good, not to mention having three kids out of that body. She's a fashion designer and always looks great on "The Voice" and red carpets, so it's no surprise that she made the best-dressed list. This black pantsuit made her look so classy and ready to stand out.
Joy Villa
First of all – who's Joy Villa, you ask? She acted in "Into the Woods" — but not the Disney blockbuster. All you need to know is that she's about to make headlines with her plastic orange gown or whatever you want to call it. She looked like she ruined her dress, walked through a construction zone, and created one from some materials left laying on the ground. It was trashy (literally, I think) and didn't look good on her body, but this will probably get her more attention than her career would ever get her.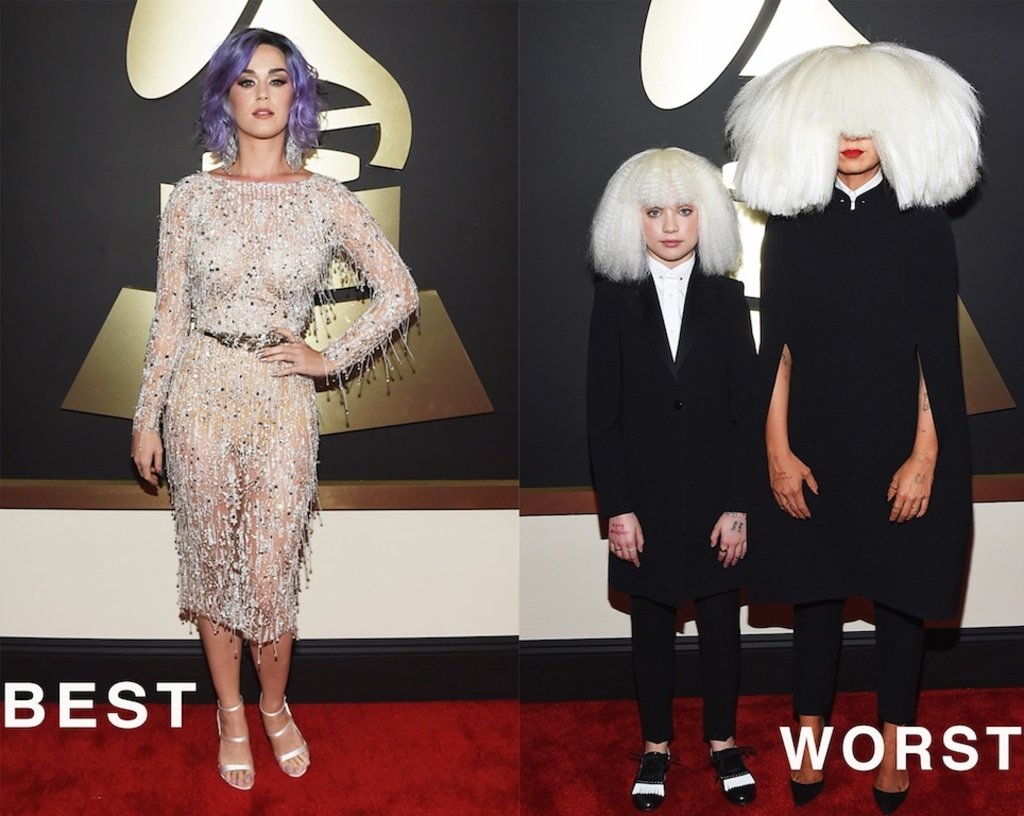 Katy Perry
At this year's Grammys, Katy Perry performed "By the Grace of God," which was introduced by a domestic violence survivor. She looked classy in white with her usual black hair. On the red carpet, she stunned with lavender locks and a sparkly white dress just past her knees. This is the correct way to pull off a sheer dress and I applaud Katy both for this look, as well as her emotional performance.
Sia
Sia has had a big year hiding herself. Her latest album is still a chart topper and still delivers #1 singles, but her performance art is what everyone is talking about. From a performance inside a box on Ellen to not even being in her music videos, Sia keeps delivering some interesting performances, including last night's. On the red carpet, Sia was accompanied by Maddie Ziegler, the 12-year-old dancer that's in now two of Sia's videos. They each wore big, bleached-out wigs. While Maddie's face was shown, Sia's wasn't, continuing her hiding from the world. She's definitely original but this look just didn't make our best dressed list.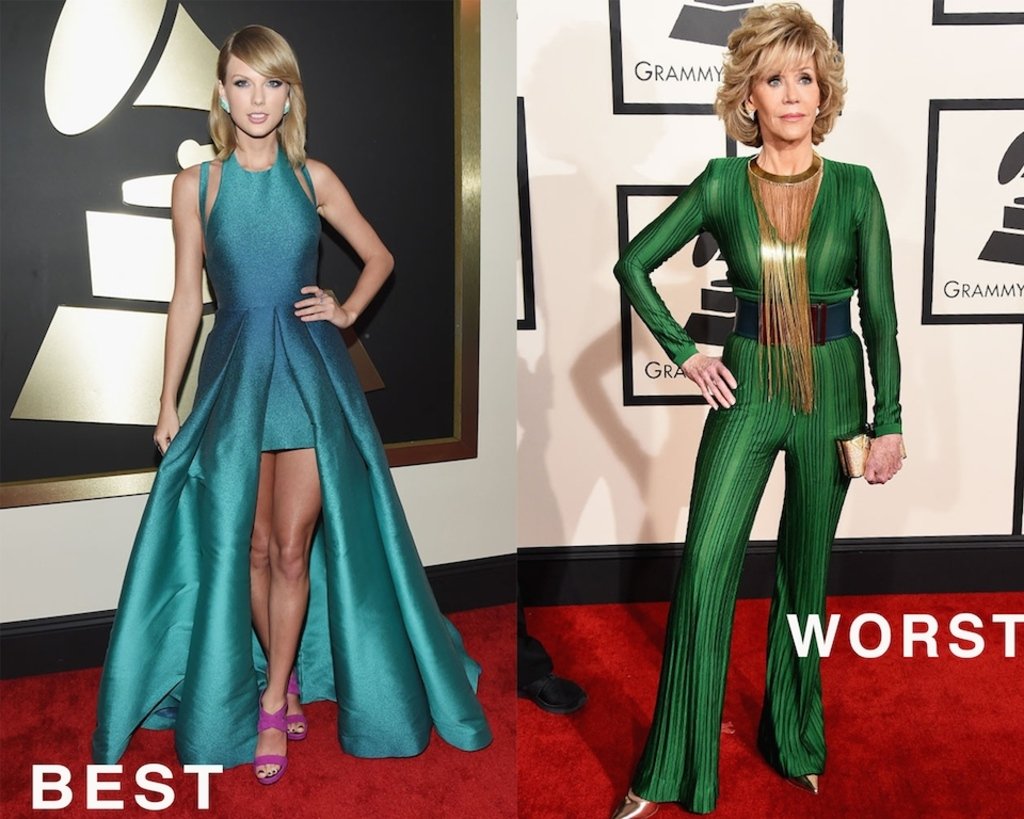 Taylor Swift
Even the haters can't say anything bad about her biolage blue and green dress. It accentuated her eyes brilliantly and those purple peeps? At first I hated the colors together, but then I bit my lip and called it genius. With light makeup and barely any jewelry, T-Swfit should win an award for her ensemble, especially since she didn't win any for her music.
Jane Fonda
For 77, Jane Fonda has a rocking body and looks 20 years younger. Her spunky style is always interesting to see on the red carpet, but this look didn't do much for that body of hers. Pantsuits can give any body a great shape, but by adding that thick belt, it didn't do so for Fonda. It might have looked better without that belt, or even as a gown, but she's already being compared to Gumby for this fashion mistake.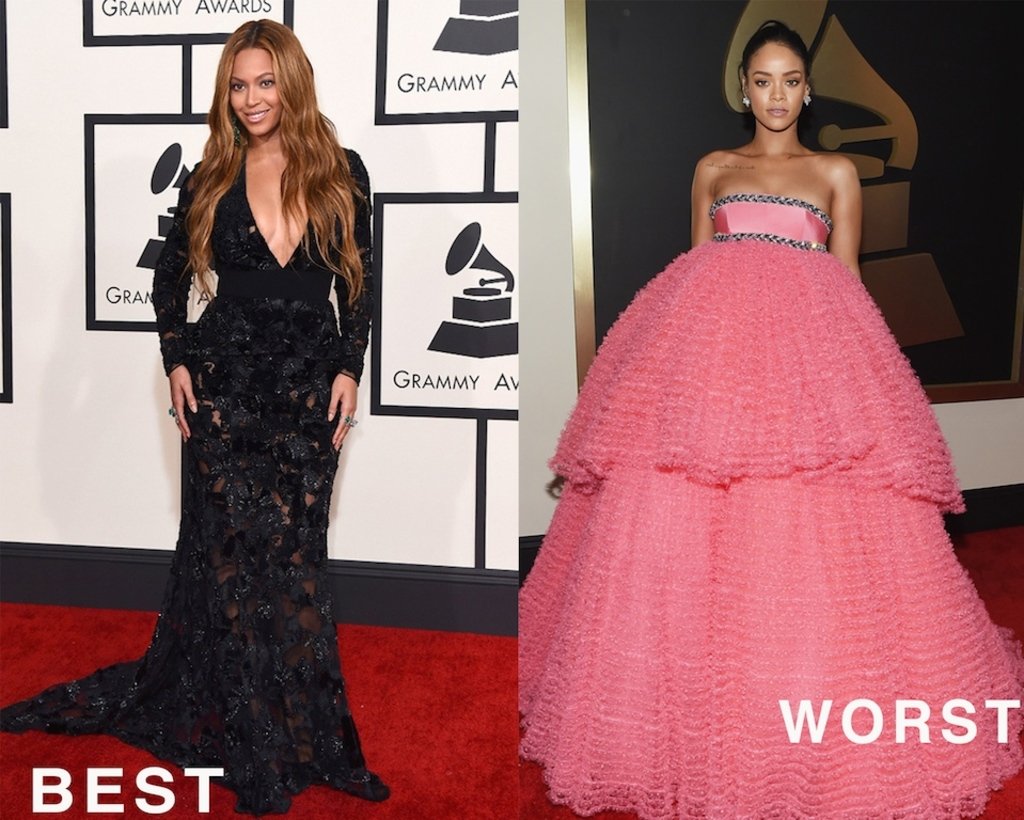 Beyonce
And finally to make the best-dressed list, we mention Beyonce. Queen Bey showed up on the red carpet wearing a long sleeve black gown, with lace-like embellishments, a pop of sparkle, and a peek-a-boo of sheerness. With light makeup and a performance that was spiritual, emotional and showing off another beautiful gown, Beyonce delivered once again.
Rihanna
From the bust up, Rihanna looked pretty in pink with simple slicked back hair. But once the camera zoomed out, girl looked like one of those kids' birthday cakes with a giant Barbie dress on it. Her silhouette is hidden and it looks like she's hiding her whole entourage underneath. Rihanna probably had the best performance of the night with Kanye West and Paul McCartney, so she definitely redeemed herself.