At 303 Magazine, we love award season. Whether it's the music awards, for film or both, honoring today's most talented musicians, screen writers and actors is exciting for us to see.
And at the Fashion desk, we love award season even more, because we get to both rip apart and praise the looks from the red carpet the next day.
Last night, the 72nd annual Golden Globes took place at the Beverly Hilton Hotel in Beverly Hills. Starts from TV, film and even the music industry strutted their stuff on the red carpet. Some wore beautiful, unique gowns. Some did not.
From the best to the hella worst, here are 10 looks we love and hate.
White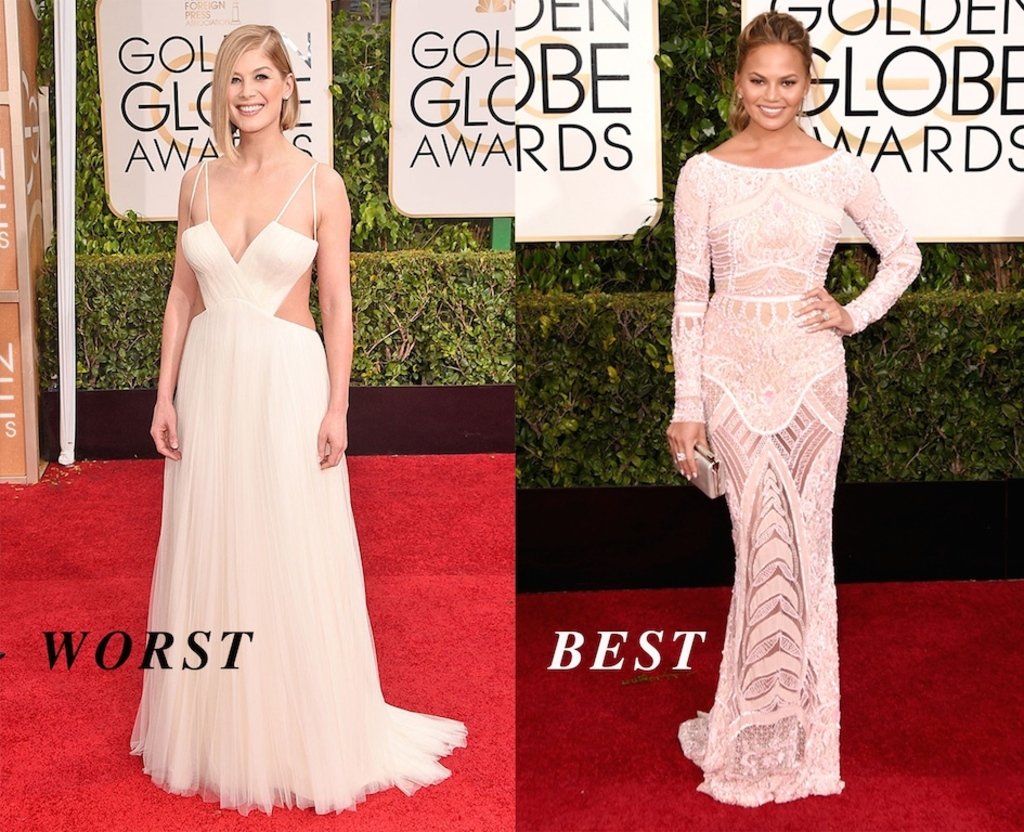 Rosamund Pike / Chrissy Teigen
White seemed to be one of the more popular colors for this year's big show, with everyone from Kate Hudson to Emily Blunt wearing it in various tones. We love Rosamind Pike in her "Gone Girl" role, but this gown fell a little short for us. Sure, she might have given birth only about a month ago, but the top of her gown looks like it's falling off. She has a great post-baby body, but we think something else would have given it justice. Chrissy Teigen is known for showing a little skin, but she looked elegant and stunning in her beaded, white gown. Her CRY FACE might outshine her look, though.
Yellow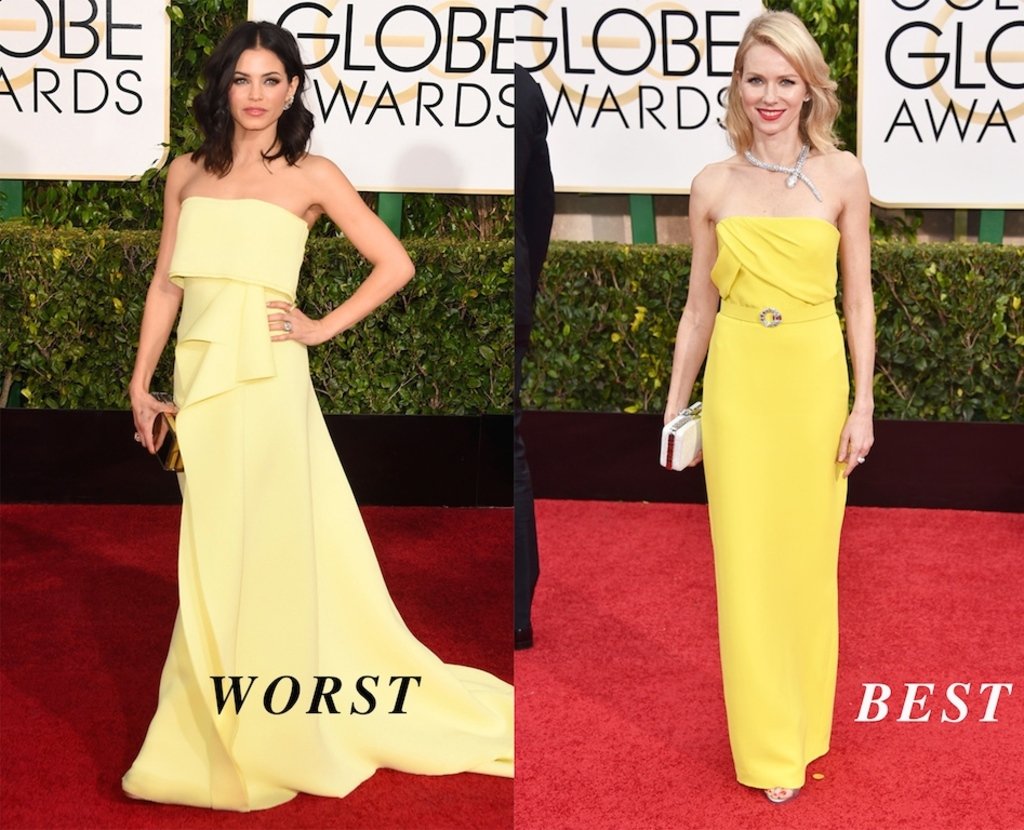 Jenna Dewan-Tatum / Naomi Watts
For some reason, yellow always makes its way to the red carpet. Sometimes it works and sometimes it just doesn't go well. Whether Jenna Dewan-Tatum is famous for her roles in films or because she's married to Channing Tatum, she didn't awe us in her soft, yellow gown. Honestly, it looks like she's hiding a bump under there. Or she's going to prom – in the '80s. Naomi Watts always looks stunning, and we are loving her in this bright yellow number. She isn't showing much, but she screams sexy, while always looking elegant.
Red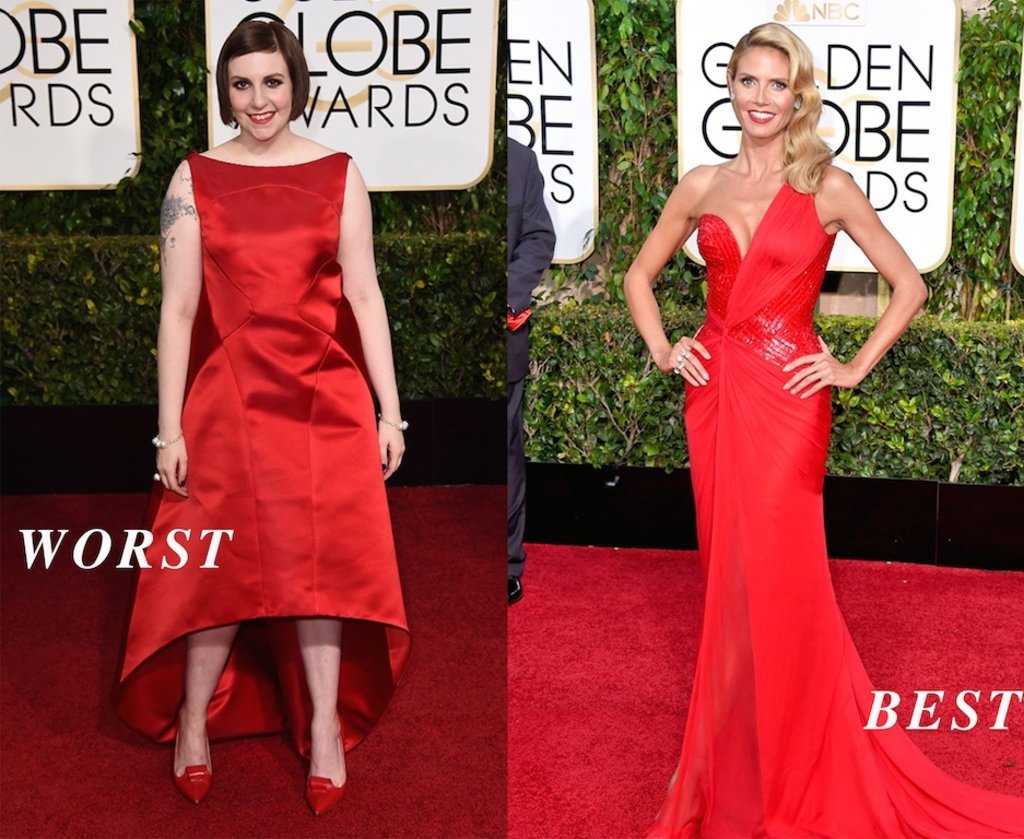 Lena Dunham / Heidi Klum
We know, we can't really compare the "GIRLS" creator with a supermodel, but one of these is screaming hot and the other didn't quite do her justice. No matter how much we love Lena Dunham, this dress just wasn't as perfect as we were hoping her to look. The girl has curves, but this dress doesn't accentuate them for her. The lines confuse her shape. The color is brilliant, but a better fitting would have made it just right. Heidi pretty much always looks beautiful, as a supermodel, but this gown was incredible. A little bit of cleavage and no leg went a long way to make this gown a stand-out for sure.
Blue/Green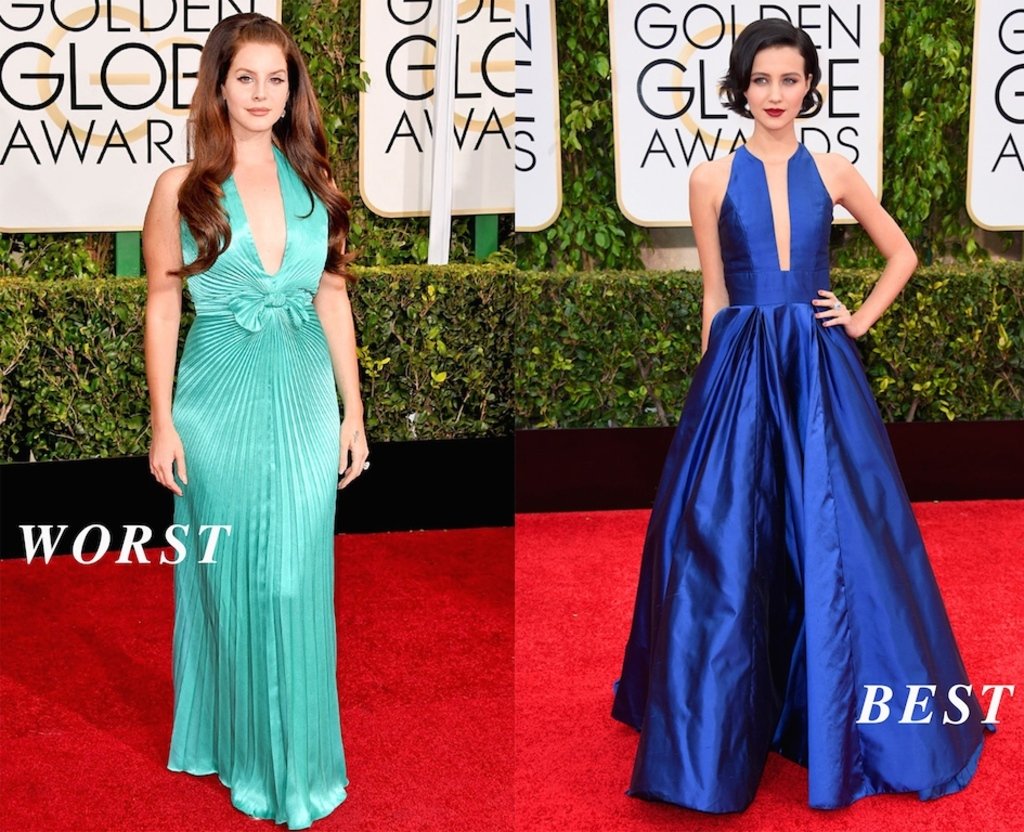 Lana Del Rey / Julia Goldani Telles
As much as we love Lana and all the delicately beautiful songs she creates, this dress did not do anything for her body. People were calling her a mermaid, but we think this looks like it was made yesterday and by someone who doesn't know how to flatter a woman's body. Known for her role in Showtime's "The Affair," Julia Goldani Telles made a great first impression on us. We haven't seen her too much on the red carpet yet, but this royal blue gown will make us remember her for seasons to come.
Black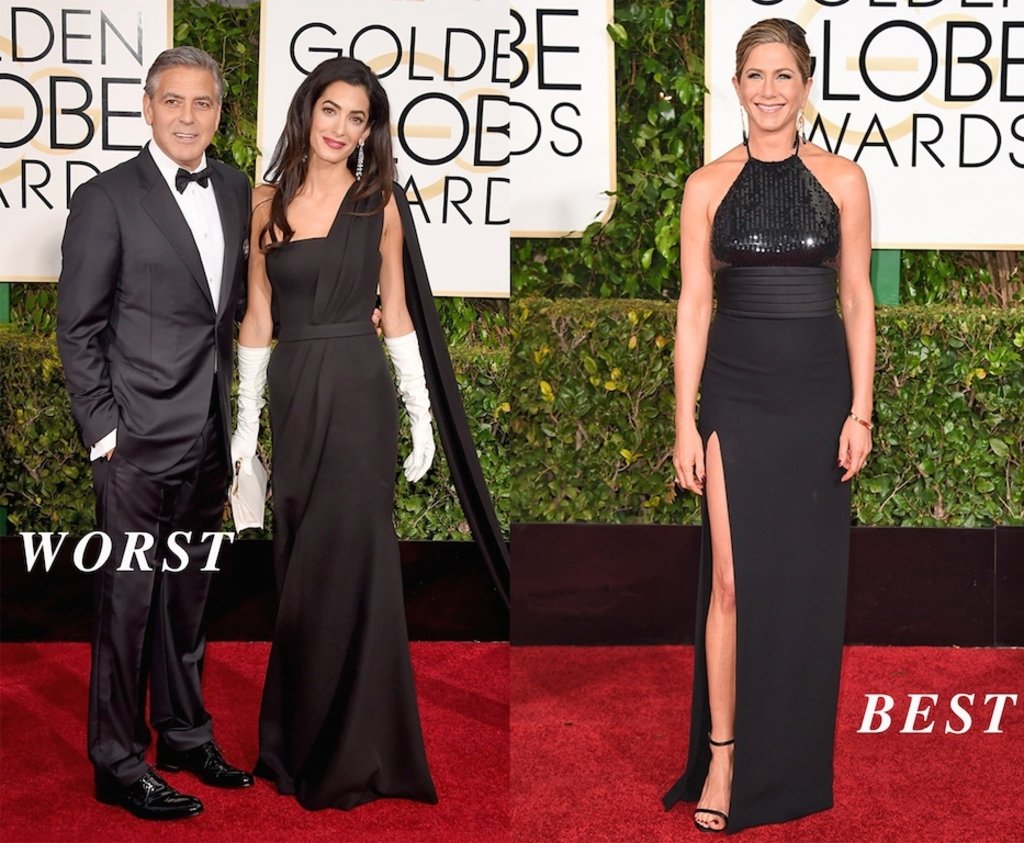 Amal Clooney / Jennifer Aniston
Amal Clooney: the woman who stole George's heart. She has recently made headlines with her fashionable attire when she's on a yacht or in Paris, or anywhere else exquisite, but this gown wasn't our favorite. You don't need gloves to prove you have money, and the gown just looks old. Now, 45 year old Jennifer Aniston is another story. We always love seeing Jennifer on the red carpet because she makes us wish we'll look like her in our 40s. This black gown gave her length in legs, made just enough of a statement, and we're loving it.