What: Blackbird Denver
Where: 305 South Downing St., Denver
When: Blackbird is officially open for business on December 1, 2014. Blackbird was open for a soft launch in late November. 
The Low Down: Blackbird is the latest project from Table to Tavern known for South Denver favorites like Atticus. The menu features rustic plates and innovative takes on comforting classics. Blackbird also has a highly anticipated cocktail program that was in part curated by the revered Sean Kenyon of Williams and Graham.
Pro tip: The fried rice is an excellent choice especially for vegetarians. If you're a true meathead, add the exceptionally dangerous candied bacon to any dish (the blistered brussels sprouts would be our choice). Also the Potted Pig appears to be a staff favorite. 
For many years the corner of Alameda and Downing, where Blackbird is now perched, was occupied by Handlebar Tavern. This neighborhood sports bar was known for standard bar food such as chili cheese fries, cheap beer and wings. One Yelp! reviewer even praised it for having "the best chicken tenders in town." Now Blackbird – a Napa-style, rustic eatery – is set to officially take its place. This farmhouse-esque space, with its muted color scheme and strategically placed knick-knacks, is a far cry from the ol' tavern. But it seems the neighborhood has not only welcomed the change but has demanded it:
"All the neighbors said, 'Don't take that concept anywhere else. We want it here.'"
"We did a lot of research and all the neighbors said, 'Don't take that concept anywhere else. We want it here,'" explained Brian Midtbo, CEO of Table to Tavern. This approval from the neighborhood was key for Midtbo and his team since 85 to 90 percent of their typical clientele all come from within walking distance. If the immediate community denied this concept, it's possible the project could fail, but that seems unlikely since Blackbird has a lot more going for it than just an eager community.
Upon first read, Blackbird's menu appears to be a pleasant mix of rustic classics such as short ribs, gnocchi and artisan pizzas. But as you dig through the descriptions many of the plates reveal exciting complexities. Take the fried rice ($11), for example. Blackbird's version turns the take-out staple into an ambrosial mosaic of grains and winter veggies that is excitingly new but as comforting as you'd expect from a traditional fried rice. Many other dishes follow this suit such as the lamb t-bone ($34), which features a tasty ratatouille made with a dynamic medley of parsnips and sunchokes. If you want to stick to something familiar Blackbird does offer several straightforward dishes like the Wagyu Hanger steak ($29) and your quintessential pepperoni pizza ($11). Also the candied bacon ($7), which is made to melt in your mouth, is bound to please anyone with taste buds. But if you're willing to taste the unknown, Executive Chef Thomas Newsted, formerly of Kevin Taylor's, appears to have a strong ability to harmonize a multitude of ingredients. He explained he is particularly excited for Spring as they plan on working with many local farmers, including hosting a farmer's market in the parking lot. On special occasion the local elementary school even intends to provide a harvest for an interactive event for the students. Newsted expressed that there will be a lot to look forward to in the coming months. In the meantime, Blackbird has another compelling reason to make a visit ASAP.
At Blackbird's bar, old and new philosophies collide. First Sean Kenyon, known for his award winning work at Williams and Graham, has helped shape the cocktail menu and trained much of the bar staff (pro tip: Because of this, you can order almost any classic cocktail off the menu).  You can see his influence in the artfully crafted cocktails like the Western Slope ($11) made with Spring 44 Vodka, Leopolds Bros. peach liqueur, lemon, honey, Angostura bitters and egg whites, or the well executed classics like the ever-popular Negroni ($8). But Rob Lanphier, booze purveyor and head of operations at Blackbird, is the real muscle behind this space. He managed many neighborhood taverns in and around the Denver metro area such as Handlebar.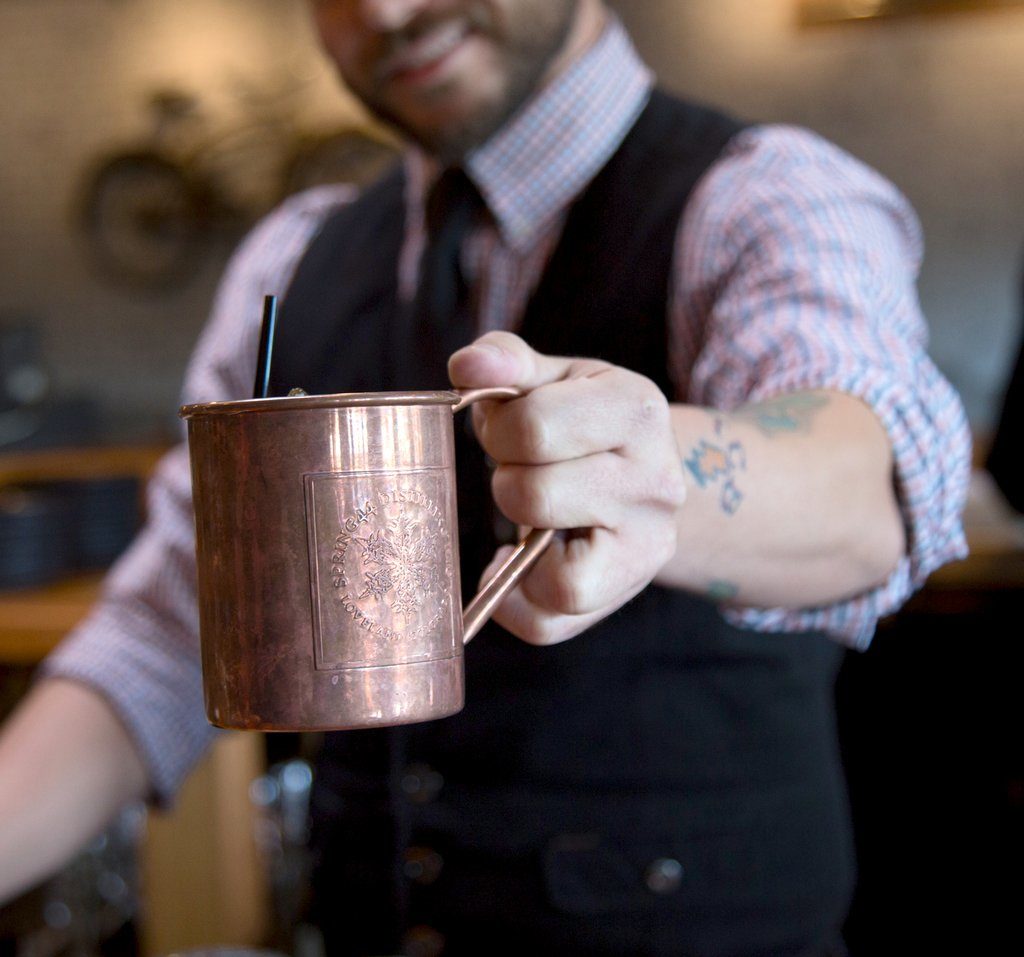 His goal is to keep the space approachable as its predecessor by offering creative specials geared towards regulars and the industry crowd. He explained they'll do a fun play on shot and beer specials – a standard at Handlebar – but with more elevated pairings. His cocktail preference, though, diverges from Kenyon as he wanted to keep the menu simple with three-four components max. As a result his favorite cocktails do not read like a trendy grocery list but rather stick to the basics. This is reflected mainly in the signature drink, The Blackbird ($9), which is a blend of Jim Bean rye, Laird's applejack, averna and garnished with an orange peel. It is a uncomplicated cocktail that is simple but still elevated. Enjoy it like Lanphier and make sure to order it on the rocks.
This mix of high-brow and low-brow at Blackbird results in a welcoming and charming spot. It might not be as "every-man" as a sports bar but we project Blackbird won't have a hard time drawing in a crowd because not only is the immediate community ready for a change, it seems the rest of Denver is too. Neighborhoods all over our city have experienced some type of renovation with relative success (think the Highlands). And although those areas tend to be more underdeveloped – i.e. RiNo – already gentrified areas seem to be itching for a revival as well. The success of new restaurants like Bistro Barbes in Park Hill is a prime example. So the thought that a neighborhood that once loved its sports bars could embrace a trendy new restaurant doesn't seem like a stretch, especially not for a place like Blackbird.
All photography by Brent Andeck