We at 303 Magazine are never ones to miss a great party, so we didn't hesitate in accepting Required Attire's invitation to the "Destroy and Rebuild" launch shindig at SPACE Gallery last month.
Attracting an impressive turnout, the event was comprised of music, installation art, food and an open bar. But the highlight of the night was the brand's official unveiling of its first-ever capsule collection.
Now you may recall the profile we did on Required Attire last month, in which founders Reillor Davis, Emmanuelle Davis and Gabe Gonzalez explained the evolution of their brand's socially conscious approach to streetwear. Though they kept details on their latest release to a minimum (the crew wanted the capsule to be a surprise), we were informed that Destroy and Rebuild would be the brand's most expansive collection yet, with an emphasis placed on understated, clean design.
"This time around, we simplified the images," Emmanuelle said before the presentation. "I think last time, some of the imagery went over people's heads, so we tried to keep it basic and palatable for our customers—something simpler and cleaner."
Keeping in line with the global trend of minimalism, the collection was noticeably more refined and definitely more battle-tested. Graphics were still employed throughout, but they were executed with an elevated level of consideration and artistry. No arcane references or flashy illustrations, just crisp, straight-forward streetwear staples like hoodies, tees, athletic shorts and snapback hats. The colorways were also vibing very fresh, featuring navy, maroon, black and white.
"[Destroy and Rebuild] is just more cohesive; everything is just more put together, from the hangtags, to packaging," Reillor explained. "We also wanted people to come in to the party and be immersed in the whole Destroy and Rebuild experience, which is why we decided to include installation art—imagery that plays off and makes sense with the clothes."
Inspired by a graphic tee, the standout art piece was definitely the pyramid structure. Much like the shirt, this installation addressed American consumer habits, specifically food consumption. Using the color scheme of red, white and blue, various junk-food packaging was used as the pyramid's building blocks, resulting in a visually striking conversation piece.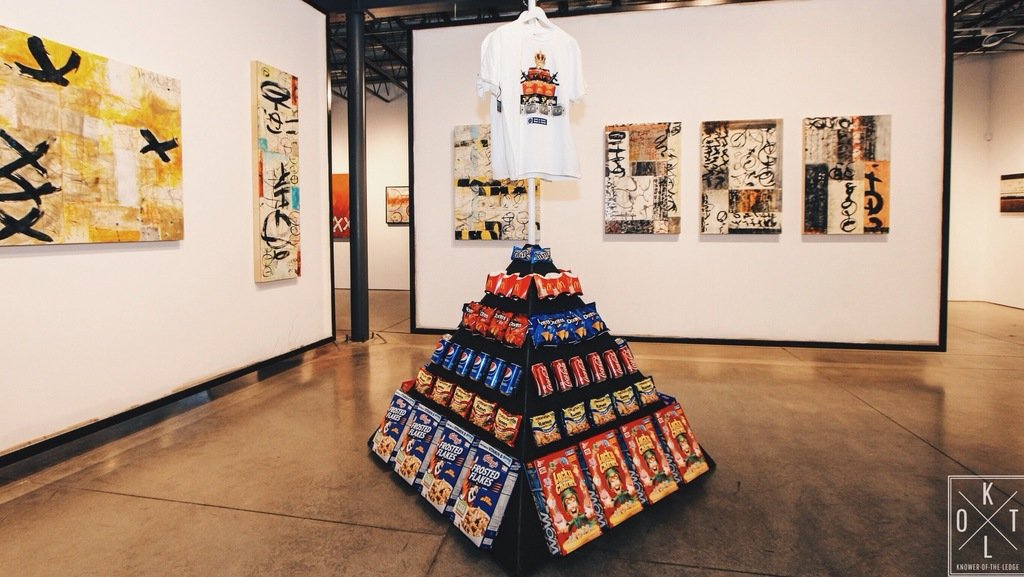 "The pyramid graphic is a lot of material items, but we wanted to create a piece that was more focused on food," Gabe said. "The pyramid […] addresses people's wants rather than needs. We used Coke cans, cereal boxes, McDonald's fry cups, things like that. It's hard because sometimes you have a single mom with 10 kids, and these foods are the only option she has. But that's the conversation we're trying to spark with the art."
And the presentation, indeed, sparked a lot of conversation.
Never abandoning their initial vision of socially conscious apparel, the Required Attire team has been able to deliver wearable streetwear that is thought-provoking without being too alienating or preachy.
Clearly, the brand's efforts paid off as the collection's first delivery sold out by the end of the launch party. But don't worry, you can get your hands on these items in the upcoming weeks at www.boltcasts.com.