There is only one band that can say its allows its fans to lob hundreds of marshmallows through the air at them during their yearly Telluride Bluegrass Festival set, and if you have been there, then you know it is Yonder Mountain String Band.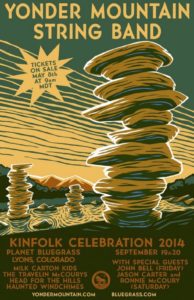 Yonder Mountain String Band was originally formed in 1998 out of Nederland, Colorado. Since their inception, they have forged a spacious niche of progressive acoustic bluegrass where before, the genre was little explored. YMSB also boasts an extensive and dedicated fanbase, many of whom enjoy tossing a few marshmallows around at the Telluride Bluegrass Festival as an interesting and unique tradition.
But YMSB's true brainchild festival is the Kinfolk Celebration. YMSB first held their Kinfolk Celebration at the Planet Bluegrass ranch in Lyons, Colorado in 2002, with subsequent Kinfolks happening in 2003 and then 2012 for the ten-year anniversary.
But this past year both Yonder Mountain String Band and Planet Bluegrass weathered major tests to their fortitude, and seem to have come out the other end stronger than ever.
In April, Yonder announced that mandolin player and co-founder Jeff Austin would be amicably parting ways with the band to explore his solo career. With the three remaining members, Dave Johnston on banjo, Adam Aijala on guitar, and Ben Kaufmann on bass, Yonder has gone forth without skipping a beat, often playing shows with heavy-hitting guests like Sam Bush and Ronnie McCoury.
Planet Bluegrass also endured serious adjustments when the devastating flood of 2013 damaged significant portions of the Planet Bluegrass ranch and their equipment.
With these drastic changes that inevitably altered both YMSB and Planet Bluegrass, the approaching 2014 Kinfolk Celebration is the ideal opportunity for everyone to get back together and celebrate a promising future.
The 2014 Kinfolk Celebration will be held this weekend, September 19 and 20, at the Planet Bluegrass Ranch in Lyons, Colorado.
Other acts performing at this year's Celebration include Drew Emmitt & Vince Herman of Leftover Salmon, John Bell of Widespread Panic, The Travelin' McCourys, Head for the Hills, The Haunted Windchimes, and Gipsy Moon.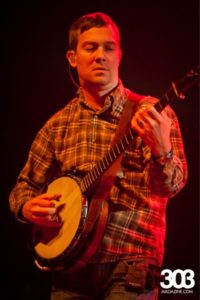 Yonder's banjo player Dave Johnston spoke with 303 Magazine about Kinfolk, their new album, and what is next for Yonder Mountain String Band.
303: It seems like YMSB has a pretty tight connection with the Planet Bluegrass group. Can you tell me a little more about how YMSB got involved with this festival and Planet Bluegrass?
Dave Johnston: You know, I think that our roots as a band and some of our earliest successes are deeply connected with Planet Bluegrass. We all have many personal and professional milestones that have happened because of Planet Bluegrass and Craig [Ferguson] and everyone over there who has helped up out. They have always been a good voice to go to for advice and good people who really supported our band personally and professionally. So we have always felt very allied with them.
I think it is hard to say exactly what specific thing has led to our close relationship, but it has been very amazing on so many different planes that it makes sense for us to throw a party out there.
And this year more so than ever because the PB ranch is such a beautiful spot and we almost lost it in its entirety last autumn to the flood. So we just think the town of Lyons is a great place that is filled with wonderful artistic people and great vibrations from a community coming up with their ideas and terms of how they want to be in the world. We feel really lucky to play there.
Planet Bluegrass really did bounce back this year, against all odds it seems like.
I think it has been hard for everyone, but it has really came together still.
You guys have been working on a new album. Will you be previewing any new songs from it at KinFolk?
There are some songs that have been in the rotation this year that are on the record, like "Landfall" by Adam and "Black Sheep". But I don't think we are going to be previewing any more new material until the record is totally finished. We are keeping our cards a little closer to our chest. Still, we are really excited about it.
Is there a timeline for when we can expect the new album?
I think it will be coming out early next year. We are in the home stretch of recording and are pretty pumped to release it.
YMSB's extensive career spans over a decade. With what seems to be a revival of popular interest in bluegrass, have you noticed any distinct evolution in the genre?
I think that bands like Leftover Salmon and String Cheese got everyone ready for the sounds of bluegrass instrumentation in different contexts. You know, it was 1998 or 1999 when we started traveling and touring, and there was already a little bit of an opening into that whole field.
But not a lot of bands were doing what Yonder was, as a four-piece acoustic ensemble. I think that Yonder kind of proved that this type of group can actually work in the right circumstances, if you have the right frame of mind of what you want to accomplish. We helped things along in that regard.
So I think other bands have been able to find their own pathways and their own in-roads to having more successful careers doing this kind of acoustic music. But evolution is such a slow process that it is impossible to have an objective point of view about it when you are in the middle of it. I just keep trying to play my banjo better everyday.
Bluegrass, at its core, is an American folk genre. Meaning when it first began it was performed by typically self-trained musicians. The sound became nuanced from region to region, such as Southern bluegrass versus bluegrass in Appalachia or the North East. In your opinion, do you think vestiges of the different regional styles remains, or is it more uniform now?
There are homogenized aspects to it in some parts. I always say that folk music took on this whole "hey-ho" thing. And I hear that more and more, and know why people are doing it – because it is catchy and it is what people have come to expect when they hear acoustic guitars and see people in cardigans and stuff. I get it. And I'm not being judgmental because its really neither good nor bad at that point, just whatever is in the ear of the beholder.
But below the surface of what is maybe popular on the radio or has massive fan bases, if you dig a little deeper, there is still very much a geographically influenced set of sounds between regions. For example, there is nothing more Virginia sounding than Larry Keel. Or up in New York you have this highly technical, conservatory-esque style coming out from like, Chris Thile or Edgar Meyer.
There are definitely a lot of those regional sounds and I don't think you will ever beat that out of music. I hope not at least, because that would be terrible.
Now I know you guys are probably sick of being asked, but how has it been adjusting the group after Jeff Austin's exit?
Well right now we are operating as a quintet with Allie Kral and Jake Joliff, who are both really talented and spirited musicians. They are really inspiring to be around so to have that kind of energy helps the transition. I mean, I guess there are 'transitions' happening that I am maybe not aware of, because the best part of Yonder is that we came up with our own way of making bluegrass-related music and have been really focusing on that.
Creating with Ben and Adam is really a wonderful thing, and truthfully speaking, I feel really lucky to play with them and write music with those guys and everyone we are able to collaborate with. If anything, the transition is from something that was good to begin with to something that is now really great.
Will Allie and Jake be a permanent addition or are we going to see any line-up changes in the coming year?
As far as I can tell you right now we have them on the book for a good chunk of next year and through the rest of this year, so for awhile at least. We are really psyched about having them on board. But we try to stay away from the idea of what is permanent and what is not, at least I do. Like we could decide to become an EDM band, you know. [laughs]
Oh but please don't!
Yea, I don't know if there is any place for the banjo in EDM. Maybe.
But I would say the lineup we have right now is going to be steady for the foreseeable future.
Well it is always good to keep it mixed up and leave fans surprised.
Well it is an interesting question, because people want to know "Well permanently, what's going to happen?"
So it is kind of like they are saying "Well should I pay attention, or shouldn't I pay attention?"
Me of course, in the band, I am always going to say "Pay attention!"
But it does seem like we have a lot to expect from YMSB in the coming year.
I think that you're right. There are a lot of good things happening with us. It is an exciting year.
Catch Yonder Mountain String Band perform live this weekend at the 2014 Kinfolk Celebration at the Planet Bluegrass ranch in Lyons.