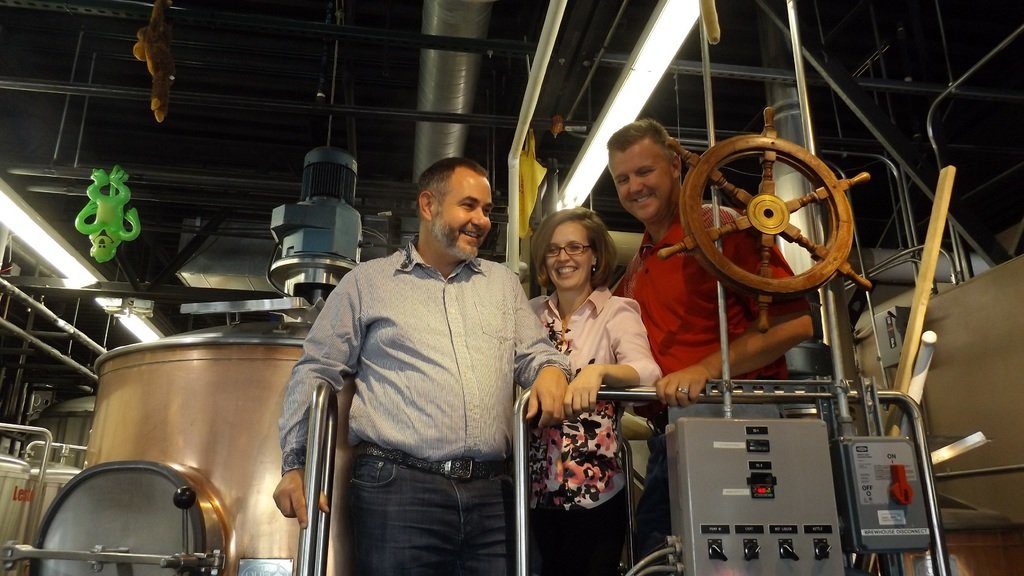 What: Hop the Vote! at the 2014 Great American Beer Festival


Where:  736 Pearl St, Boulder, CO 80302

When: October 2 – 4

Pros:  A brew-off supervised by two of the best breweries in Colorado promises unique and interesting beers.

Cons:  We have to wait until GABF to try them.
Every homebrewer dreams of being let loose in a professional brewery to try their hand with all the grownup brewer's toys.  That dream came true for several members of the Colorado state government as a part of a friendly political brew-off called "Hop the Vote."  Taking place at the Colorado Brewers Guild Booth at the Great American Beer Festival, the Senators are squaring off against the Representatives in a friendly competition between the two houses.   The festival-goers will decide on a winner during the festival.
The Colorado Senate team brewed its entry at Dry Dock Brewing Co. on the morning of August 27th under the watchful eye of the folks at Dry Dock Brewing Co. The team includes Sens. Rachel Zenzinger, D-Arvada, Andy Kerr, D-Lakewood, Pat Steadman, D-Denver, Scott Renfroe, R-Greeley, Lois Tochtrop, D-Thornton, and Matt Jones, D-Louisville.  Their offering is "The Upper Chamber Fresh Hop Pale Ale," which is focusing on fresh hops flavor.  Using organically produced cascade hops grown at the High Wire Hops' farm in Paonia and were harvested less than twelve hours before use.
Upper Chamber is meant to showcase the delicate flavors of the Cascade hops, giving floral and citrus notes to its flavor and aroma while maintaining a malty sweetness that maintains a balance against the bitterness of the hops.  At 5.4% abv, it promises to be an easy-drinking ale that patrons can enjoy without getting the wobbles, and should be a good addition to the pantheon of Pales patrons will see at GABF.
Meanwhile, Denver Beer Co. lent its facility and expertise to the Colorado House team on August 29th. Members of the team include Reps. Joann Ginal, D-Fort Collins, Jonathan Singer, D-Longmont, Chris Holbert, Spencer Swalm, R-Centennial, R-Parker, Polly Lawrence, R-Douglas County, Brittany Pettersen, D-Lakewood,  and Dan Pabon, D-Denver.  They're bringing "Representative Saison," which promises to buck many of the traditional Belgian notes and act as a true Colorado Saison.
Combining Simcoe and Citra hops, Representative will bring sour saison flavor balanced with citrus, passionfruit, and other fruity and floral notes as well as a good amount of bitterness.  As a saison that isn't afraid to show her hops, this brew starts off the competition with a slight edge due to the high degree of difficulty in brewing this style of beer.
Beer fans everywhere love a good brew off, and this one promises to be a close race, with both groups and their supervising breweries bringing some interesting ideas to the mash tun.  Both brew days were a great time, with representatives and senators sipping brews and chatting with local brewers and showcasing an impressive amount of knowledge about brewing and the craft beer world.  The winners will be getting medals and bragging rights, and while I give a slight edge to the saison (being a huge fan of Belgians), I predict that patrons of GABF will not be disappointed by either offering at Hop the Vote.  It promises to be a fun addition to the excitement of an amazing festival.