What: Chop Shop Urban Eatery
Where: 4990 E Colfax Ave. Denver
When: Happy hour is 3pm-6pm Daily
 Pros: Every menu item- delightful! Familiar but better in so many ways. Long-form preparations keep item like short-ribs fresh 
Cons: Seating options are limited. Could get crowded quickly.
As you travel away from downtown, you notice that Edgewater gives you good food to the west. RiNo has you covered north of the city, and Cherry Creek continues to grow southward. East was a challenge. Clint Wangsnes and Christian Anderson have created a fun, fast-casual experience with the Colorado Chop Shop Urban Eatery at 4990 East Colfax. The dishes they have waiting for you are smart and tasty treats. Some are based on homestyle favorites and others are world-fusion. They are all crafted with care, delivered with thought, and delicious.
Clint Wangsnes started with a high, steakhouse concept and worked outward. "Keeping some of the elements you might find in a steakhouse, like Béarnaise", he explained. The duo came up with a restaurant that promotes high quality in a more casual environment. The Chop Shop is intimate enough to promote conversation, and deliver on service without being overbearing. This fits the "on the go lifestyle of Denver," as Christian pointed out. On the menu you will find some familiar items arranged in fun and new ways. These "refreshed classics" are Clint's creations. Be it house-ground burgers, or 72 hour onions prepared for the French Dips, or 48 Hour Slow-Cooked Short Rib, the preparation is super important. Sidenote: the 48 Hour Short Rib is the perfect dish to serve anyone looking for a "home cooked" meal. It's what your grandmother wanted to do with pot-roast, but couldn't.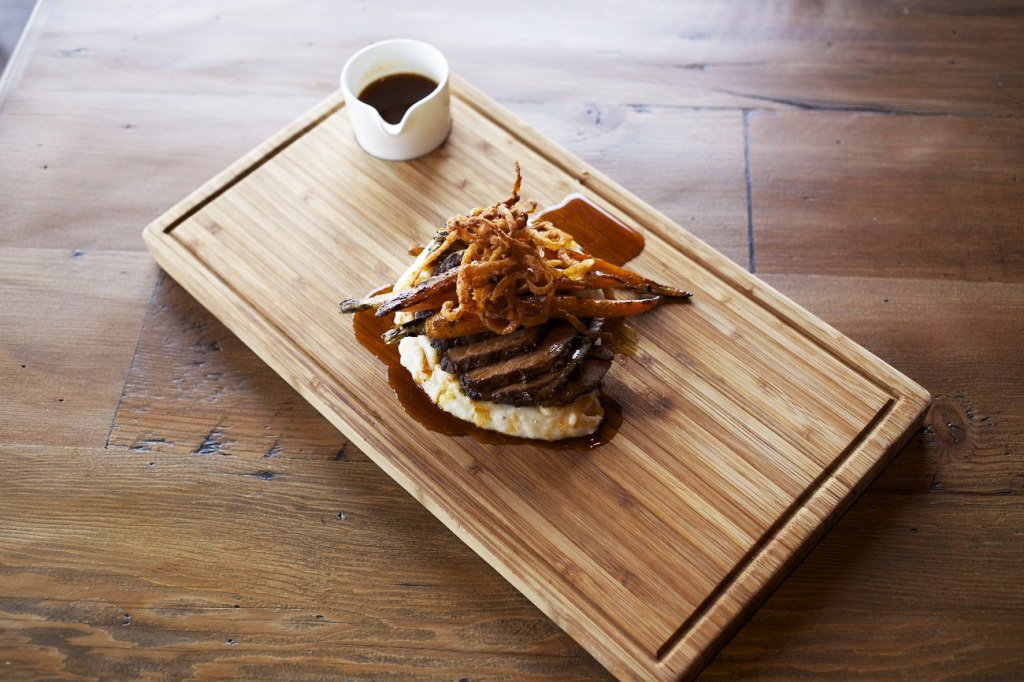 Starting this month, The Chop Shop brings you Happy Hour. Even that menu, with tapas sized portions of dishes like Hoisin-Tamarind BBQ Rib Niblets with Southwestern Slaw and Chop Shop Chicken Wings, is excellent. It was just plain difficult to put down the ribs. The wings come in two shades of delicious, tastefully seasoned and prepared. These are not hard-deep fried, slap in sauce, run of the mill wings. This is well-prepared protein that you could serve on fine china in any setting. The tastes are complimentary, familiar and exciting – all at the same time. To get these textures and tastes across a variety of proteins is difficult. Every dish has a feel and taste of its own.
But what is happy hour without drinks? The happy hour offerings compliment a range of craft beers and cocktails on tap. Having them on tap was a conscious decision to promote quicker service while keeping the product at that highest quality. Remaining true to the concept of improved, fast casual, the cocktails do not include syrups or neon colorings. They are delicious and fresh. The Calamansi Reyka Moscow Mule is a creative, yet tastefully functional twist on a traditional mule. Made with Calamansi, a South Pacific lime that is orange in color. This one selection highlights Clint's talent for infusing global elements to transform and refresh the common. It reminds you of the regular Mule, but excites a different side of your mouth. It's a different Mule, a better Mule. Better because of one really good substitution. It's not showing off, it's just good thinking. The other craft-tap-tail offering is a Pomegranate Milagro Margarita. This is a balanced margarita that doesn't numb your taste buds. It leaves your mouth in the proper condition to enjoy the well-though out dishes.
Just 10 blocks from bustle of Colorado and Colfax, there is something tasty and fresh waiting for you. Casual environs and fine food is what the Chop Shop offers. The menu can easily fit everyone. The limited drink menu should not discourage patrons. The prices ($4 to $6 on average) make it easy on the wallet, as it provides enough options that work. You'll also find that the "Fax" on East Colfax is blossoming.