What: Novo Coffee
Where: 1600 Glenarm Place & 1700 E 6th Avenue
Pros: Novo Coffee offers premium espresso, coffee, and spirits, collaborating with several local businesses.
Cons:  The noise level in the morning can be a little high, but after the morning commute settles down, so does the volume.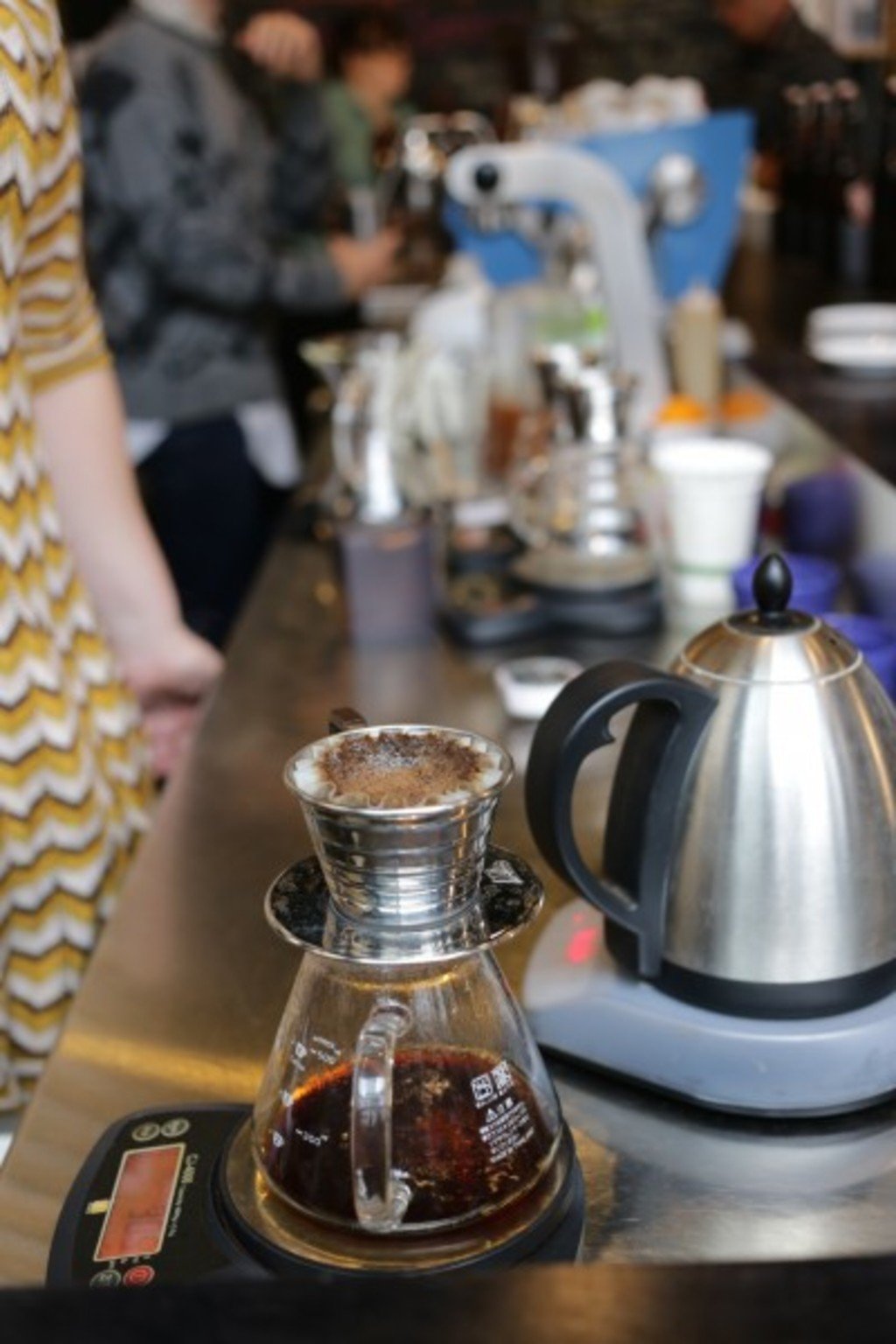 There's more than just coffee brewing at Novo Coffee in Downtown Denver. With a well known roasting facility on Larimer Street and two of their own cafes in Denver, Novo at first glance seems to be your standard coffee shop, serving espresso and roasted coffee to commuters and businesspeople. But after closer examination of the menu, it's clear that Novo is much more than meets the eye. They offer the standard espresso bar menu but add a lot of surprises in-between. Like their Hibiscus Spritzer, a cocktail made with hibiscus tea, gin and lime. Shaken together at the bar while patrons work away on laptops and cell phones. Or if you're not interested in grabbing a cup to go and decide to sit a while, Novo offers a small selection of local beer and wine. So you can stop early in the morning to get a hot cup of coffee, and swing by after a long day of work and enjoy a glass of beer or wine with friends and coworkers. Novo's most popular roast is called, Anyetsu, an Ethiopian blend of coffee that tastes of wild blueberries with a low acidity and a smooth finish. Make sure to ask about their Kalita Wave Pourover method, a Japanese system of brewing a single mug of coffee, allowing you to choose a fresh cup of any roast Novo has to offer.
"We buy for quality," says Jake Brodsky, co-founder of Novo Coffee. "That's why we're always building positive relationships with farms from all over the world."
While 15% of Novo's coffee comes from Panama, Jake and the rest of Novo want to serve coffee that suits their vibe and tastes the way good coffee should taste. Constantly looking for new and flavorful selections from all over the world. They're even moving into business with local distilleries and craft-beer breweries, planning on releasing a coffee liqueur through Dancing Pines Distillery, a local Colorado company. Look for coffee infused craft-beer offerings from popular local breweries like New Belgium, Wynkoop, and Renegade, yet another way Novo keeps their business as local as possible. Another specialty at Novo Coffee is their in-house made syrups, offering their own Harvest Spice Syrup to accompany your morning latte. If Harvest Spice isn't you thing, then make sure to try Novo's Orange Zest Mocha, a chocolaty espresso drink made with fresh orange peel and 77% dark chocolate from Ritual Chocolate, another local Denver company. The drink is smooth and chocolaty, with just the right amount of citrus flavor to compliment the cocoa and espresso, making the Orange Zest Mocha the perfect way to warm up on a cool fall morning. Novo's also got the cold-brew revolution covered, selecting the best roasts to be cold-brewed and poured through a nitro-tap, offering a tall pint of smooth coffee with a sweet foam head that dissolves on your tongue.
Novo Coffee encompasses the spirit of local business in all of its drinks. By roasting all of their coffee beans only a few blocks away from their cafes, Novo is able to supply fresh roasted beans to multiple markets and restaurants within the Front Range. So whatever your favorite morning, afternoon, or early evening drink choice may be, Novo Coffee has you covered. They're giving urban professionals more than just lattes and espressos as a reason to stop in a take a seat. Their Wi-Fi signal is top-notch, and their baristas are knowledgeable and happy to indulge your taste buds, offering some of the finest craft-drinks available so close to the heart of Denver. Keep an eye out for a lot more innovation from Novo Coffee in the future.
All photography by, Danny Odum.