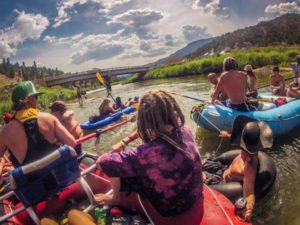 YarmonyGrass is at it again: providing us with yet another impressive lineup at another stunning venue. Rancho del Rio will host this year's bluegrass and funk revival that takes place August 15-17. Three day passes are available for $145 (onsite camping is included in the price) and well worth the price. Single day tickets have also recently been made available, as well as Saturday/Sunday 2-day passes. Headliners include Grateful Grass, Bill Nershi, and the Motet… but we don't attend YarmonyGrass for the lineup, necessarily.
However, that doesn't stop us from being excited about it: YarmonyGrass just announced that members of Railroad Earth will now be guest starring at the festival, following their sold out Red Rocks show.
But the real reason that we flock to Bond, CO each summer is for the collaborations that Yarmony boasts. At such an intimate venue, the Yarmony festival serves as a catalyst to bring like-minded artists together who like to get down. Our local String Cheese, Yonder, and Motet boys will all be there and we will likely see them all play together at some point. All in all, there will be about twenty bands performing at this year's festival.
Bill Nershi speaks warmly of the late night collaborations: "After the bands have played their sets, the top pickers and singers get together for the Joint Set. The musicians bring their favorite songs to the jam. Players and fans push their musical limits."
Don't miss out on the Gravity Lounge, which will be hosting a slew of yoga classes, guided meditation, acro, open jam sessions, workshops, and ecstatic dance. And the river obviously boasts all of the water activities you can imagine, from rafting and kayaking to paddle boarding, fishing, or simply floating drunk down it on an air mattress.
303 Magazine had a chance to catch up with Keller Williams to talk about his recent Grateful Grass project, his love for the Grateful Dead, and his contagious case of "wookie foot."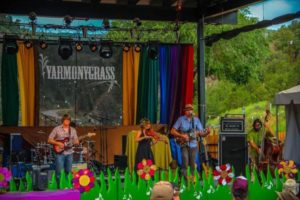 303: Tell me about your new album DOS that was recorded by Grateful Grass, which is comprised of Michael Kang (violin), Jeff Austin (mandolin), Keith Moseley (bass), and yourself (guitar).  What does DOS stand for? Which are your favorite Grateful Dead tracks to cover?

Keller: As in the second Grateful Grass album, two. It's a digital download to benefit the Rex Foundation. All Dead songs done bluegrass. I picked a bunch of songs that we didn't release on the first album, and we focused on those particular songs. It's kind of my favorite set of Dead. There are so many great Grateful Dead songs. One of my favorites would probably be Bird Song.

303: Can we expect you to incorporate any of your mastermind improvisation and looping during Grateful Grass live performances? 

Keller: This is something totally different than my solo acts. There will probably be lots of improvisation, but there won't be any looping or anything like that. This is all a bluegrass novelty project. An excuse to play Grateful Dead songs.

303: Grateful Grass's DOS proceeds benefit The Rex Foundation, a charity organization started in 1983 by the Grateful Dead. This is your third album released to benefit The Rex Foundation. What are some of the foundation's initiatives that you like to see funded by money that you raise for them?

Keller: I personally like to donate the money that I make from playing Grateful Dead songs to the Rex Foundation. I think that, in itself, is where I'm at, simply because the Grateful Dead started the foundation and the music coming from the band is being sold. Music of the band being played in a different way, by me, is totally funding them. They do what they see fit. The fact that they started it and are maintaining it is all I need to know.

Grateful Grass playing St. Stephen in 2006:

[youtube:https://www.youtube.com/watch?v=vy11Y8goE5o]

303: Tell me a bit about your personal history with the Grateful Dead. What do you like so much about playing their music? 

Keller: My first Dead show was in 1987 in Maryland, which was just a short drive from my house. I guess what turned me on was, I think, the improvisation. That's what I got first out of it. The way they would just veer off and go in a whole different direction and then bring it all back into the original arrangement. And then I got into the more acoustic side of the band, which was when I think I really started learning a lot of the songs. The Reckoning record and Bear's Choice and some of Jerry Garcia's Old & In The Way got me learning the tunes.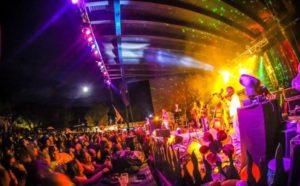 303: You previously released KEYS: A Collection of Grateful Dead Covers on Piano. How does playing the Dead on the piano versus playing the Dead on the guitar compare for you?
Keller: Well, the guitar is my main instrument. That's where I'm most comfortable, most at home. The piano is one of those things where I just sit down and start playing these instrumental Jerry ballads. I've always wanted to do a record on the piano but never really have the material and reason to do it. Playing the Jerry tunes on the piano gave me a great reason to sit down and do it and focus on the proceeds for the Rex Foundation.
303: You'll be playing a ton of upcoming festivals with Grateful Grass towards the end of the summer into the fall, including Colorado's upcoming ARISE Festival. Which shows are you looking the most forward to?
Keller: Well, the ARISE Festival definitely. I had a really good time last year, and this year is a completely different lineup as far as anything I've ever done, and as far as this project goes.
It's a bit of a novelty, in the sense that I'm not sure how long it'll be around. It's not like I set out to play Grateful Dead covers. We just got together and did a set and sparked that interest. It's another excuse to play Grateful Dead songs.
I'm looking forward to all of them, especially the ones with Keith and Jeff because that's where it came from. I love getting together with those guys. The ARISE Festival isn't with any of them- it's with Alli Kral and Billy Nershi. It's a lot of fun. It's not something that had a lot of thought behind it or a lot of focus. It's like my friends knew this material and have been playing it for years and years, and we're putting a whole different spin on it. A lot of energy.
303: My brother wanted me to ask you this: does playing barefoot so much ever cause you to worry about contracting the dreaded "wookie foot"? Or is the stage a safe zone?
Keller: The stage is definitely not a safe zone for anything, especially wookie foot. The thing is, that, you know, I already have wookie foot. So I'm not really worried about getting it. It definitely started out at the concert level then it ended up like a tool to use my big toe to press small buttons. If I had shoes on, I may hit two buttons by accident. That's kind of where the barefoot thing comes from. The shows where I'm not looping, it just became a thing.