Everyone always seems to be looking out for new styles emerging from Paris, Milan and New York…but what about Copenhagen?
This ocean town has more to offer in the world of fashion than you'd expect and it all can be seen at Copenhagen Fashion Week. These Scandinavian designers know just how to quench our fashion thirst. The Spring/Summer 2015 shows were extremely diverse. At Ganni we saw chic sportswear being offered up on a tennis court runway. Designer Malene Birger created a heavenly collection of whites, golds and blues with a plethora of fringe. And Wali Mohammed Barrech showed us that Copenhagen street style is all about comfort and color.
Even though the Fashion Week ended, 303 Magazine is here to help fill you in by showing you our top five Copenhagen Fashion Week Shows.
1. Fonnesbech 
Danish fashion house, Fonnesbech showcased its debut collection to the public this past week and it exceeded everyone's expectations. We were impressed with the light quality achieved from this collection, despite a variety of layered looks. Heavy jackets and vests laid on top of delicate dresses to give these looks a raw edge. These masculine looks contrasted well with delicate and feminine pastels giving the Fonnesbech fashion house a diverse show.
2. Ganni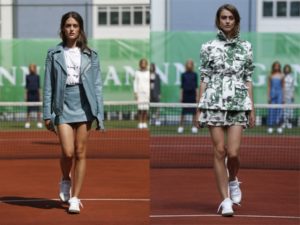 Ganni took sportswear from sweaty to chic. This Copenhagen designer decided to use an old tennis court as the backdrop for their Spring Summer 2015 show. White tennis shoes were displayed on each model, taking us back to 90s gym classes. But we wish we looked this good back in the day. Ganni presented short skits and easy wind breakers that were busy with print and color. The entire collection was just effortless with tee shirts as another base. Our favorite look was a cool, baby blue, dyed leather jacket we can't wait to wear next spring.
3. Malene Birger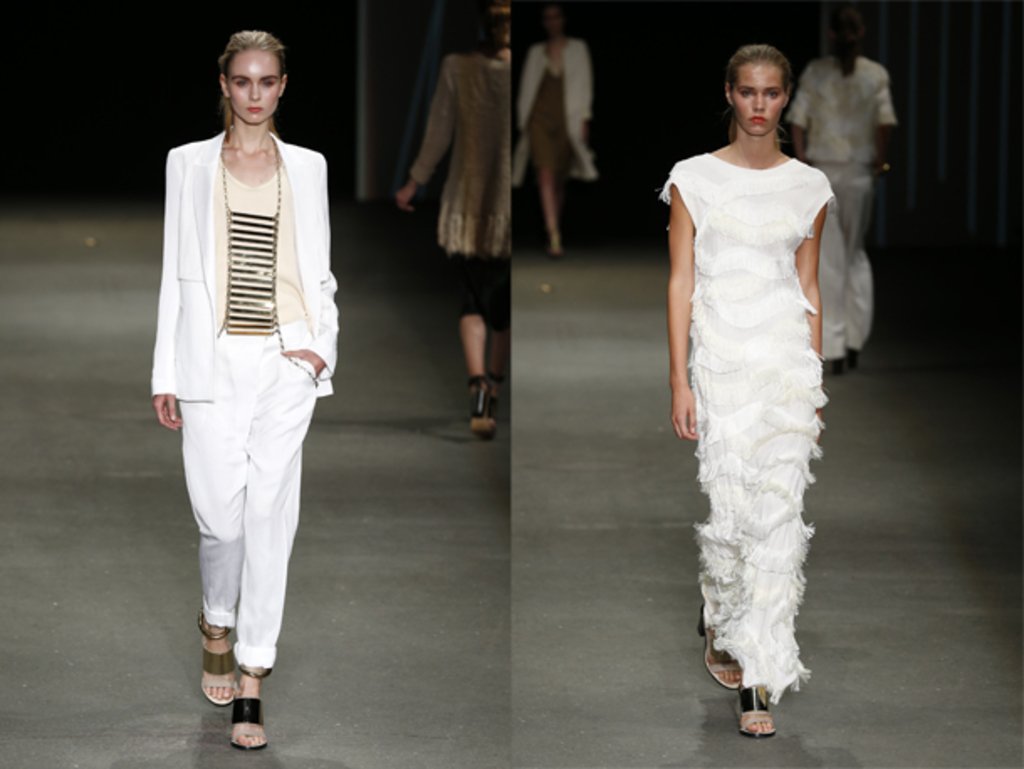 Malene Birger is quickly becoming a hot name in fashion, and quite frankly, we're not surprised. Each collection tells a story and fuses together fashion and art. This Spring Summer 2015 collection did exactly that and even took place on a small island away from the fashion week drama. Audience member's were greeted with a plethora of white fringe and gold jewelry that contrasted well with tailored suits and silver beaded tops. The overall collection offered many looks allowing for anyone to change up their style in mere minutes.
4. Freya Dalsjo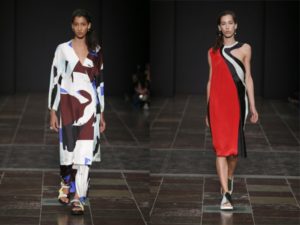 Freya Dalsjo's pieces are becoming easy to recognize for their architectural color blocking and diverse usage of silk fabrics. This most recent collection stayed true to their familiar aesthetic but played with cut and design. A red and black dress flowed over the shoulder only to leave one bare, giving it an artistic twist. The signature robes were created a bit more laid back for spring with a deep V neck and simple tie on the side. We can't wait to shop this collection and rock it on our weekends off.
5. Wali Mohammed Barrech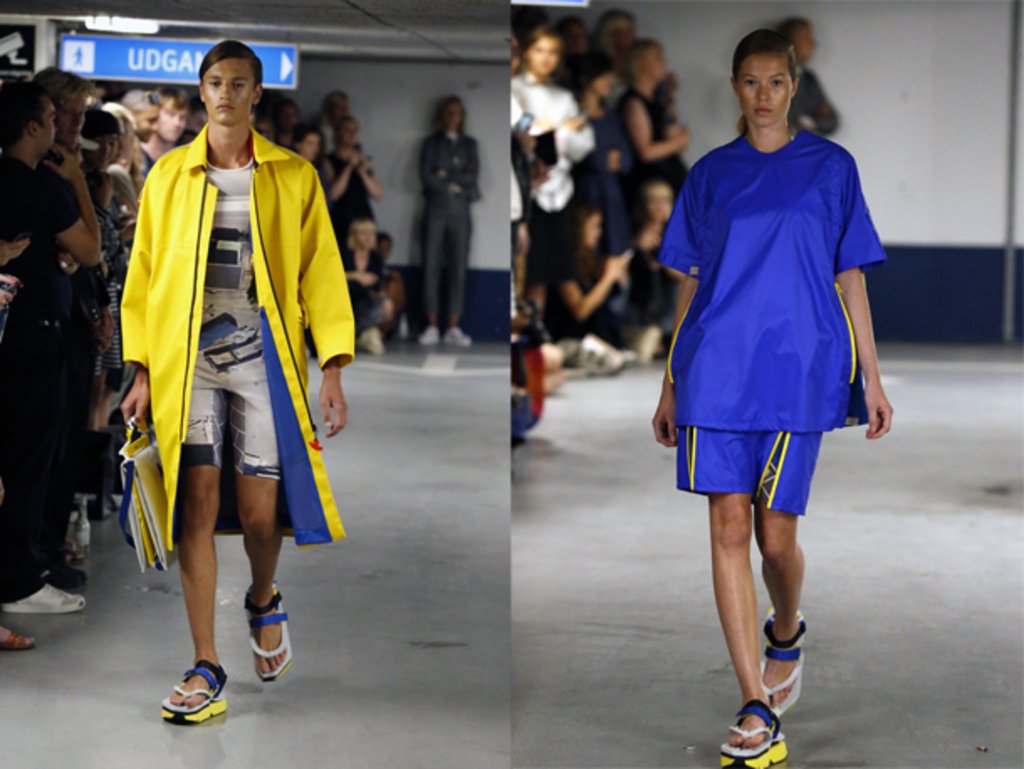 This collection took street wear style to a whole new level. Wali Mohammed Barrech offered up effortless looks that were anything but boring. Metallic button ups went all out with electric yellow zippers and cobalt collars. It was refreshing to see a collection where each piece could be utilized in a unisex style. No boundaries here, men and women alike can mix and match to their hearts content. Yellow rain coats and sheer floor-length jackets made for the stand out show of the season.