What: Desserts at Humboldt
Where: 1700 Humboldt Street, Denver
Pros: The airy setting is comfortable for both dressier and more casual occasions. The desserts are solid renditions of classics made with seasonal ingredients and familiar flavors—no surprises here.
Cons: While the desserts are indeed delicious, they are definitely not innovative or unique.
Humboldt still feels like a newcomer to the Denver dining scene, despite the fact that it's been open since November. Perhaps that's because it occupies the expansive space on 17th Avenue that once housed Denver's beloved institution, Strings, for over twenty-five years.
Yet the renovated space feels like a complete departure from Strings. Although certain elements remain unchanged (like the exposed-brick atrium), the rebuild has rendered the space far more open and modern. Dark wooden tables, airy glass globes above, and a sparkling oyster bar in front of the open kitchen are all complimented by plenty of natural light from the large windows.
The refined yet casual setting at Humboldt reflects the simple mantra of the food as well. With an eclectic range of dishes, the restaurant has branded itself as relaxed American dining. At the core of everything, Humboldt offers great food, wine, cocktails, and service. Whether it's a weekend brunch on the patio, a bustling happy hour, or a well-rounded dinner, Humboldt offers something to please just about everyone. While it's clear from the restaurant's pamphlet of purveyors that this is farm-to-table dining, it's doesn't come off as flashy or over-the-top, just a genuine regard for using the best ingredients.
Humboldt's Farm Fresh Sweets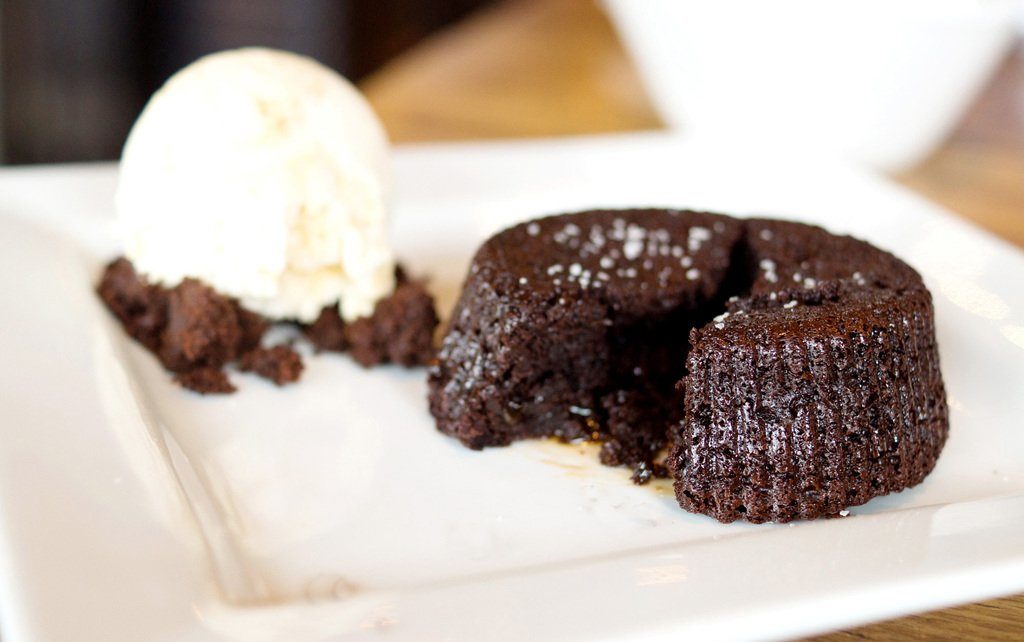 While the food at Humboldt is on par quality-wise with a fine dining establishment, it's served without pretension. The same goes for the desserts, which are presented in a straightforward, simple fashion. The menu only has five of them, and everything is $8.00. "We wanted to keep things simple, especially with D Bar being right next door," said Executive Chef DJ Nagle (formerly of North). But  this is definitely not a bad thing—after all, what's better than ending a meal with a classic crème brûlèe? Humboldt's rendition of the standard is perfect, with the caramelized sugar top yielding to a supremely silky vanilla custard.
"It's just good people making good food, solid people who care what's coming out of the kitchen."
My personal favorite was the Brioche bread pudding, served with the house made crème anglaise and a scoop of natural Boulder vanilla ice cream. Warm, comforting, and definitely nostalgic. Chef Nagle's favorite, however, is the house made strawberry shortcake, made with vanilla bean shortbread and served with a dreamy vanilla Chantilly cream. "This is what I crave," chef Nagle said of the deceptively simple dessert. I expected this dessert to be dainty and demure, but it was anything but. The biscuit was massive, brimming with bright organic strawberries, and refreshingly summery and light.
While one doesn't typically think of desserts as wholesome, the desserts here, made with clean ingredients and nostalgic flavors, are soul nourishing. Next time you find yourself craving something sweet, head over to Humboldt for a dose of farm fresh flavor. And while I'm always a proponent of dessert for dinner, don't skip the daily happy hour, featuring dollar oysters, stiff craft cocktails, and one of Denver's best burgers. Whether it's a special occasion or just a regular day, Humboldt's elevated yet simple food will never go out of style.