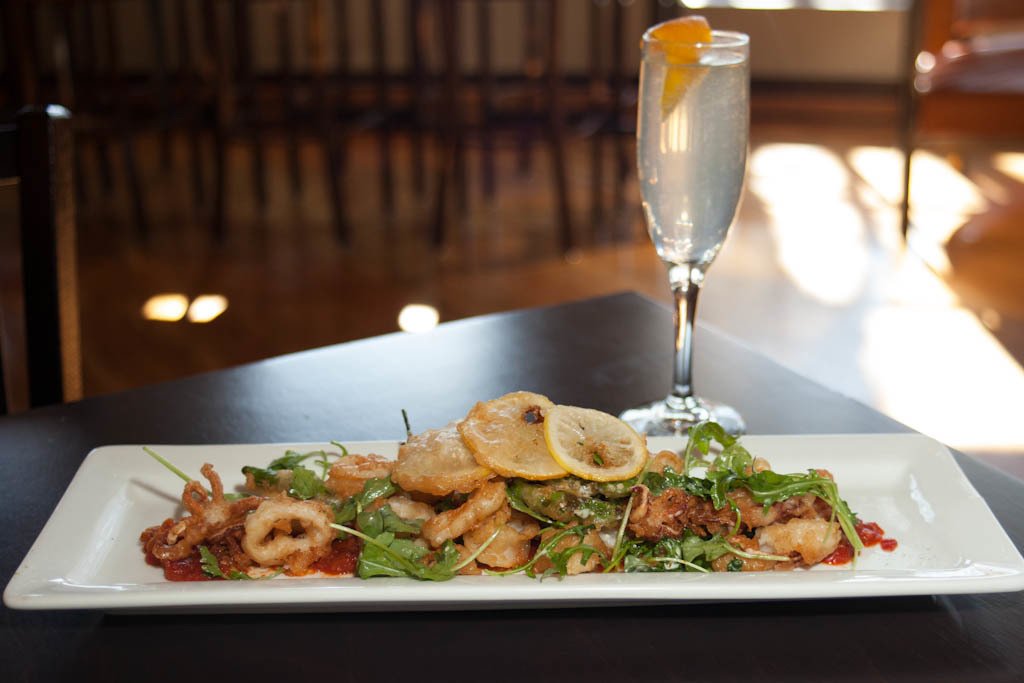 What: Made-over classics for brunch at a new Denver restaurant
Where: 1700 Humboldt St
When: Saturday and Sunday, 10am-3pm            
Pros: This made-over space is open and full of light, especially during the day on a Colorado weekend. And the food, like the décor, is filled with unexpected touches on old favorites.
Cons: Humboldt hasn't been open long, and like any new business, there are some kinks to be worked out as the staff learns the ropes and perfects the recipes.
At first glance, Humboldt's brunch menu looked familiar enough. Breakfast Sandwich, omelet, hash, benedict…the expected was all there. But when you dig a little deeper, the food here shows a lot of potential to stand out from the numerous other brunch spots lining 17th Ave.
Like our happy hour writer, I enjoyed the unique and addictive Crispy Broccoli. Though they are probably more appropriate for the late afternoon, I could eat these anytime of the day. Flash fried in high heat oil, this veggie has a crunch on the outside with no trace of the mushy interior I feared they may have.
The Fresh Shucked Oysters offer an indulgent start to the weekend. Humboldt features an oyster bar with changing selections of super-fresh varieties like the large and meaty Naked Cowboy and the delicate and sweet Kumamoto. With Charbroiled and Baked options as well, this restaurant is ideal for oyster lovers.
And what's a better partner for oysters and brunch? Bloody Marys. Humboldt has four to choose from  including one spiced with Old Bay. There's plenty of champagne too. Mimosas with orange, grapefruit or pineapple juice make sipping easy, and Champagne Cocktails come in four varieties. The blood orange was light and tart, but the blueberry was too sweet and the coffee resulted in an odd combination that I just couldn't quite get used to.
In a place with so many seafood options, the Calamari is a solid choice. Featuring thin, tempura fried lemon slices, this preparation reminded me a bit of Parallel Seventeen's version, though Humboldt's is simpler and comes over an enjoyable pickled pepper-tomato sauce. Served on a croissant, the Breakfast Sandwich here is more than just meat, egg and cheese. Humboldt's take is a rich choice that comes with house cured pork belly, white cheddar, an egg however you'd like it and a sweet roasted garlic and onion jam.
With tall windows and a spacious room filled with sleek, modern décor, Humboldt is ideal for brunch as the weather turns colder. Once patio season is over and snow covers the ground, the next best thing to sitting outdoors is a space where you can enjoy the view without the cold temperatures and get acquainted with what Humboldt has to offer.
All photos by Jackie Collins