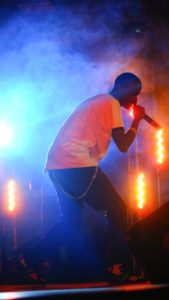 For a new artist who is interested in cultivating a new following or building on the following already established, being in Denver on 4/20 weekend was like striking gold. Travelling from New York City to Denver, STACE is an MC who knows how to make an indelible mark on pretty much anything he touches. The Fly Company Music Group is his imprint and the creative outlet for releasing his mega progressive tunes.
Hailing from Mount Vernon, New York (just outside of New York City), STACE is a musician who knows exactly what he wants. Not only does he sing, rap, play piano, guitar and drums, STACE is a businessman who watches the trends and reaches new heights in setting his own. We kicked it with the "LA Kind of Girl" singer to talk independent artist hustle, foundational appeal and the almighty herb. Check it out below.
303 Magazine: You're in Denver at kind of the perfect time, considering so many artists are here.
STACE: Exactly! I'm just here to have some hip-hop conversations, a few interviews, get to know the city and find out what's what in the Mile High, doing the ground work, you know?
Are you a smoker?
I'm not like an everyday all the time smoker, but I do partake, if there's some around.
There's always herb around.
[laughs] Absolutely, because it's Denver. That's the perception, anyway, that any and everything goes well with herb.
Since the passing of the laws allowing recreational use, 4/20 is looking like a mini SXSW.
Absolutely. For a new artist, this is the place to be for the weekend, especially if you want to build new artistry. There are these coastal perceptions about New York and LA but Denver is kind of its own market.
You made a song that's a bit of an ode to LA girls, right?
"LA Kind of Girl" isn't about LA specifically. Because I'm from NY and I live in NY I chose the furthest place from NY I could think of. I'm talking about the distance between my love, if you will. There are things that are in common with both places so it's kind of like describing what my love looks and feels like from a distance.
You seem to be self-sufficient in ways that are beneficial to unsigned artists. Talk about the independent hustle.
Really it comes down to whatever is ultimately best for the music. You have cats who are independent are making more noise than people who have been signed. A major distribution deal is great and it's one of the perks to signing to a label. When you have your movement and it's actually rolling you can be occupied by the music and not have to focus as much on the business. Because I can do both, this forces me to work like I have a 9-5. I can run the music as the business and the business as the music. There are pros and cons to both things.
How long have you been rapping?
I've been rapping since 2006. It hasn't been that long. The difference is that the music thing was so a part of my life, I didn't feel the need to go record it.  I've been playing instruments and attached to the music all my life. When I came to the realization that this should be heard, that's when I started putting all of these things together.
What are you working on right now?
My team and I sat down and we combed through the 100 plus records that I've done personally that doesn't even include production and writing that I've done for others, to create two projects. We have The Essentials vol. 1 and The Essentials vol.2 that are select songs a newcomer should know. When you listen, you can hear my growth and I can give the listeners all sides.
How is your live performance?
Energetic. Actually, a project that's coming out in about the next two or three weeks is called STACE: Rare Moments and it's going to capture my live sound. I took all of the audio from my live shows and created the ultimate album. When I tell you I'm a musician, there is nothing like attending my live show entirely.
Watch "LA Kind of Girl" below.
Follow STACE on Twitter: @wwwstaceco