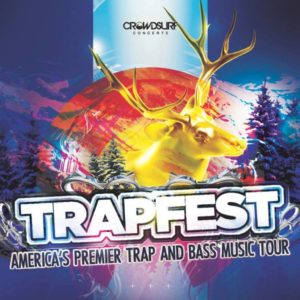 What's better than huge bass and heavy trap beats?  Huge bass and heavy trap beats on one of the best drinking holidays of the year — St. Patrick's Day.
No need to search any further than TrapFest, America's premier trap and bass music tour, which will be held Saturday, March 15th, 2014 at the historic Fillmore Auditorium. TrapFest will feature seven acts, headlined by one of the best trap DJs in the game, Brillz. Brillz will introduce his Twonk Takeover Pop Up Show.  Twonk is Brillz's debut album and music critics are dubbing it as art that will further the emerging electronic genre.  303 Magazine's own music editor, Samuel Lang, interviewed Brillz in February about "How to keep it Twonk."  To see the whole interview, follow this link (https://303magazine.com /2014/02/brillz-tells-303-magazine-keep-twonk/).
Opening for Brillz, is an amazing ensemble of trap DJs that will surely please any bass junkie.  This ensemble includes Ookay, Butch Clancy, Getter, Vinnie Maniscalco, Treyy, and Decadon.
General Admission, Reserved tables and VIP are still available through Ticketmaster, but the show is expected to sell out before the doors open at 7:00pm.  The team at CrowdSurf Concerts is known to throw some of the best events around the country, so please don't sleep on this opportunity to party hard into the night this St. Patrick's holiday.