In case you haven't heard, Denver Fashion Week is coming up… again. If you missed out on the last one, you missed chicks in gas masks, electrical tape, wearing bird cages, angel wings, tutus, cotton candy hair, a parade of Greek goddesses, and even a 3 mast ship hair-do. Truly outstanding creativity.
For the upcoming DFW, which is held April 3-6 (yes, it's the same weekend as the Snowball Festival- but once you're womped out from the EDM, DFW is a stellar alternative) at City Hall, we will be hosting the first annual Colorado Hair Styling Competition. Prizes will be awarded for Newcomer, Hairstylist of the Year, Hair Colorist of the Year, and Avant Garde.
Speaking of Avant Garde, let's get back to this week's Throwback Thursday: David Bowie singing "Fashion." Bowie was (is) the king (queen?) of avant garde fashion, from his sassy and spiky mullets to his iridescent bodysuits and face paint galore.
Vice recently published an interview with Kansai Yamamoto, the Japanese designer responsible for the creativity behind most of Bowie's kimonos, pantsuits, and gender-defying glittered and glammed outfits that were flaunted during his Ziggy Stardust tour in the 1970s.
"We are the goon squad and we're coming to town,

Beep Beep"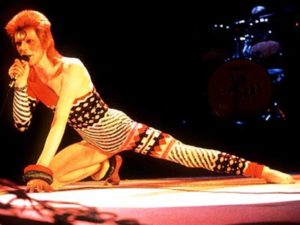 Bowie released the song "Fashion" off of the album Scary Monsters (and Super Creeps) which was released in 1980. The song has a similar bass line to "Golden Years" (1975) and the lyrics have many references to previously released songs. It was rumored that the reference to the "goon squad" poked at theories of fascism, but Bowie denies it. The video was filmed in a famous nightclub, Hurrah, and features cameos from Carlos Alomar, G.E. Smith (Hall & Oates), Steve Love, John Kay, May Pang (John Lennon's girlfriend from 1973–1975) and future MTV VJ Alan Hunter.

[youtube:http://www.youtube.com/watch?v=GA27aQZCQMk]

And did I mention Bowie's got a new album out? It's called The Next Day and was released last March- Bowie's 24th studio album and his first new release in a decade. Check out the bizarre-o video for the title track below for eyeballs on a silver platter, sad looking zombie brides, a sinful priest, and a strangely sexy blood bath.

[youtube:http://www.youtube.com/watch?v=7wL9NUZRZ4I]

Here's a glimpse at 303's last DFW event. Denver tested, Bowie approved?

[youtube:http://www.youtube.com/watch?v=ogjzVIhMfdA]

If that tickled your fancy, 

PURCHASE YOUR DFW SEATS / TICKETS BEFORE THEY SELL OUT…

because they will.