While giddily awaiting March 22 so I can enjoy Collaboration Fest, I had worried that it would be difficult to find a reason to talk about the event after my previous article.  Luckily, I was invited out to Pikes Peak Brewing Co. in Monument to take part in a collaboration brew day on March 8th.
This was more momentous than previous brew days I've been to.  March 8th was International Women's Day, and this particular collaboration was also Colorado's contribution an international brew day organized by Project Venus.  In a profession seemingly dominated by long beards and chest hair, Project Venus is seeking to bring women's role in the brewing industry out into the open.  The purpose of the brew day was for female brewers around the world to come together in more than 30 breweries and collaborate on "Unite Pale Ale," a base recipe that the individual groups of brewers would modify in order to put their own signature on an international beer.
From an industry perspective, it's a wonderfully creative way to let people know that professional brewers make top notch beers regardless of gender, as well as an interesting attempt to shift beer culture away from the "no girls allowed" stigma it's carried with it since the 20th century.  Project Venus takes craft brewing a massive step away from the beer culture whose foundations were laid in the 50's, 60's, and 70's by the big three.
As a beer lover, I also find the prospective of dozens of variations on the same recipe of beer absolutely fascinating.  The base recipe promises a 4% ale with light hops bitterness that is meant to be easy-drinking and refreshing.  The permutation produced by the brewers at Pikes Peak is using victory hops and a healthy addition of rye to the mash.  "I like rye, mostly because I like whiskey," Aly Hartwig, Assistant Brewer at Pikes Peak Brewing and leader of the collaboration, said with a laugh.  "It's got the lowest ABV of any ale we've made here, and we want it to be a light, sessionable pale.  But the addition of the rye should give it a touch of pepper."
A number of Colorado Breweries were represented at the brew day, including Red Leg, Trinity, Great Storm, Fieldhouse, Paradox, Bristol, and Phantom Canyon.  In keeping with Colorado brewing, an eye was also kept on the environment as the spent grains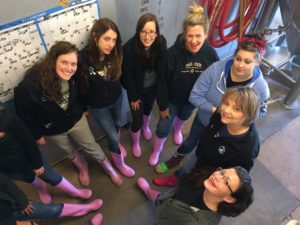 were given to farmers in Larksburg to be reused.  Aly also described the brewing system at Pikes Peak, which uses an energy efficient system that doesn't have to heat their mash water from tap-level temperatures.
Aly and the rest of the brewers promised me the Colorado spin on Unite Pale will be available at Collaboration fest on March 22nd as well as the base version for comparison.  Proceeds from the brew day are going to charity, including the Pink Boots Society, which focuses on helping women in the brewing industry advance their careers with scholarships and education programs.  I for one can't wait to sample their work.
Special thanks to Karen Heun for providing pictures for this article.
Don't forget to purchase your tickets to Denver Fashion Weekend 2014, April 3-6!  Tickets on sale now!