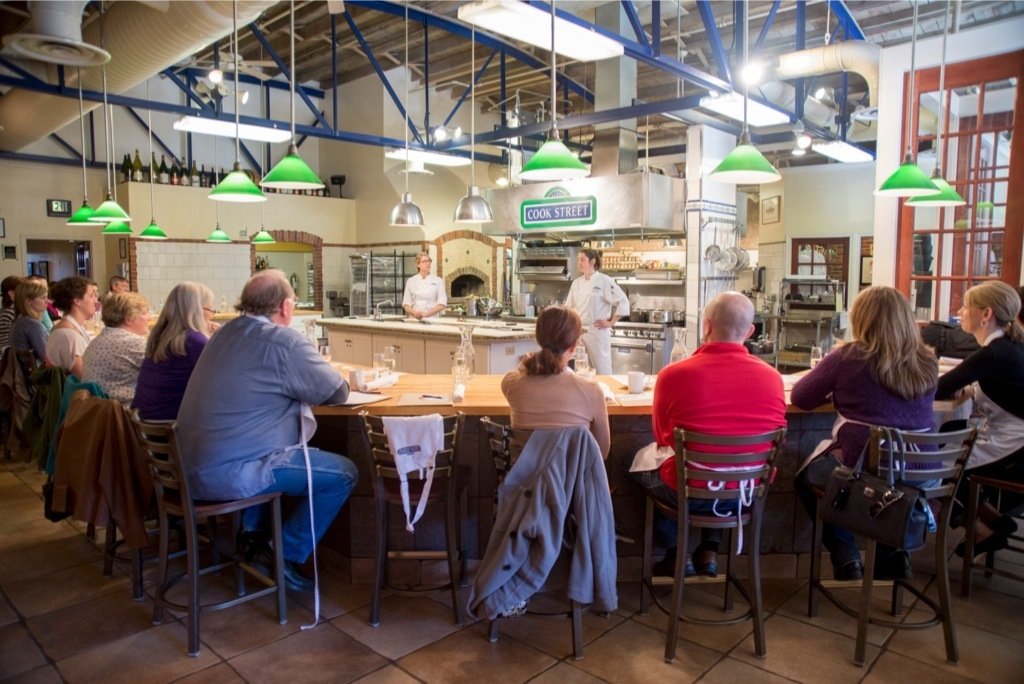 What: A cooking class that will have you ready to invite all your friends over for a home cooked brunch
Where: Cook Street School of Culinary Arts, 1937 Market St        
When: There are a variety of classes offered at Cook Street every month. Check out their website for a complete listing of offerings. The next Brunch and Bubbles class is scheduled for Saturday March 1st.
Pros: Where to start? There's plentiful bubbly, relaxed and knowledgeable chefs leading the way, and the reward of a tasty meal that you prepared. Classes here offer a great mix of fun, education, and satisfaction for your belly. They even provide light snacks to munch on during class in case the aromas from the kitchen get your appetite going early.
Cons: Cook Street has a large facility and classes often fill to capacity. They do a great job making sure each student gets a chance to try all the steps of the dish, but chopping and dicing in a group of strangers can be a bit awkward for newbies- though that's nothing a few sips of that bubbly can't cure! Bring a couple friends and an open and positive attitude and you'll be just fine.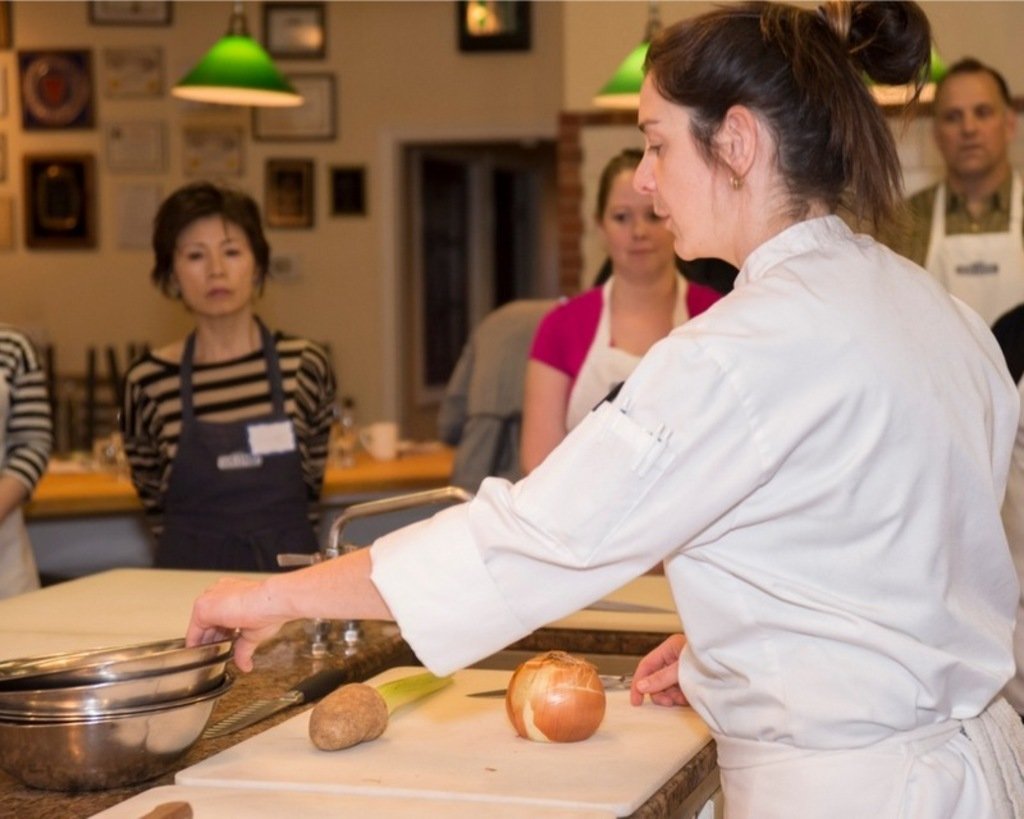 They had me at "Prosecco." As soon as I arrived at Cook Street School of Culinary Arts for my first-ever cooking class, a nice glass of the bubbly stuff was poured for me. You don't just get tips on chopping and seasoning here (though you get plenty of that too), you get hospitality. Though as, Erin Boyle, Chef/Instructor on the day I attended, explained, they don't break out the rest of the cocktails until after the chopping is done. Safety's important in cooking too, you know!
Once you settle in, put on the obligatory nametag, and get a chance to mingle with your fellow students for the day, the fun begins. This past Brunch and Bubbles menu included Boozy Fruit Scones, Tomato Ragu with Poached Eggs and Hollandaise and the World's Best Homefries. Even as an avid home cook, I was curious to see how the whole class would get through all those components in just a few hours.  The answer:  a well-planned schedule and an ability to stay calm and organized in the unexpected that inevitably lurks in every kitchen.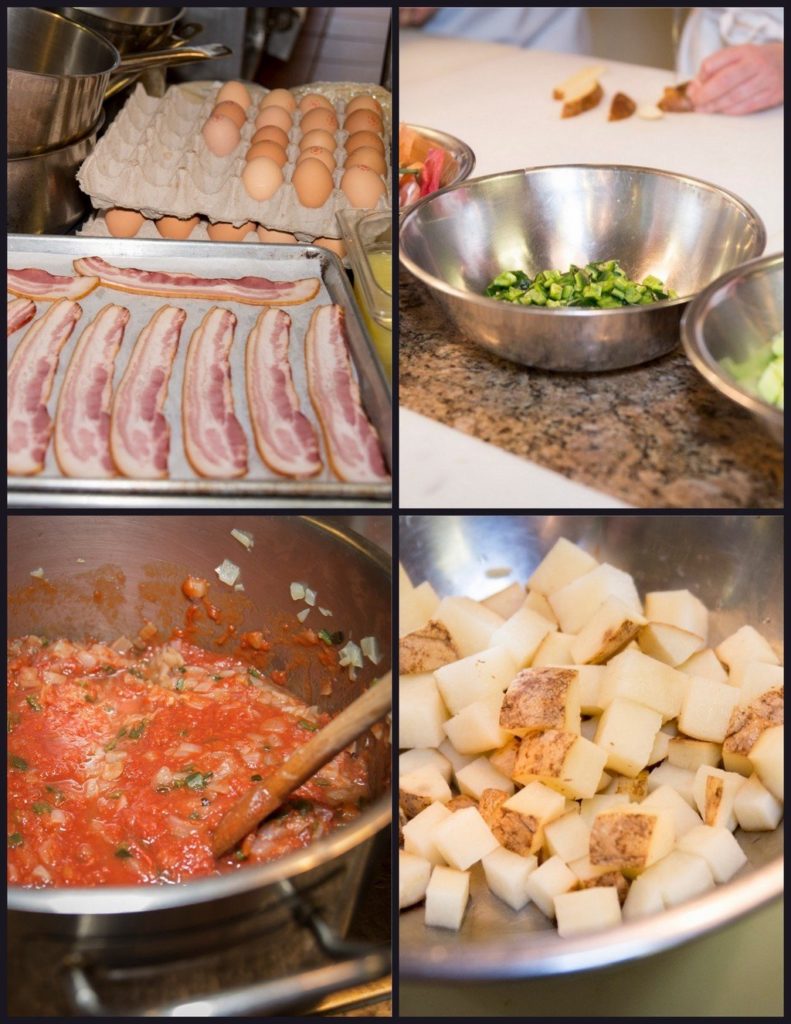 The Chefs at Cook Street are pros at much more than cooking. They know how to get a crowd to relax, and they know how to stay relaxed themselves when, say…a student throws a batch of broken hollandaise into the big bowl full of ready to eat batches that other students have already completed. In fact, it's the mistakes that make the class even more enjoyable and helpful as the instructors turn "oops" moments into learning moments.
Though you will go home with a packet of recipes to help you recreate the dishes, you will also learn one of the most important (and best, in my opinion)parts of cooking: that the recipe is just a guide, not a rule book. Take the Tomato Ragu we made. The recipe is simple enough:
Sweat diced carrot, celery, onion and fennel
Deglaze with white wine or water
Reduce, add diced tomatoes and simmer until delicious
But we also did a version with poblano peppers instead of fennel. And you could do it with eggplant, or zuccinni or whatever you happen to have in the fridge. No onions but you've got leeks? Go for it. Wanna try poaching that egg right in the ragu instead of in water? Definitively go for it. Once you've got the techniques down, playing in the kitchen becomes so much more rewarding.
Whether you cook often or have never held a knife at all, Cook Street's classes are for you. I cook all the time, but I still learned some new tricks and now feel like a homemade hollandaise is completely do-able for an at home Sunday breakfast. If brunch isn't your thing, try another class like Fresh Sausage Making or Knife Skills or the tempting Steak and Spirits. Watch out, though, you may become a Cook Street addict like my hollandaise-making buddy Leslie. But if you're going to have an addiction, this may be the best one to suffer from.
All photos by Caitlin Savage