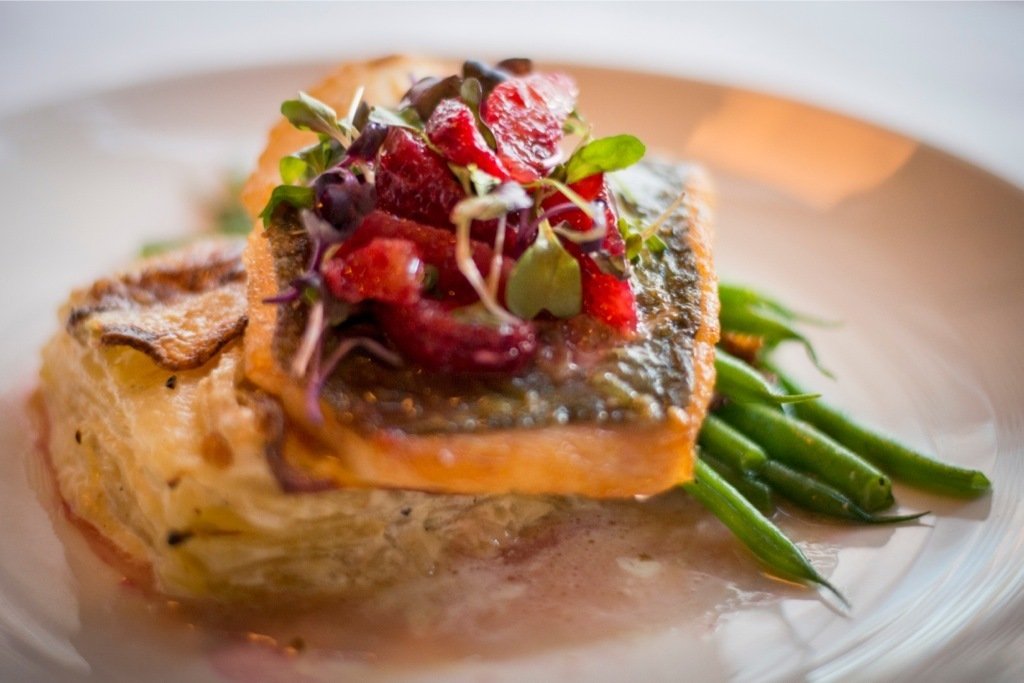 What: Pan roasted John Dory with fennel & potato gratin, green beans amandine and blood orange supremes
Where: Jax Fish House's Denver location, 1539 17th Street
When: Opens at 4pm daily
Pros: Simple preparations and an attention to the balance of textures and flavors allow each ingredient's flavor to come through. This dish is the stuff memories are made from.
Cons: John Dory is not regularly available, so you'll only be able to taste this dish if you're lucky enough to catch it on special. Although any daily special at Jax is a safe bet for ocean-fresh fare.
There are those certain flavors that instantly transport us to a certain time or place with one taste. For most, those memories are experienced in a very personal way, but Chef de Cuisine Eric Lee gets to share those moments with the diners at Denver's Jax Fish House in the dishes he creates. Recently on special at Jax, pan-roasted John Dory is a dish that began its journey to Denver eleven years ago near the cliffs of Cornwall in England.
Chef Lee, an avid traveler, spent some time at a four room bed and breakfast there called The Bottreaux in a small town called Boscastle. There, the owner and chef, Alan, would make daily meals for his guests in the eight-table dining room. As Chef Lee recalls, "For dinners, Alan would walk down to the docks and pick a fish that the fishermen had just brought in. Then walk up to The Home Farm, another B&B that was also a working farm just up the road and he would pick up some vegetables and either a few chickens or a duck or perhaps a side of beef."  This simple routine resulted in a meal that Chef Lee remembers vividly to this day as much for the incredibly fresh flavors as for the people he was with and the time in his life that the experience marks.
Though John Dory, a white fish with a flat, round body and large spikes on its dorsal fin, has been difficult to get in past years, it has recently made a reappearance in the available selections, giving Chef Lee the chance to share his favorite fish with the clientele at Jax. Pan-roasting gives the fish a crisp skin, but underneath this fish is light, flaky and mild. It would be delicious as is with a just a squeeze of lemon, but this meal is elevated by each element.
A delicately layered fennel & potato gratin is served alongside. With nothing more than butter poached onions, cream and salt and pepper, this dish is rich but you can taste the hint of licorice from the fennel and the creamy Yukon Gold potatoes clearly. Green beans almandine also accompanies the meal. Blanched haricot vert are tossed with buerre fondue until just hot then hit with a pinch of salt and sliced almonds for a satisfying crunch, another example of allowing an ingredient to shine naturally without the need for excess showiness. The blood orange supreme on top of the fish itself adds much needed acidity to the dish which balances the heaviness of the cream and butter used elsewhere nicely. These components come together on the plate to form a meal that is both light and filling, simple yet indulgent, and all-around gratifying.
Though this dish doesn't have attention-grabbing ingredients or new, flashy techniques, it highlights the timelessness of great food. And its dishes like this from Chef Lee alongside Executive Chef Sheila Lucero that makes Jax a must-try destination for all the land-locked seafood lovers of Colorado.