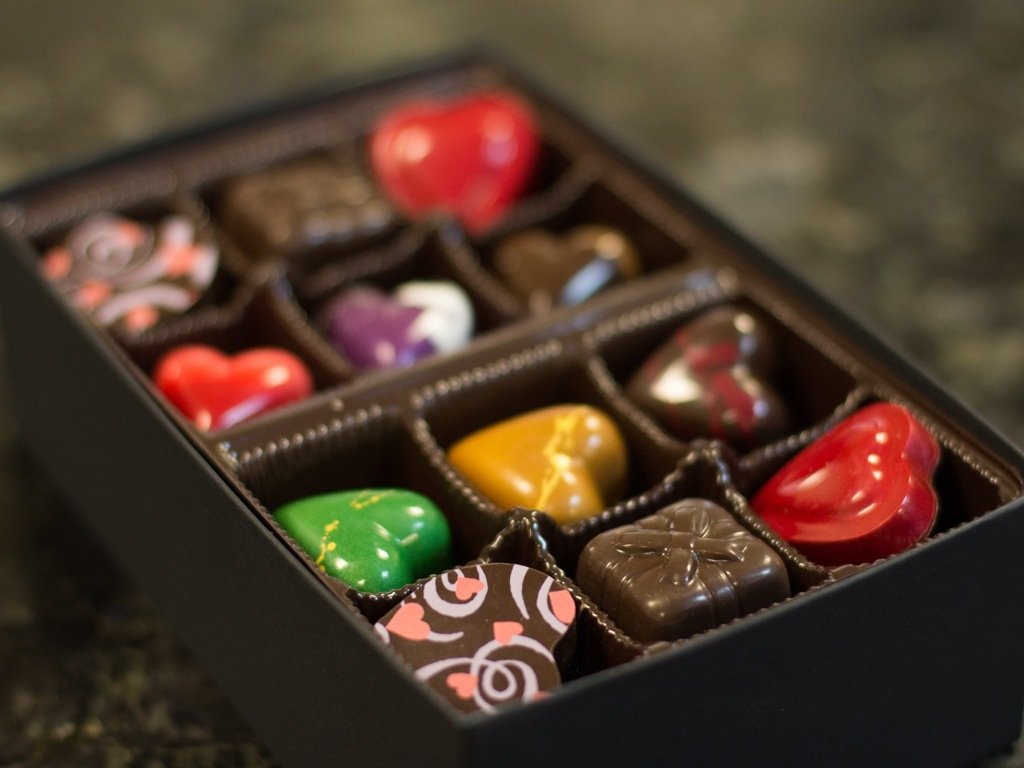 What: Robin Chocolates
Where: 600 S Airport Rd Bldg B Ste D Longmont CO 80503  
Pros: Melt in your mouth chocolates from one of the best chocolatiers in the country. These edible works of art are sure to impress even the snobbiest chocolate lover. An added bonus—all but one of the chocolates is gluten free. The infused caramels (like the herbaceous rosemary caramel) are all outstanding. 

Cons: The price for a box of these chocolates reflect the quality-high. Also, you might have a hard time sharing these.
It's that time again to answer the age-old question: chocolate or flowers? Luckily, this year I found the answer for you—Robin Chocolates. Skip the mass-produced boxes of mediocrity at the grocery store and support the local talent of one of the best chocolatiers in the country. In founder Robin Autorino's wise words "give them chocolate you know they'll like."
Though Autorino has an incredibly diverse background, she has found her unexpected niche working with chocolate. Growing up, Autorino had always had allergic reactions after eating chocolate, so becoming a chocolatier didn't seem to be in her cards.  After fourteen years in the navy and a stint in Virginia working for various tech companies (all the while doing the occasional triathlon), Autorino decided to attend culinary school in Boulder. She didn't fall in love with the idea of being a pastry chef until she worked in a patisserie in Avignon, France, where, as she says "dessert is not an afterthought." It was there that she was able to eat chocolate for the first time she can remember without experiencing an allergic reaction. Thus, her passion was born.
 Autorino worked tirelessly to master her craft, and she has the awards to show it. Dessert Professional named her one of the top ten chocolatiers in North America for 2013, a prestigious honor in a competitive field. As Autorino says, "working with chocolate is different everyday," and that's actually her favorite part about it. She is the kind of person who embraces challenges.
Now in her seventh year of business, she still refuses to compromise on quality for the sake of profit. This means that the confections are made with pure Valrhona chocolate, Cacao Barry, or Luker Cacao from Colombia. Autorino also values partnerships with local Colorado businesses, such as the Richardo decaf coffee liqueur (made in Lyons) in her Kahlua caramel. She has also been working on some chocolates using beers from fellow Longmont pioneers, Oskar Blues brewery.
Though some have asked Autorino why she hasn't relocated her world-class chocolate shop to a bigger city like Denver, she enjoys being surrounded by a small, tight-knit community. Walking into the shop in Longmont, the smell alone is enough to make any chocophile swoon. The sparkly jewel tones and vibrantly painted patterns of the gorgeous confections in the  case immediately catch the eye. A friendly staff offers samples of the chocolates to help you make up your mind—no easy feat.
All of the chocolates truly taste as amazing as they look,  but her caramels really stand out. While her chocolate caramel Fluer de Sel is ever popular, Autorino also offers an array of unique infused caramels. There's the rosemary caramel, in which the savory herb is cold-steeped in cream for three days before being balanced with a touch of Colorado honey and lemon. The Mexican molé caramel has a nice kick of habanero chili, and the rose caramel is floral and delicate. These are chocolates that make you close your eyes and sigh, enjoying the complex flavor notes and creamy mouth feel as they dissolve on your tongue. My only issue with them was that I didn't want to share.
If you've been searching for a stunning Valentine's Day gift, I highly recommend ordering a box of bonbons for the chocolate freak in your life (ahem…or yourself) to enjoy, or stop by the shop to pick up one of the decadent pastries. Orders can be placed through the website for chocolates, caramel lollipops, and toffees, but be sure to do so by the eighth so that you can assure they will arrive in time for Valentine's Day.  You can also find a selection of Robin Chocolates at the Cupboards in Ft Collins, the White Lion in Lyons, the Riverpointe Spa in Estes Park, and Sugarlicious in Denver.
All photos by Camille Breslin.