With DFW coming up in just a couple of months, it's time to once again get familiar with some of Denver's local talent in the fashion industry. Our city has some creative local designers, but the boutiques are also stand-out.
One of my personal favorite boutiques – for more reasons than I can list – is the feisty black widow of boutiques located in the Highlands' neighborhood. With some of the best nationally-known designers like Helmut Lang to local favorites like CarolAnn Wachter, Goldyn is setting the pace when it comes to finding trends straight out of New York, LA and our own backyard.
Coming on seven years, Goldyn has offered locals something different when it comes to fashion: style that you can trust. Instead of using collections that don't interest anyone besides those who work there, this boutique is actually involved and caters to Denver by being a part of the community. Throwing concerts, participating in fashion shows and interacting with its consumer, Goldyn is the best friend that will give you style advice, will introduce you to new designers that you should be aware of, and that actually cares about helping you acquire your own personal style.
Fir the first edition of Behind the Boutique, I talked with Goldyn's owner, Vanessa Barcus about how it all started, where it's headed, and what's in stores now.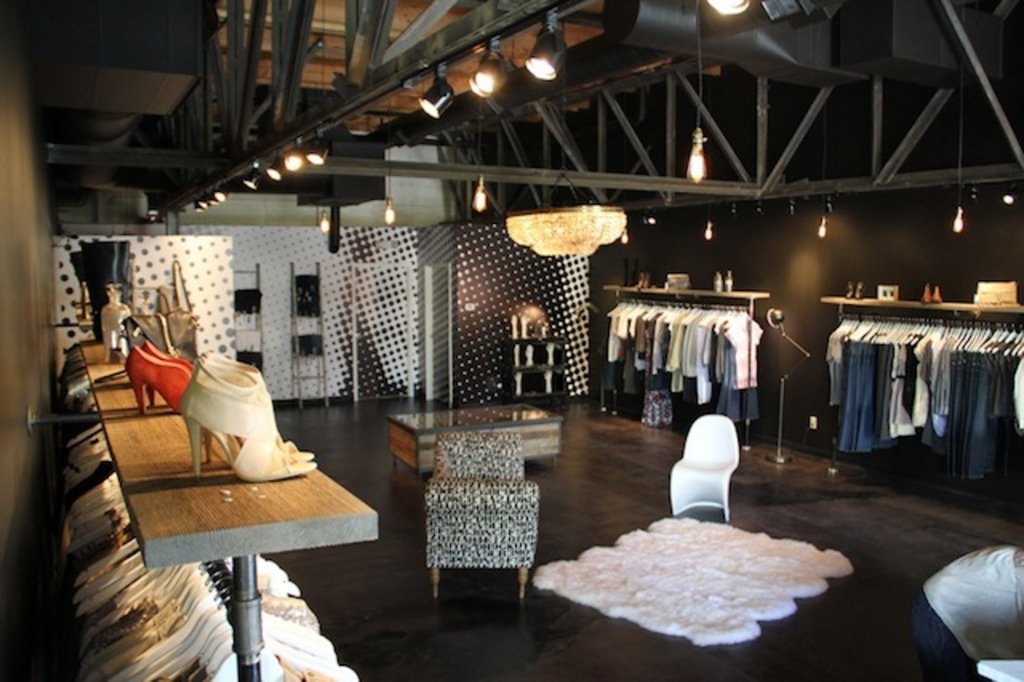 When did Goldyn launch?
VB: I first started Goldyn as an online boutique back in 2007.  I had recently moved back to Colorado after being in LA for a while, and was frustrated by how difficult it was to find more progressive, independent designer fashion here… So the intent from the start was really to make these kinds of emerging designers available to people outside of the obvious locales of NYC and LA.
Why start it as an online-only boutique?
VB: We started as an online boutique in order to be flexible, maintain a low overhead in the beginning, and to be able to reach a broader demographic, although opening a brick and mortar was always my long-term intent.  I saw in 2007 that Denver was at the beginning of a cultural renaissance, and I knew eventually the timing would be right for a store.
Why did you choose to open in the Highlands neighborhood?
VB: The Highlands is one of the most buzzed-about neighborhoods in the country right now. It's just bursting with energy, new ideas, and creative young professionals who are the kind of people who "get" our aesthetic and concept.  I love this neighborhood, and I wanted to be a part of making it even better.  It's very up-and-coming, and of course we were one of the first high-end stores to appear here, but it's a good fit for us.
Was fashion always a part of your life growing up?
VB: I was always very into fashion, though I never really considered it as a career option until I was in college – studying Econ and finance, on a track to become an investment banker, mind you – and had the opportunity to intern for a clothing designer called Trovata.  That experience changed my life.
Who did you look up to when you were young?
VB: When I was young, and determined to be a "businesswoman" when I grew up, I looked up to women who I saw as strong leaders – people like Hillary Clinton.  My mom has also always been an inspiration to me – she has run a non-profit in Boulder for over 30 years, and she is super involved in her community and in activism in general.
Do you have a style icon?
VB: I don't really have one icon in particular, as I draw from a lot of different people and industries. But I really love edgy, boundary-pushing women like Daphne Guinness, Kate Lanphear and Kelly Wearstler, as well as strong women in music like Karen O. from the Yeah Yeah Yeahs and Leigh Lezark from the Misshapes.
How would you describe your personal style?
VB: Though it depends on my mood, I am definitely consistently minimalist and my wardrobe is filled with lots of black layering pieces – or "pastel black" for Spring as my friend Jill likes to joke.  My style definitely has a downtown edge, but in a more classic, less trendy way.  I love asymmetrical hemlines and leather.  I may or may not come across as a little "gothy" at times, and I am really feeling 90's fashion right now, so you can probably see elements of that in my wardrobe.
What are some of the brands you feature in Goldyn?
VB: Our brand roster is a curated mix of emerging designers as well as more iconic brands including designers like Helmut Lang, Pamela Love, VPL, Vince, APC, Loeffler Randall, Oak and Rachel Comey.
Do you have any local designers at Goldyn?
VB: Most definitely. I think it's super important to support the local community here.  Local designers we carry include CarolAnn Wachter, Imminent Rise, Cartel Noir and The Woods Fine Jewelry among others.
Who shops in your store?
VB: Goldyn is definitely a more progressive, fashion-forward designer boutique than what one might normally expect out of Denver.  Given that, our core customer is going to be someone in their 30s and 40s who typically works in a creative field – perhaps owns an ad agency or is an artist.  Someone who has an appreciation and/or some knowledge of more independent designers, or just someone who appreciates good, forward-thinking design in general – someone who can walk in and appreciate what we're trying to do here, both in terms of supporting the community, as well as in terms of trying to push Denver forward.  I feel so grateful for all of the amazing, inspiring, super hip customers we have in here.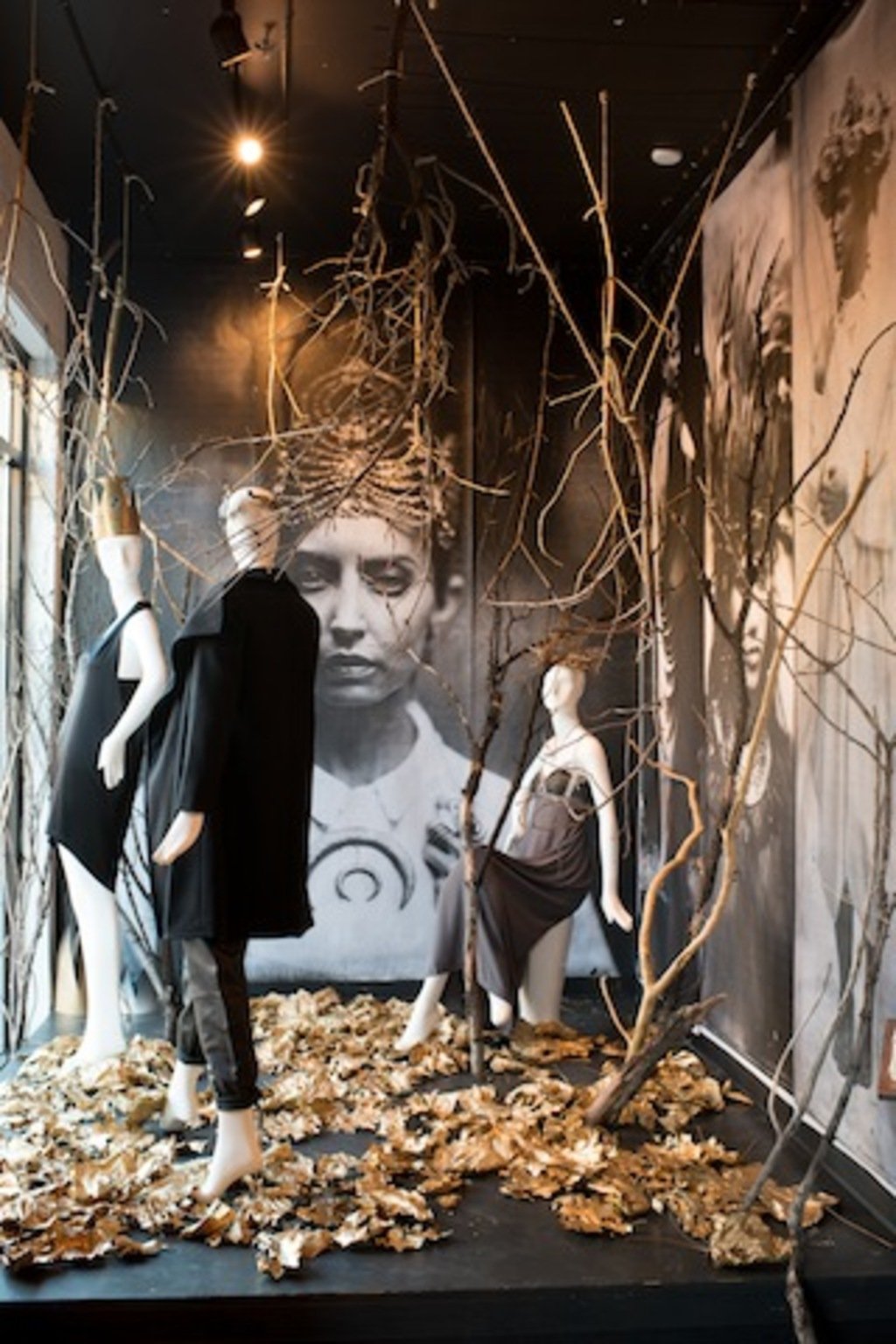 The window displays in Goldyn are always incredible. Who designs those?
VB: Thank you!  We work so hard on each one. It varies between Goldyn employees and different artists, depending on what we have going on.  It's always meant to be a collaborative 'art project' effort.  Sometimes other shops even curate their own window displays in here like Ironwood, most recently. We like to support and promote everyone we love. Speaking of – artist Kristen Hatgi Sink does our displays oftentimes, including the one that is currently up. We're so lucky to have such an incredible artist to work with regularly.
What's the newest trend to arrive in Goldyn?
VB: For Spring, we're super excited that the 90s are back in full effect – maybe because we're nostalgic for childhood. I'm loving the idea of wearing comfortable Vans-style sneakers or slide-on sandals a la Loeffler Randall with a minimalist leather dress from someone like Vince or Rachel Comey, for instance. We're also still seeing a lot of oversize shapes, like giant cocoon coats from Iro and Helmut Lang.  And slouchy, drop crotch pants – again, another play on size and proportion. Still a big trend, and let me tell you, I am a big fan – so comfy. We've have like four different versions coming for Spring and I can't wait.
Does Goldyn ever throw events?
VB: Throwing events is one of the big things that I think differentiates us from other shops – we wanted our brick-and-mortar store to really be a cultural hub for the community, so not only do we do trunk shows with our designers and trend previews with local stylists, but we also have rock concerts and art shows in here to support our friends.  You can count on us usually having at least 1-2 events in here per month.
What is your favorite item currently for sale in the boutique?
VB: That's a tough question, but I will say that we just started getting Spring in, and there is a collarless Helmut Lang leather jacket that just arrived that is sick.
What's next for Goldyn?
VB: 2014 is going to be a great year for us. So much is in the works. Unfortunately I can't talk about all of it just yet, but definitely stay tuned for some exciting events happening in here. In the mean time, we'll be launching a brand new website early this year, and we've got some really great events happening in the next 2 months – we've got NYC jewelry designer Selin Kent in here for a trunk show on March 8 – I am personally obsessed with her stuff – and local experimental electronic group Prism Waves will be here for an in-store concert on March 21.
Want more? Check out what's currently at Goldyn:
Look #1
Coat – Ruby + George (vintage)
Dress – VPL
Clutch – Grey Sunshine (local designer)
—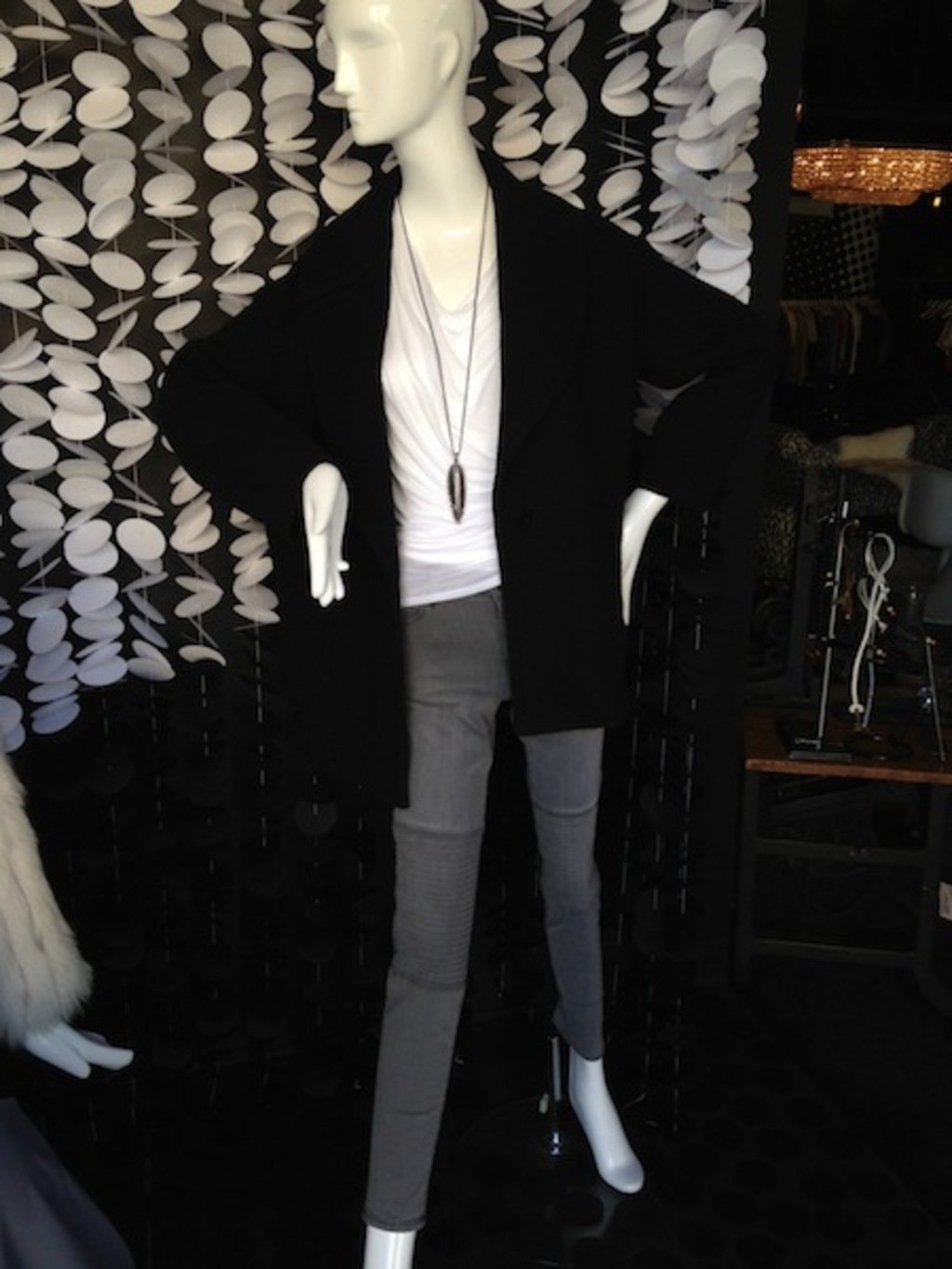 Look #2
Coat – Iro
Shirt – Helmut Lang
Jeans – J Brand
Necklace – The Woods Fine Jewelry (local designer)
 —