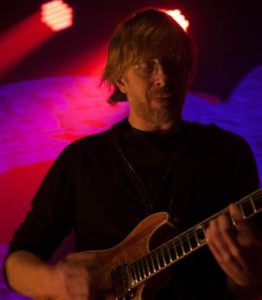 Wow. Well, where to begin? I spent my formative years adoring Phish, donning the signature uniform of a hemp necklace and patchwork skirt, perfumed with the scent of marijuana and youth. Billy Breathes, Hoist, and Farmhouse provided the soundtracks to after school hangouts in the smokey lofts and basements at friend's houses whose parents turned a blind eye to our glossy gaze, as we would shoot pool and play Tetris on Nintendo for hours on end.
Phish's awful pre-hiatus Coventry mud pit "festival" was my first time driving ten hours out of state to see music (and sitting in traffic for about 12 hours before hiking into the event and abandoning the car on the side of the highway with my high school girlfriends, carrying nothing but the tent and a few handles of Captain Morgan Spiced Rum).
Since Phish took their hiatus right around when I ran off to college, I, too, took a hiatus from that scene and got into other music: LCD Soundsystem, the Killers, Chromeo, Daft Punk, JUSTICE- more electronic stuff. Then when the great Phish returned, I somehow magically scored a pair of tickets to their big comeback show at Virginia's famed Hampton Coliseum… and ended up hawking them on StubHub to fund my trip to Prague.
Things have never been the same between Phish and I. Maybe they never forgave me (I know my little brother hasn't). Perhaps I never forgave myself.
But we all change, we grow apart, we get into different things. And I still have a soft spot in my heart for the Phish, even though I don't religiously attend their every show (like my friends back on the East Coast still do: MSG on NYE, Atlantic City on Halloween, etc.).
Phish does strike a nostalgic cord for me, though, and they always will. Last night, when Trey covered "Sand" and that disco ball at the Ogden was spinning maniacally, I was instantly transported back to the Tweeter Center lawn in Camden, New Jersey, watching the moon rise over the glittering Ben Franklin Bridge, barefoot with a head full of mushrooms and surrounded by everyone I know (included my own dad, who I was desperately avoiding prolonged eye contact with).
In fact, I attended last night's show alone. And it was nothing short of amazing. I have been to a lot of shows in Denver over the past few months. This one was easily the cream of the crop.
Trey Anastasio is truly a success story. When I got into Phish during the early 2000s, the band was sort of falling apart at the seams. Trey has really cleaned up since that whole drug arrest (uppers, downers, screamers, laughers) in New York in 2006. And aren't we all thankful that he has, because he has gone on and continued to make the most magnificent, heart warming music.
He stands up there with his gingery grin, his glasses reflecting the twirling, colorful lights. He jumps around energetically, he teases, he makes faces at the band members- he oozes happiness. His new album, Traveler, is apparently filled with cheerful, melodic songs that have a pop-gospel feel with a Phishy aftertaste. Natalie Cressman and Jennifer Hartwick are brimming with soul, their angelic voices harmonizing in sync with Trey's trademark tones to create a joyous choir. Trey proudly announced several times that this was the first time that the band had played a few of their new songs, as Tuesday night's show at the Ogden was the first night of their winter tour.
At Tuesday night's show, they played a lot of tracks of off Trey Anastasio, released in 2002, such as "Money, Love, and Change," "Drifting," and "Cayman Review." "Tuesday," off of Shine, released in 2005, was another one of my favorite tracks of the night, with its sweet and whimsical lyrics and fun, upbeat vibe. Natalie "Chainsaw" Cressman (from Barcelona) busted out vocals during an unexpected and sexy Spanish song, which contrasted sharply with whatever shiny new stuff they had previously been playing. And then there were the "Phish" songs, which Trey later made sure to point out weren't in fact Phish songs, but songs written by TAB band bassist Tony Markellis (who Trey also credited as his deciding factor for moving to Burlington): Gotta Jiboo, Sand, and First Tube. And let us not forget the incredibly funked out version of Burlap Sack and Pumps and the twangy cover of Devil Went Down to Georgia (with the fiddle parts replaced by a cornucopia of brass that would've put the devil to shame). And that Jennifer Hartswick: that girl is really something else. Between her badass trumpetry and her deep, passionate vocals… swoon. Ray Paczkowski, looking like a grizzly, Jerry-loving train conductor from the 1970s in an "I Hate Music" t-shirt, tinkled the ivory like a pro on his organ.
And don't worry, Phish Phans, Trey got good and weird towards the end (as to be expected), stomping away on his foot peddles and turning his distinct guitar riffs into blurred and drippy dreamlike sounds (at which point some wookie nerd yelled out "Disco Biscuits!"). The band all spaced out together and then brought it back around into a tight and tantalizing finale.
The three song encore consisted of "Shine," an acoustic version of "Heavy Things" (that featured a flute performance by James Casey, formerly of Lettuce/Soulive), and a raging "First Tube."
So when it boils down to it: I love Phish. But I love horns more. Trey plus horns (with gorgeous women singing back up) at an intimate venue like the Ogden- well, it just doesn't get any better than that. Trey Anastasio Band is fresh and funky, sassy and smooth.
Check out our photo gallery from the event for more images of the Trey Anastasio Band kicking off their winter tour in Denver at the Ogden.
All photos by Jacqueline Collins, 303 Magazine.

Allison Cohn loves gold spray paint and nonsense. She also has a very difficult time sitting still and keeping quiet. She can often be found dancing like a fool when she isn't hiding out in her mountain lair or gallivanting around the globe. Allison is 303 Magazine's Music Desk Editor, specializing in jam bands, funk, bluegrass, and all things bizarre and avant-garde. If you have something intriguing to share, you can reach her at [email protected]