They say that the way you spend your New Year's Eve designates the path your upcoming year will take. Now I don't know who "they" are, but I do know that in our great state of Colorado there's something for everyone when it comes to how you can spend the last nights of your year.
Do you want to erratically dance your way into 2014 surrounded by glitter, neon and flashing strobe lights? Would you rather oscillate to the sounds of guitars, drums, brass instruments jamming effortlessly to the same song for eighteen minutes? (No offense, jam-band lovers I too love a good instrumental set) Maybe you produced ornery offspring that are more interested in non-musical events including fireworks and cold carnival food. Or possibly you just want to cozy up by the fire with a group of good friends and six boxes of wine to the tune of Scattergories shouts.
Whichever category you find yourself in this New Years, have faith that there is something in Colorado for you to ring in the upcoming year in pure bliss.
For the Fresh Pow Chasers
For those intending to take their NYE plans to the mountains in search of fresh powder and shredtastic skiing, there's a plethora of deals for mountain condos and hotels for the New Year check out sites like Travelzoo, Groupon and Living Social for specials. Vail, Breckenridge, Beaver Creek, Aspen and more also boast impressive NYE celebrations.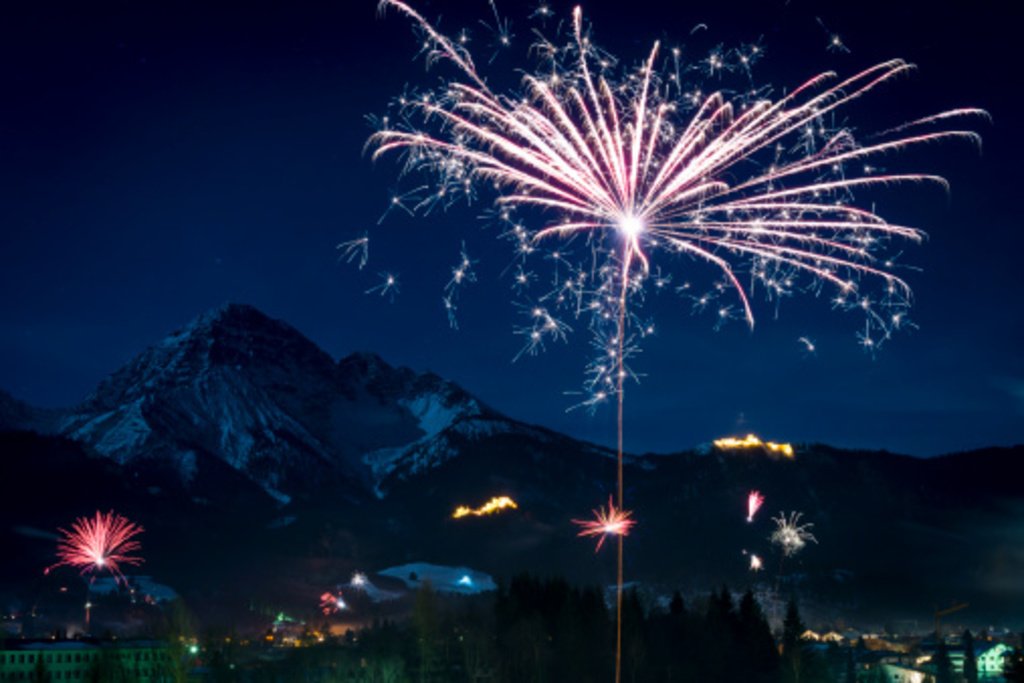 For the Family (Demure childless adults also permitted)

Breckenridge
Breck is pulling out all the stops with their annual New Year's event. Watch the ball drop in NYC Time's Square from a massive screen in Blue River Plaza then head over to the Riverwalk Center to listen to the sounds of Breck-grown band Yamn. (Tickets range from $20-25) Cap off the night with a fireworks show launched from below Peaks 8 and 9. You haven't seen a stunning fireworks display until you've seen them burst into the air with the snow-covered mountains as their backdrop.

Vail
For another family-friendly NYE event, head to Vail for a night of ice-skating, tree lighting and the torchlight parade as conducted by the brave light-wielding skiers and snowboarders gliding down Golden Peak. This event is immediately preceded by a brilliant fireworks display.
For the Foodies
Foodie favorites, Root Down and Linger will each host a 5-course prix fixe dinner with optional wine pairing, allowing people to royally feast before they hit the town or just munch their way into 2014 on a fancy NYE dinner date. Both meals cost $55 for five courses ($25 for the optional wine pairing) and require reservations.
For the Adventurers
For the adventurer with deep pockets and a spirit for the sky, take flight by helicopter to admire the spectacle of New Year's Eve fireworks from the heavens with Colorado Vertical in Colorado Springs. Enjoy the once in a lifetime scene of fireworks at eye-level as well as the snow-dusted town of Colorado Springs below, twinkling with the adornment of holiday lights. The tour is $260 a person. Call 719-648-5580 or visit www.coloradovertical.com for more information or to book your tour.
For the Jammers
String Cheese Incident will play 3-day run at the First Bank Center in Broomfield, capping it all of on New Years Eve. Not feeling cheesy enough for three nights of SCI?
Pepper in a night or two of Chicago sextet Umphrey's McGee on their very own 3-night stint at the Fillmore with a very special (already sold out) show at 1-up on Colfax. SCI and Umph fanatics can expect many of the jammy instrumental solos sliding and gliding into the wee hours of the morn. Tickets to String Cheese Incident at first bank can be purchased here and Umprey's tickets here.
For the Wompers
Electronic extremists have something wildly colossal to look forward to this New Years: Decadence NYE Festival. December 30th and 31st the windows of the Denver Convention Center will be reverberating from the bass of electronic figureheads Bassnectar, Pretty Lights, Tiesto, Dada Life accompanied by supporting sets from Break Science, Supervision, Odesza Above and Beyond and more.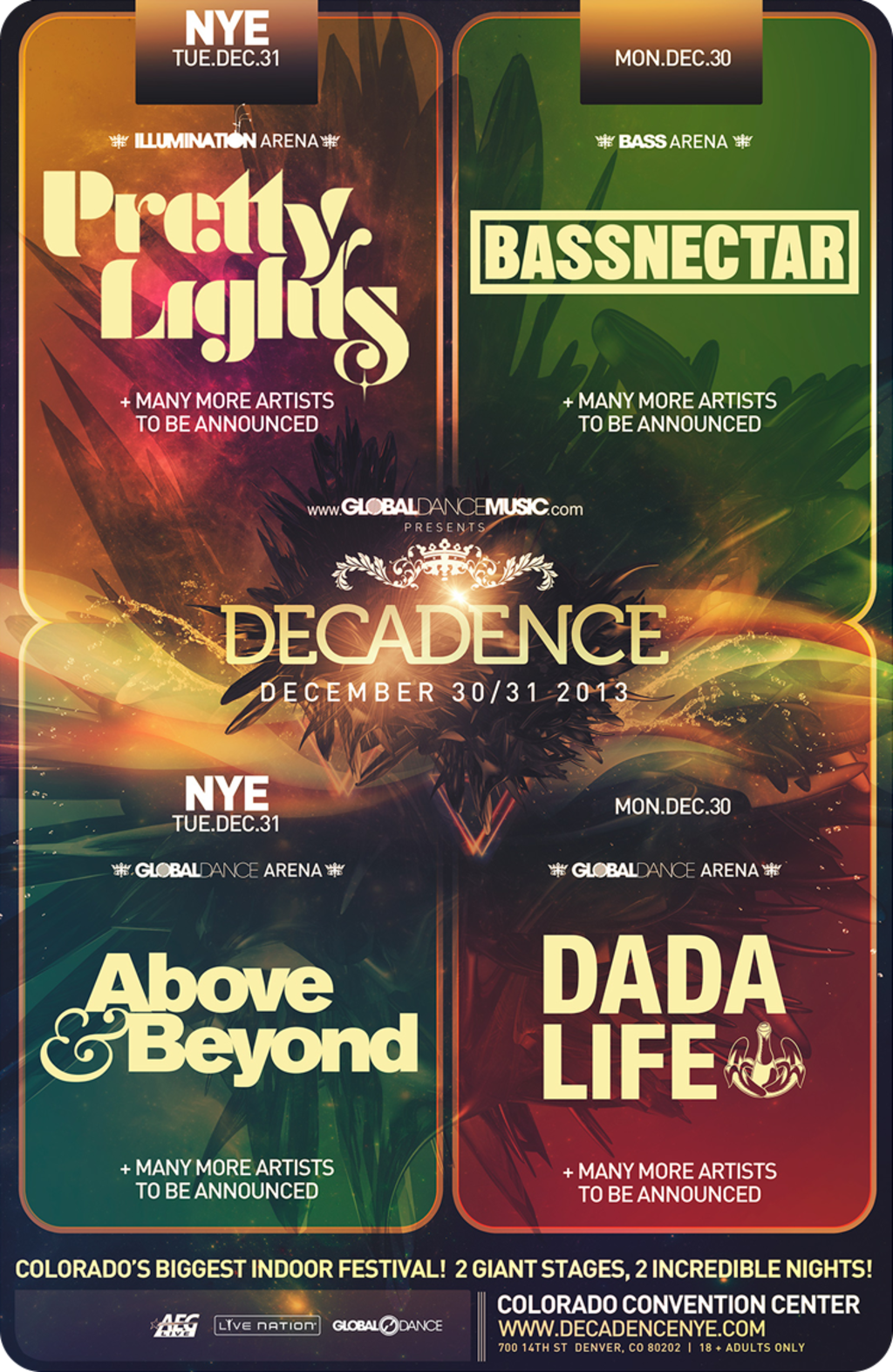 303 Magazine is a proud media sponsor of this event, which has been hailed by music media across the nation as the place to be for a NYE EDM extravaganza. Break your neck with thousands of your (super sweaty) closest friends… the dropping of a giant ball has nothing on the dropping of that dirty bass on your face. Grab tickets here.
Whatever you choose to do this NYE, 303 Magazine wishes you a safe and happy holiday and hopes that everyone celebrates responsibly. When in doubt, give UBER a shout… or any cab company, sober friend, horse drawn carriage—you get the picture.