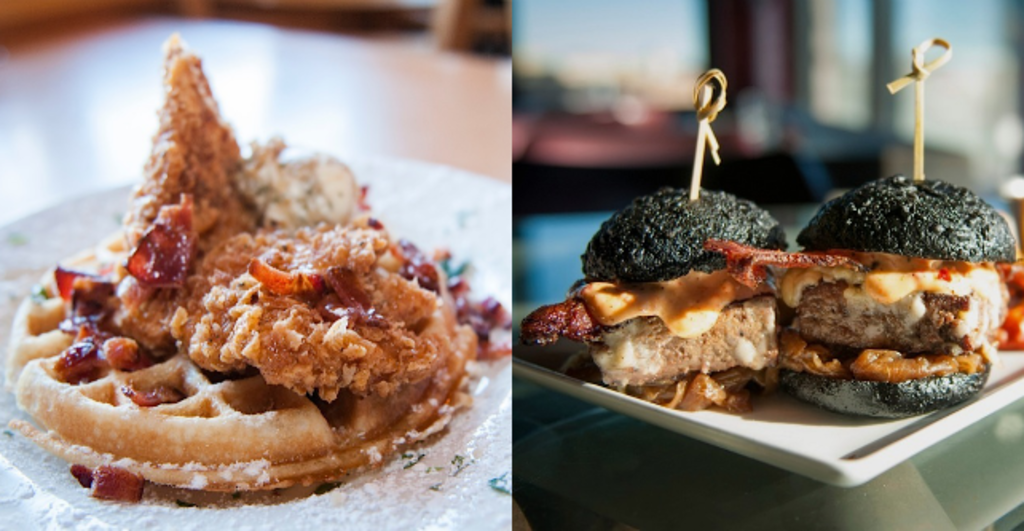 What: One brunch that's perfect for adventurous eaters and another for your comfort food fix
Where: Linger, 2030 W. 30th Ave and Shells & Sauce, 2600 E. 12th Ave
When: Both brunches are available Saturdays and Sundays, 10am-2:30pm
Denver has a seemingly never-ending selection of places to brunch, so picking favorites takes some serious research. But Linger and Shells & Sauce both have killer drinks, food that I (seriously) dream about on a regular basis and friendly, attentive service. Basically they've got the brunch trifecta, making them Denver's best of 2013.
 Linger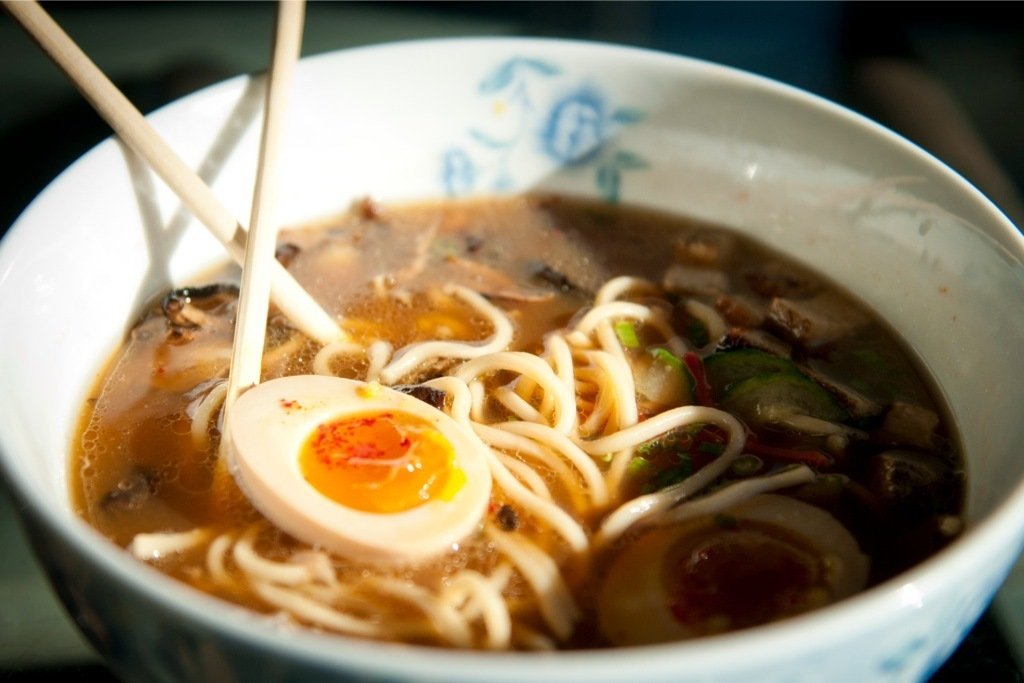 Located in the old Olinger Mortuary building, Linger has made a name for itself by embracing its space's quirky history with modern décor that has playfully macabre touches throughout. But this self-proclaimed "eatuary" has kept drawing crowds for more than just a clever play on funeral-humor. The food here is a global adventure inspired by street food and chef/owner Justin Cucci and his team put care into executing dishes that are as creative as they are delicious.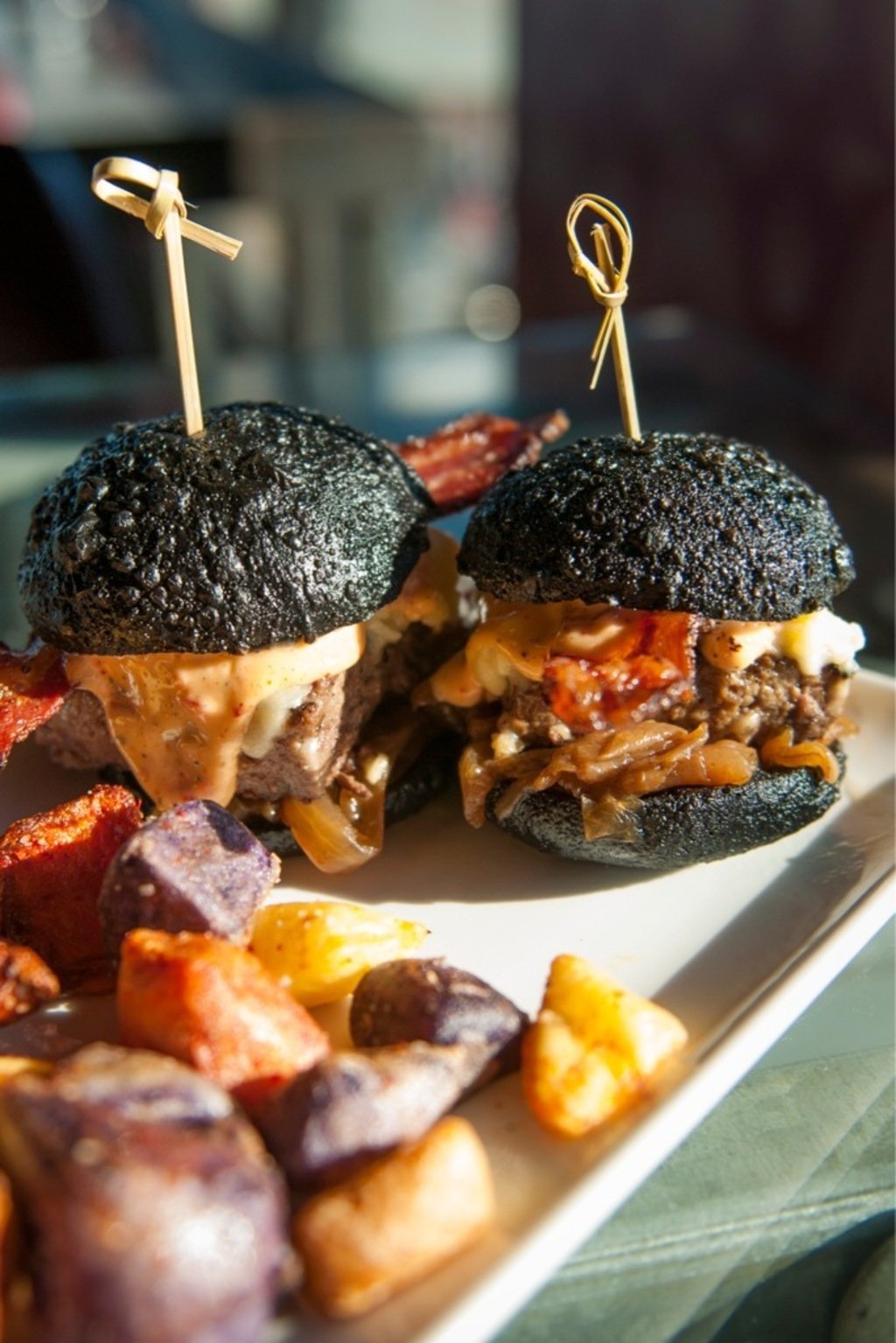 The Hangover Ramen takes the typical bowl of fragrant broth and noodles and elevates it with duck confit, pork belly and wild mushrooms along with a condiment cart so you can customize away. The real star of this dish is the shoyu egg which is soft boiled to maintain a nice runny center before being marinated for 48 hours in a soy-sauce based dashi like mixture. This gives the egg a rich umami flavor and an intriguingly brown hue outside.
Another oddly colored dish (and my favorite choice here) are the Tokyo White Castle Sliders which come on a jet black squid ink bun that is steamed and fried for an amazingly chewy, never soggy, texture. With a thick patty of juicy beef topped with white cheddar, tenderbelly bacon, caramelized onions and a house made spicy mayo, these not-so-little burgers give new meaning to what a slider can be when done right. And just in case these options are a bit too carnivorous for your taste, Linger offers plenty of excellent vegan/vegetarian selections as well (the unique Breakfast Dosa is a stand-out).
The drinks here go beyond the expected as well. The light and revitalizing Coconut Fizz is a must-try even for those who think they're not gin fans (like me). One sip and you'll be transported away from the frigid cold of our Colorado winter to a tropical paradise. Recently added for the winter season, Linger is also offering "topless" mimosas including a festively red sangria mimosa that makes for easy sipping.
Shells & Sauce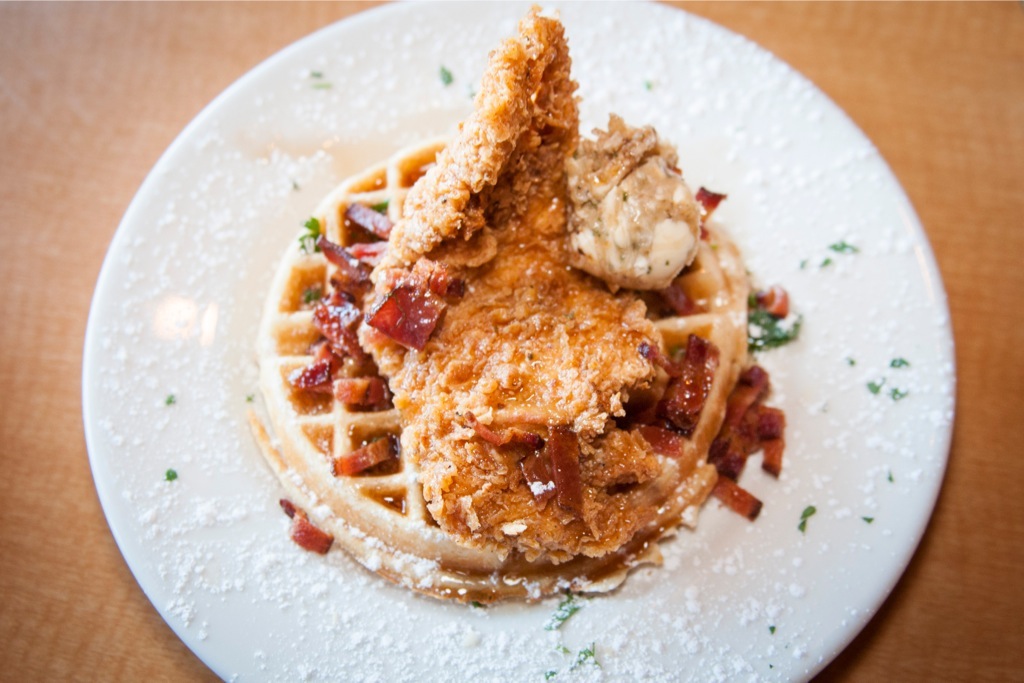 If dashi, shoyu and squid ink are too much for you to tackle, then Shells & Sauce is the place for you. A small neighborhood Italian bistro with an American inspired twist, I'll admit my expectations weren't high on my first visit here. From the outside, the building is quite plain, and I was put off by an Italian place doing things like Breakfast Tacos and Chicken and Waffles for brunch. But one bite and I was converted.
Inside, Shells & Sauce is warm and inviting. The only downside is that the dining area can get a bit loud when the brunch crowd shows up, but that's nothing some good conversation of your own can't fix. Or you can just down a few of their Spicy Bloody Marys made with habanero vodka and you'll forget all your worries in no time. There are also carafes of mimosas that are perfect for sharing with a table of friends and family.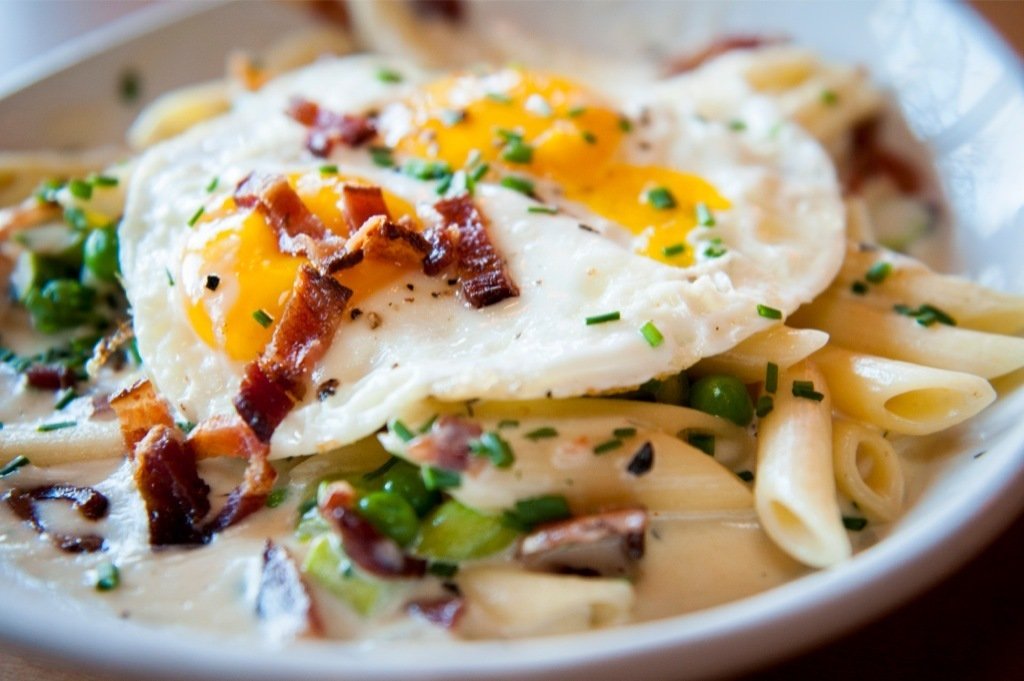 After spending a few years living in the South, I'd been sadly searching Denver for a Fried Chicken and Waffles that would satisfy my cravings for this sweet and savory favorite. I finally found it, much to my own surprise, at Shells & Sauce. Their version comes with one big, crisp on the outside, chewy on the inside waffle topped with a big, boneless breast of fried chicken. While many restaurants in Denver try to put their own spin on this dish, Shells & Sauce's stands out not for weird add in's but for its flawless execution of each element. Topped with maple syrup, bits of bacon (because why not?) and addictive compound butter made with Stranahan's whiskey, this dish is the definition of mouthwatering.
Though the brunch menu here includes many classic American favorites like the Crab Cake Benedict, Shells & Sauce's Italian cuisine is represented as well, and their Eggs Carbonara shows off what this restaurant does best. A classic carbonara with bacon, peas and asparagus topped with two eggs, any way you'd like them, I haven't seen anything like this on other brunch menus around town. Simple, creamy and rich, this dish never disappoints.
Brunch, with all its syrup and hollandaise and, of course, alcohol, is an indulgence. So go ahead. Grab a table at Linger and Shells & Sauce and treat yourself to the best indulgences in Denver.
All photos by Caitlin Savage