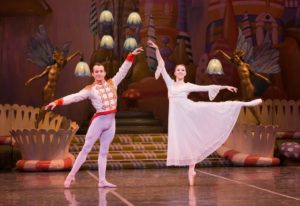 Colorado Ballet is really something else on a week night.
The Nutcracker serves as a safe bet to allow dancers who are usually overshadowed during the rest of the season a platform to "try out" a more prominent role – a test drive for corps de ballet members and soloists alike. The Dec. 11th program featured the Dream Team – Sean Omandam, Casey Dalton, Caitlin Valentine-Ellis, Asuka Sasaki, Jesse Marks, Kevin Gael Thomas, and boom – Dana Benton's (overdue) debut as Sugar Plum Fairy.
Watching this performance was like watching an entirely different company. Even though Klara Houdet is a newcomer to Colorado Ballet, joining the company in 2012, I had yet to spy her generous stage presence and luxurious extensions from the uniformity of the corps de ballet until she danced the role of Clara for the first time this evening. She was giddy and believably childlike in the Party Scene, but once the snow started to fall, Houdet's experience was obvious. She was an absolute thrill to watch; it felt like she came out of nowhere. I looked at the program and said out loud, "Who?" followed shortly by, "Oh. Damn. Wow."
Omandam has a trademark mischievous playfulness to his dancing – I always want to see more; Valentine-Ellis holds an obvious joy not far from what probably drove her to dance in the first place, and Sasaki makes the most obnoxiously difficult choreography look fun. The sets, costumes, and live orchestra always transport me to another time and place – it doesn't matter that I've seen this ballet hundreds of times, performed in it dozes of times, could hum the entire score. Something about the way Colorado Ballet does it just can't be found anywhere else in this state – it is the ultimate Nutcracker experience.
Francisco Estevez was cast as The Nutcracker- another very recent newcomer to Colorado Ballet (2013),  and is a reminder of Colorado Ballet's hidden weapon- it's strong male dancers who sometimes get shoved behind a tutu and merely seen as a partner. It's not always easy to embrace the character of a massive doll whose main goal is to please a young girl in a fantasy world, but Estevez not only nailed it, he could teach the male principle dancers of the company a thing or two about pointing their toes. On that note, I realize that Dmitry Trubchanov (Prince Cavalier) is getting up there, but I really don't care, because Baryshnikov is old as shit and still rocks out. He and Alexi Tyukov always look like they are at a boring day job when they are on stage; both Estevez and Luis Valdes (Soldier Doll) were stand out dancers bringing a much needed Latin heatwave to this company.
Cara Cooper is another dancer who is enjoyable to watch. She's different from the other dancers; her feet aren't perfect and she has a rockin' bod (with boobs!), but the kicker is that she has a powerful presence that always commands attention. She is an excellent character actor – my companion didn't realize she had made the switch from Frau Stahlbaum to Crystal and THEN to Arabian. Mercy.
Now for the part where I'm disgusting and drooling on myself as I finish up with Sugar Plum Fairy, Dana Benton. Da-na Ben-ton. Say it with me, Denver – this is your prima ballerina. I almost launched out of my seat and into the orchestra pit when she came on stage to applause. It's a good thing I didn't get the glass of wine I waited so patiently in line for at intermission, because it's likely I would have knocked over the sweet sleeping grandpa next to me with shouts of "IT'S ABOUT DAMN TIME!!!"
Benton is the definition of a ballerina in 2013. She is powerful. She does classical ballet flawlessly, and then turns around and does some otherworldy modern piece by a guest choreographer and nearly weeps onstage from what she's feeling while performing. She takes time out of her day to volunteer with Girl Scout troupes to help them gain their arts badge. She is a muse for photographers. She is involved in her community. She is an evolved artist. Yes, she has a body built for ballet and a heart shaped face to complete the picture. But what makes my Ellie Caulkins Opera house seat feel like it's floating isn't those things, it's just that unspeakable factor that makes ballerinas what they are. The Tina LeBlancs, the Drew Jacobys; the shine factor. The creative heart.
Maria Mosina IS going to retire. And when that happens, other folks who write about dance and the arts in Denver are going to wail, gnash teeth, wring hands, blah blah blah. But there will be no reason to, because we've been introduced properly to our Queen. The audience certainly sat up and paid attention – and I enjoyed the hell out of it (the whole production, but especially that moment).
Go see The Nutcracker – on a week night if you can. These are your artists, Denver, your dancers. It's time to meet the next level.
Remaining times and dates as follows (sold out performances not listed, act fast for these!):
Thursday, December 12, 2013 @ 7:30 p.m. – Best availability
Thursday, December 19, 2013 @ 7:30 p.m.
Friday, December 20, 2013 @ 7:30 p.m.
Saturday, December 21, 2013 @ 6:30 p.m. – Limited availability
Sunday, December 22, 2013 @ 6:30 p.m. – Limited availability
Monday, December 23, 2013 @ 6:30 p.m. – Limited availability
Tuesday, December 24, 2013 @ 1 p.m. – Best availability
Thursday, December 26, 2013 @ 6:30 p.m. – Best availability
Friday, December 27, 2013 @ 1 p.m. – Best availability
Friday, December 27, 2013 @ 6:30 p.m. – Best availability
Saturday, December 28, 2013 @ 2 p.m.
Saturday, December 28, 2013 @ 7:30 p.m.