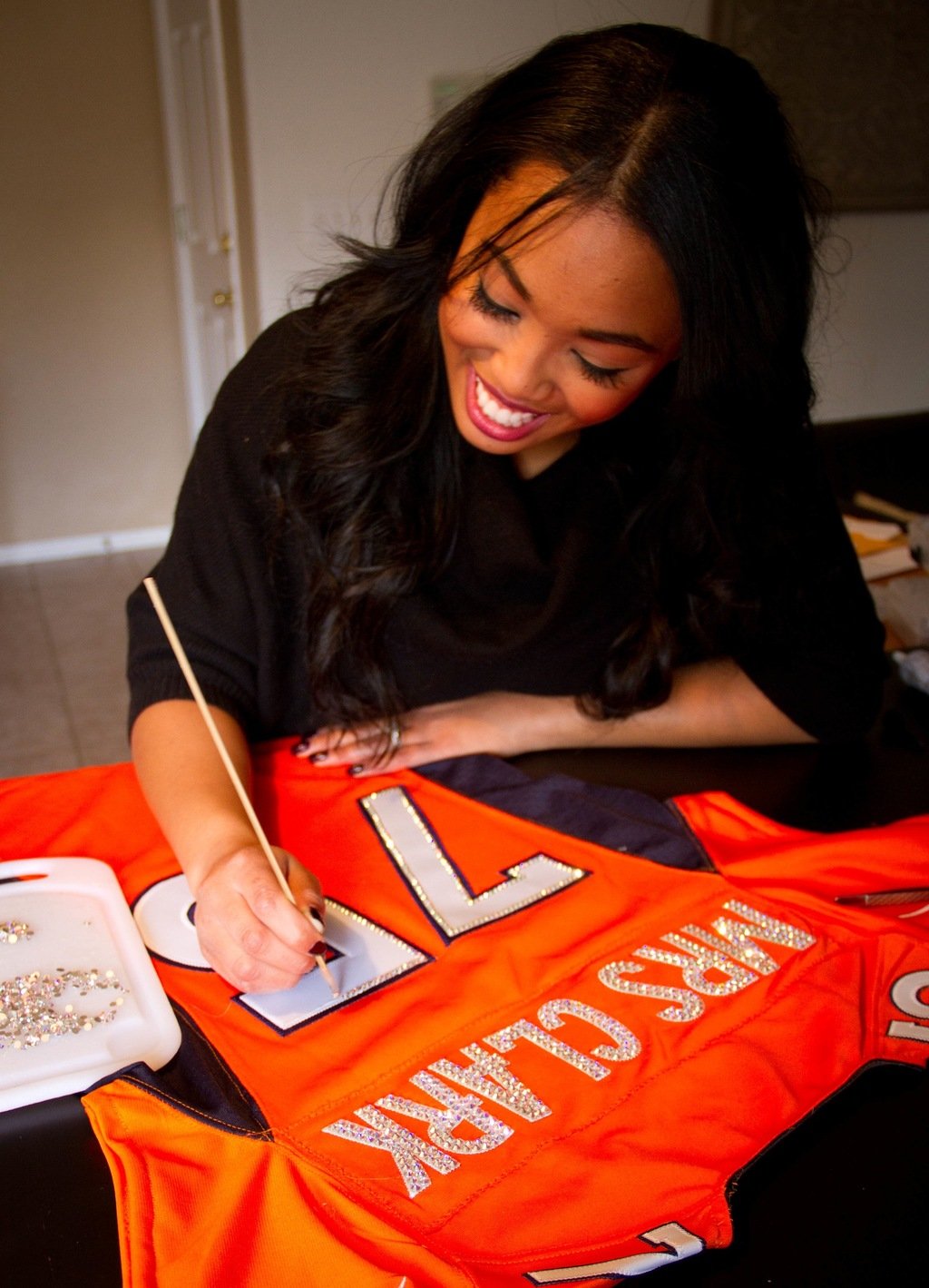 Meet Leah Harris. On any given Sunday you can probably find her in a sparkling #25 jersey sitting in a crowd of Broncos fans cheering on husband Chris Harris Jr. But on any other day of the week? Look no further than her kitchen table with fabric glue and Swarovski crystals in hand — bringing her blinging talents to fans in Denver and nationally.
I really want to set myself apart, and do something that is so unique that only I can do.
My Timeless Impression is a business that evolved from one of Harris' favorite hobbies; transforming manly fan attire to feminine one of a kind pieces.
"It started out as a way to support my man" Leah Harris said. "I noticed girls wearing oversized jersey's and not feeling feminine about the impression they were making."
A one-woman machine, she does it all — from alterations to custom designs. Clients have the option to pick out a pre-made piece or come to Harris with something they want dazzled up.
303 sat down with Harris to talk business, bling, and the hope of spicing up Super Bowl XLVIII Broncos attire come February.
303 Magazine: When did you start blinging?
Leah Harris: I'm from a really crafty family. My mom is from the Philippines, and growing up she made all of our clothes, so I think that is how I really got into arts and crafts. But blinging specifically — it was about a year and a half ago.
How did your hobby turn into a business?
I remember seeing someone else that had a blinged out jersey and I thought, "Hey I could do that."
I started with hats and then experimented with hoodies and jackets. Everyone I was around kept telling me that I could totally start a business with it. I kept thinking, no it's just an arts and crafts activity, but I eventually decided to just go for it. So I designed a logo, created an LLC, a website, and from there it has just been really great.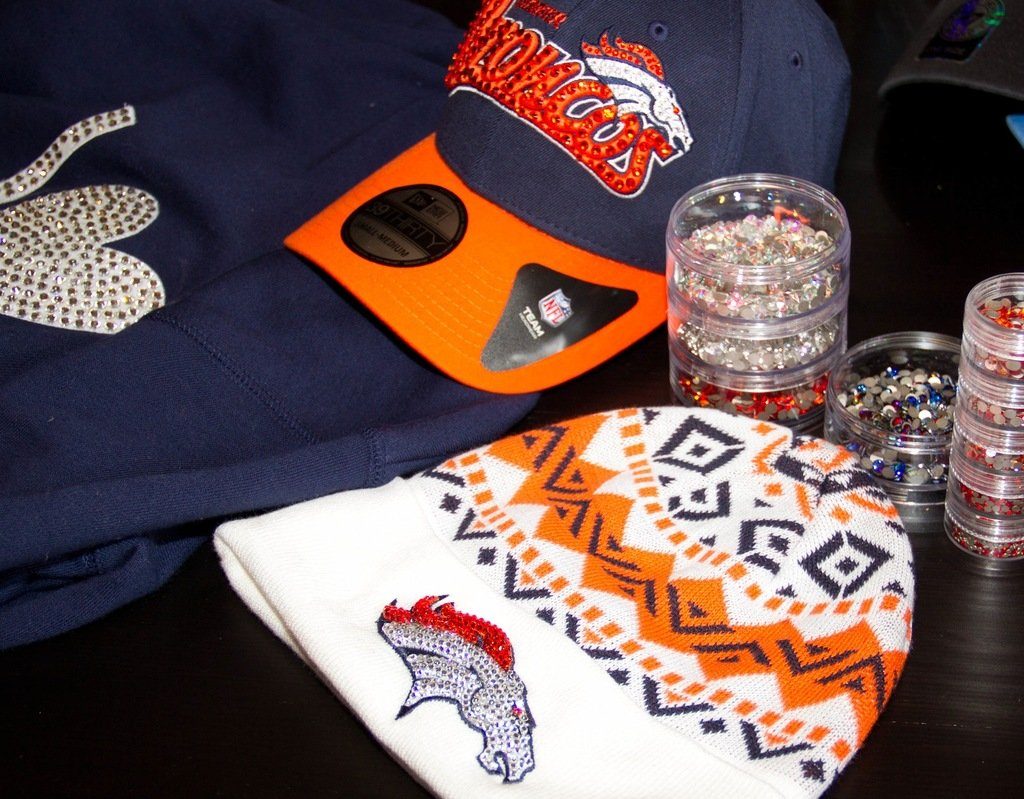 What have been your promotional efforts so far?
It really helps that my husband plays so well, and has so many followers on social media. Initially that is what it was — social media promotion. But I've gone to events [Crush Club for Women Night Out], mailers, word of mouth is spreading, and people wearing my creations to games. For example, Chris' mom always comes to games in the jersey I made her, so self promotion has been really big.
What is the process of creating a custom piece? How long does it take?
It usually takes about a week. I can usually get a hat done in a day, but jersey's take more time, especially if clients want alterations made to the neck or sleeves. It's great that I can work from home, because I usually just set up at my kitchen table, turn on the TV and get to work.
What are some of your goals for My Timeless Impression?
It really started as something that I just loved to do, but of course I would love to be very successful. I really want to set myself apart, and do something that is so unique that only I can do.
Have you had any weird "Can you bling…" requests yet?
I think the weirdest one so far was: "Can you bling panties?"
I said: "I mean, technically yeah I can do that. Is it for your honeymoon or something."
I don't know if I'd want to sit on Swarovski crystals all day.
Do you think your products would make good Christmas gifts?
I think they would make great presents, especially the sports apparel. Everyone who gets them loves them — they shine so well and make a unique impression.
Do you see yourself blinging out some Super Bowl XLVIII Broncos gear come next February?
I hope so! I'm optimistic and faithful that that's what is going down. I would be so blinged out at the Super Bowl. It would be a really great opportunity, and a really fun time to make memories.
—
Custom orders are priced based off of time and the amount of rhinestones used — Harris uses only the finest Swarovski crystals in her creations. An estimate always goes down before breaking out the glue gun. Although Harris is a Broncos wife, she does orders from any sports team or apparel that her clients desire.
A gift from My Timeless Impression is sure to delight any sports or glam fan this Christmas. But hurry and get those orders in by December 6th to ensure that this elf has enough time to create a one of a kind gift for that special someone this holiday.
My Timeless Impression
Leah Harris
mytimelessimpression.com
—
All photographs by Crystal Rhea.