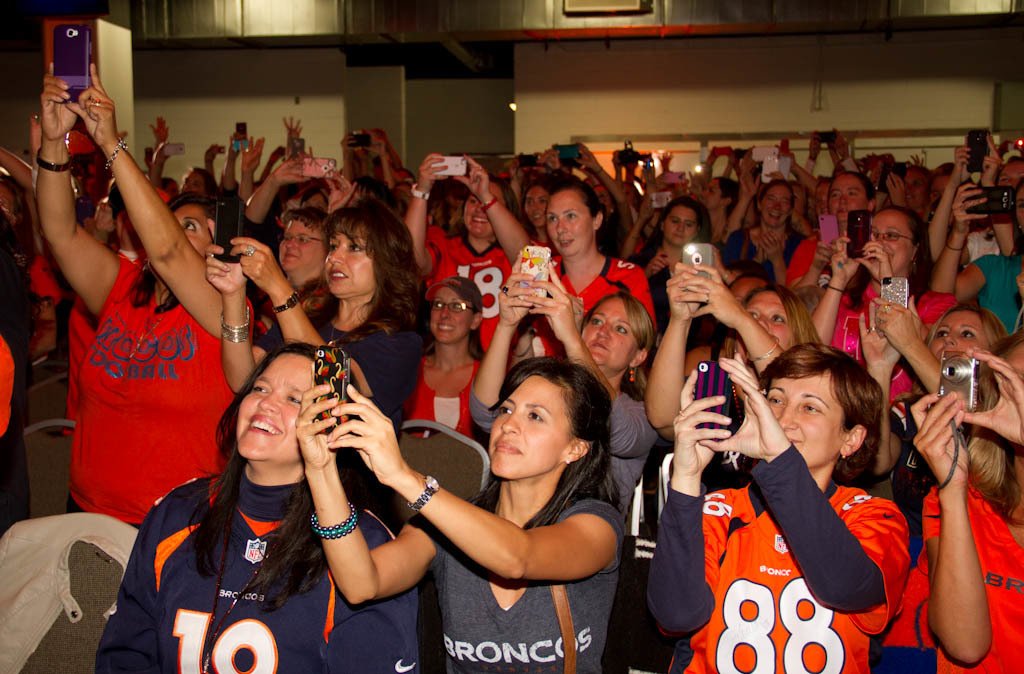 Over 2,000 enthusiastic women eagerly flocked to Sports Authority Field on Thursday night to take part in the Fourth Annual Denver Broncos Crush Night Out. In a world usually reserved for men, Denver ladies had the opportunity to get up close and personal with the glamorously sweaty world of professional football.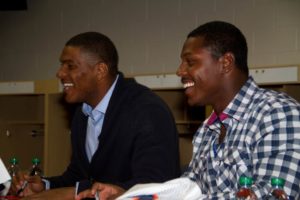 There was no shortage of activities to take part in. From the pass-punt-kick station on the field, to player and alumni autographs, locker room tours, pictures with coveted Super Bowl trophies, raffle prizes, and a photo booth – no one left bored.
Broncos Knowshon Moreno, Julius Thomas, Joel Dreessen, Mitch Unrein, and Malik Jackson were among some of the players who came to the event. Score! (lame pun intended)
Typical ladies night staples could be found everywhere. From hors d'oeuvres and cocktails to shopping and hot man candy – everything was a hit. Considering my last ladies night consisted of free beer until midnight and a drunken cowboy telling me I looked like his next girlfriend, I would go ahead and say this was the best ladies night I have ever had.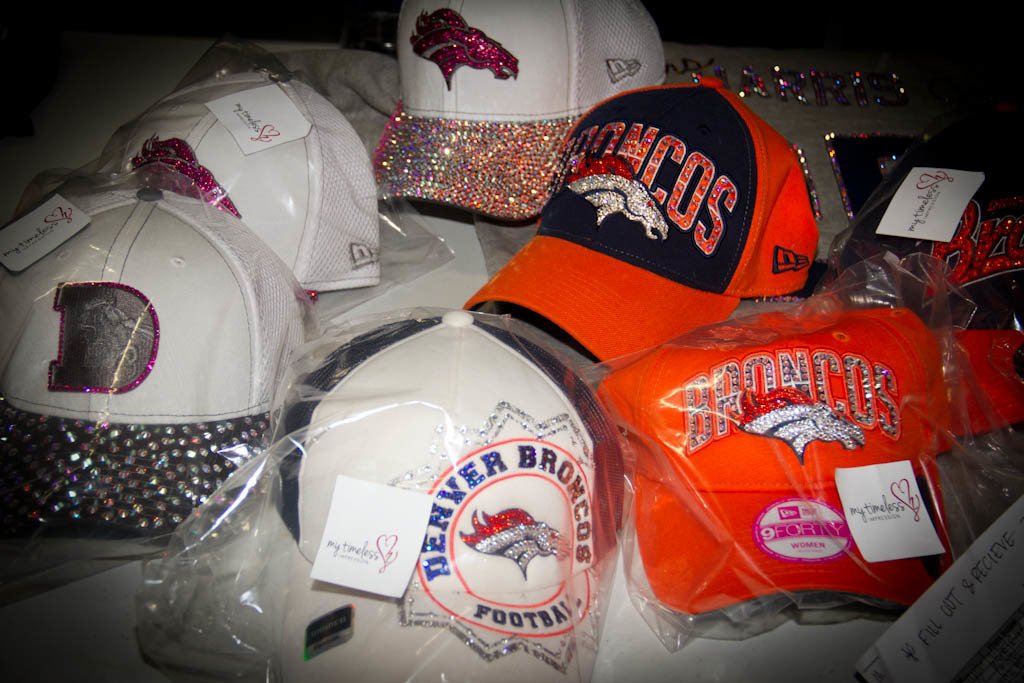 Although my dreams of playing in the NFL may have died in 1st grade after unsuccessfully being able to do a burpee – being a member of Crush Club over the last couple of months has really given me a taste of what it would be like to be a Bronco.
This summer the club offered a summer workout series with Head Strength and Conditioning Coach Luke Richesson at Dove Valley in the actual workout facilities that the players use. I have made a lot of new girlfriends who are as crazy about Broncos football as I am. This event itself was a little bit crazier than the intimate club of members that I am used to seeing at events.
"There are way too many people here," "I had to wait an hour to see the locker room," and "The bathroom was so crowded" were among reactions I heard talking to a group of women in line to get autographs.
But was it all worth it?
"Oh absolutely" said Rachel Morgan, grinning and glammed out in her pink jeweled Peyton Manning jersey. "Even with the lines I was able to do everything."
It is no surprise with a perfect 4-0 record and whispers of Super Bowl 48 that all the women of Denver wanted to get a taste of the success of this season.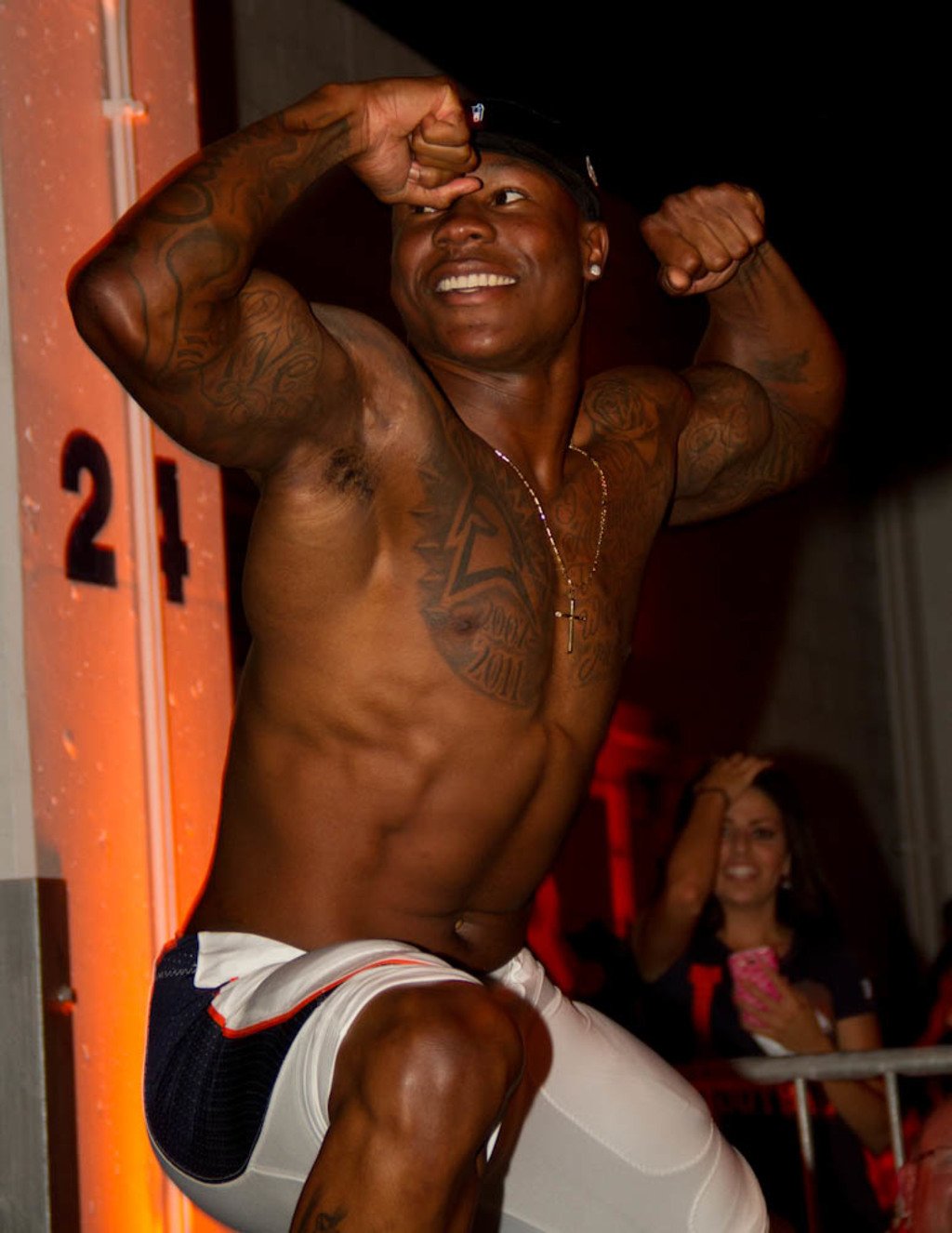 I am a bit embarrassed to admit that when looking at the program itinerary seeing the grand finale "Equipment Demonstration" I was ready to head out to the field to see some majestic production with the arena equipment. I was pleasantly surprised when we stayed indoors and instead watched Broncos safety Duke Ihenacho strip down to his, well yeah…you get the idea. Needless to say I am actually surprised that no one left with a restraining order.
As the first snow of the year began to fall outside, things stayed sizzling at the hottest women's night out in Denver with the Broncos Crush Club for Women.
Broncos Crush Club For Women
http://www.denverbroncos.com/fans/crush.html
Sorry fellas – no boys allowed.
All photographs by Crystal Rhea.