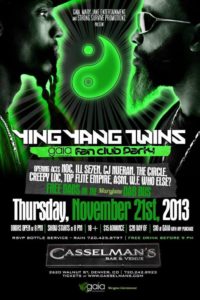 I admit, like my Event Horizon on Lil Jon, I might be a bit biased on my thoughts of Ying Yang Twins.  I grew up on the heavy bass music and hard party rap during the final decade of the 20th century. One of the acts pioneering this scene, along with the aforementioned Lil Jon was the Ying Yang Twins.  These two crunk rap acts are connected at the hip because Ying Yang Twins are best known from a feature on Lil Jon's "Get Low," which I am sure you grinded away at during multiple parties in high school and college.
The 18 and over show starts at 8pm at Casselman's Bar and Venue on the intersection of 26th and Walnut.  The ticket price is between $20 day of the show or they are running a special if you buy Ying Yang Twins and Naughty by Nature tickets (Friday night) it is only $30.
Opening up for Ying Yang Twins are NOC, Illl Se7en, CJ NueRan, The Circle, Creepy Loc, T.O.P Flite Empire, and A$M & W.F. Who Else?
So anyone looking for a nostalgic night of crunk rap music and an opportunity to shake it like a "Salt Shaker" should head to northern LODO tomorrow night.