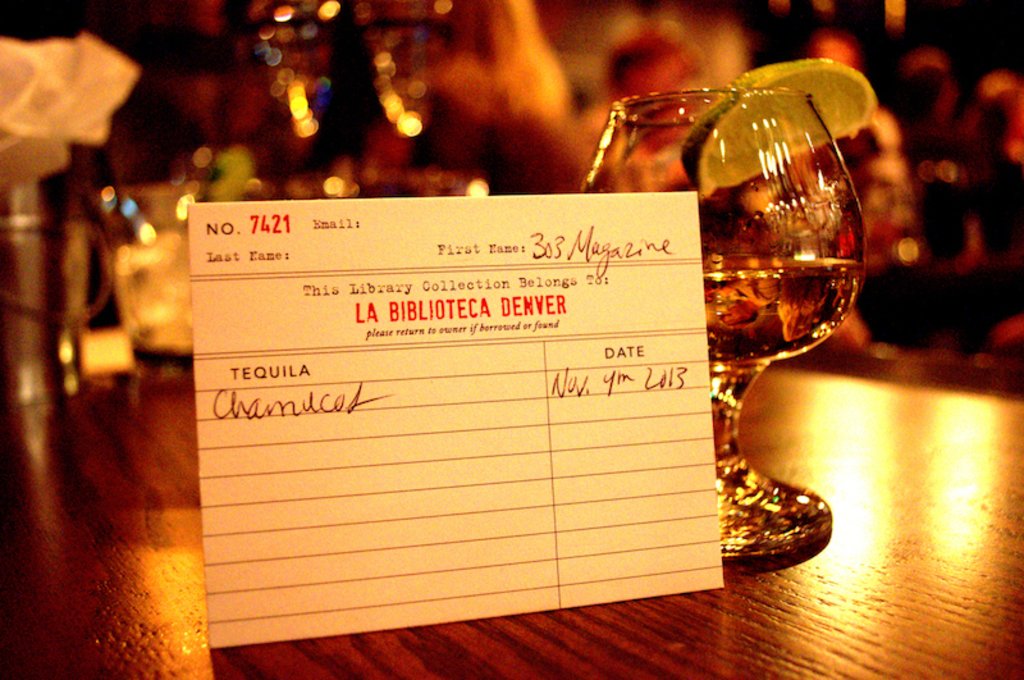 What: La Biblioteca Denver, A Tequila Library
Where: 1610 Little Raven St, Denver, Colorado 80202
(720) 904-0965
Pro: La Biblioteca Denver has a great bar and an expansive selection of tequilas. It's the perfect place to grab a drink after work and a quick bite to eat with coworkers or friends before a night out on the town. Make sure to check out their Taco Tuesdays and infused tequilas. 
Con:  I worry that La Biblioteca is too narrowly focused on tequila and its nuances won't catch on in Denver.
Richard Sandoval's second incarnation of Zengo's little next door neighbor has officially opened. Now the restaurant that once was Al Lado, aims to be Denver's first tequila library. Don't know what that is? Neither did we. Luckily I was able to sit down with the team at LB as they walked us through the whole concept. First, La Biblioteca Denver is modeled after Sandoval's incredibly popular concept of the same name in New York City. Here Denverites are encourage to fill out a 'library card' so that their waiter can keep a track of the different tequilas they've ordered. This allows them to build a profile on their patrons so they can recommend different tequilas for the future. One can also gain points for every different tequila tasted, earning free drinks and appetizers. For the connoisseur crowd, there is also an option to check out a locker. Here tequila-lovers can keep bottles they've purchased at LB for later usage. The major benefit of the locker is patrons can share that bottle with friends by allowing them to give their name at LB. This enables the waiter to bring the bottle out to guests to try, even if the owner is not physically present.  Seems like a cool enough concept right? I agree but I also have my reservations…
"La Biblioteca is supposed to teach people about tequila. It is a place of learning" -Chef Richard Sandoval
Personally I do see the benefits of going to La Biblioteca (how cool would it to have your own locker?) but I  wonder if the concept will catch on. In a city full of people who worship breweries that allow dogs, I worry that the nuisances of a tequila library might fall on deaf ears. Are there enough people in Denver that  will really like tequila that much? I know Denver is developing a love of craft culture, but tequila might be a hard sell. Even Richard Sandoval explained that "most people think hangover when they think tequila" and I would have to agree with him. However after spending a little time at LB and trying out all their different types of tequilas, cocktails and infusions I have to say I was turned to the dark side. Suddenly I am REALLY into tequila, something that I never thought possible. But somehow all my aversions to the sweet and sticky spirit have disappeared and it probably has to do with how they've paired it. Instead of  masking their tequilas with sugar and salt, La Biblioteca uses spicy notes to pick up on the more subtle aspects of this infamous liquor. Now flavors like serrano chiles, cilantro, cinnamon and lime are major  players in their cocktails. In fact their cilantro infused tequila was my absolute favorite ( seriously forget Retro Room's pickle shots and check theses out). All of their drinks were delicious and honestly I cannot wait to go back and have another. However I know that a spicy and biting cocktail is something I love, but it might not be for everyone. Once again the narrow and nuance concept at LB could be a problem. But as Sandoval explained "La Biblioteca is supposed to teach people about tequila. It is a place of learning". Hopefully people come to LB with an open mind and are willing to be taught because if there's one place that'll make you love tequila is La Biblioteca. So next time you need a place to catch a drink with some friends or co-workers make sure to consider LB. They also have an interesting menu of small plates, expertly crafted by Sandoval with his trademark latin-asian fusion cuisine that is already well known throughout Denver.  Their sliders are absolutely killer and a highlight on their menu.  Definitely stick with their elevated bar food though like the sliders and skip the sushi if you're a true sushi lover ( I am not into all that mayo). However do check out their taco tuesdays because with $2 tacos and the best tequila in town it's hard to go wrong… (unless you've had too much tequila then we all know how that story goes).