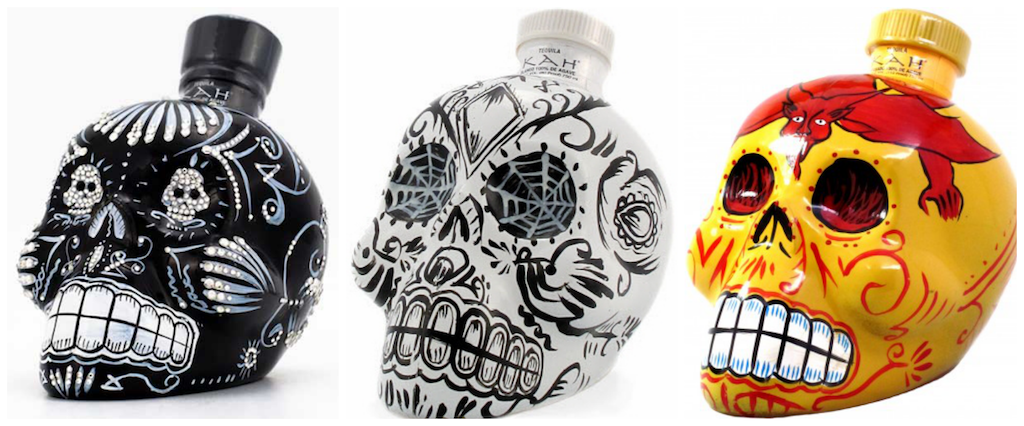 Dia De Los Muertos is a beautiful and vibrant holiday. Unlike an American Halloween, this celebration has a lot of depth and importance. It focuses on family, finding connection to those who have passed on and respect for the dead. It is also a day of celebration of life and the living. People gather together and share in food and thought. Last year I was lucky enough to experience this first hand at the Longmont Museum, the Colorado epicenter for Dia De Los Muertos festivities. Here I quickly learned that this holiday is all about giving and sharing with the ones you love, including those beyond our world. So if your spending the day with friends and family and want to share  a little 'spirit' (of the drink variety) check out my recommendations below:
If there ever was a weekend where drinking KAH tequila was appropriate, it would definitely be this weekend. KAH  known for it's unique packaging (the tequila comes in a ceramic 'sugar skull'), has a little more to it than just a pretty bottle. I tried three of their tequila's (Blanco, Anejo and Reposado) and I was pleasantly surprised. The Blanco tequila was excellent and I understand why it has been given such high reviews. With a silky mouth-feel and with a spicy white-pepper bite, this tequila definitely meets all my qualifications. I am not a huge tequila drinker but I sipped on this bad boy all night. Try it by itself first for the full experience. As for the Anejo and Reposado, they were less smooth and a little less sip worthy in my book.
The Reposado is your more typical tequila with a ultra-high proof and strong agave taste whereas the Anejo is smokier with tobacco and coffee notes. I found myself enjoying the Anejo more but tequila lovers might enjoy the Reposado. Take a look at these cocktail recipes to see how best to use each type of tequila (the Muertos Margarita is especially delicious). Also check out the picture captions to find out more about each unique bottle design. It'll even give you a little history on the holiday too.
Muertos Margarita
Ingredients 
2oz. KAH Blanco
1oz Fresh Lime
4-6 slices of Cucumber
3-4 Basil Leaves
0.5 oz Agave Nectar
Top with fresh cracked Pepper
Directions:
Squeeze lime juice into glass, add cucumber slices, basil and agave. Muddle ingredients together until cucumber is broken down to mush. Then add tequila and muddle ingredients into  shaker while mixing glass cools in the freezer. Add ice to the shaker and give it a few more shakes then double strain cocktail into chilled glass. Place cucumber, basil and cracker pepper on top.
The Spirit of KAH
Ingredients 
1/2 ounce
D'Aristi Xtabentun Honey Anise liqueur
4 dashes
Fee Brothers Aztec chocolate bitters
1/4 ounce fresh lemon
Directions:
Add ingredients together in a mixing glass.Add ice. Stir briskly until mixing glass becomes cold. Strain over cocktail glass. Garnish with marigold petals. Serve.
La Catrina
Ingredients:
1 ½ ounces KAH Reposado tequila
½ ounce Luxardo sangue morlaco
1 ounce lavender syrup
1 ounce fresh squeezed pink grapefruit juice
1 egg white
¼ ounce liquor 43
Directions:
Starting with non alcoholic ingredients first, add them to a chilled Boston shaker then shake with NO ICE vigorously. Fill a large tumbler with ice. Pour contents of Boston shaker.  Add the KAH Reposado and Luxardo Sangue Morlaco. Shake lightly. Add a fresh or preserved edible flower over the drink for garnish.