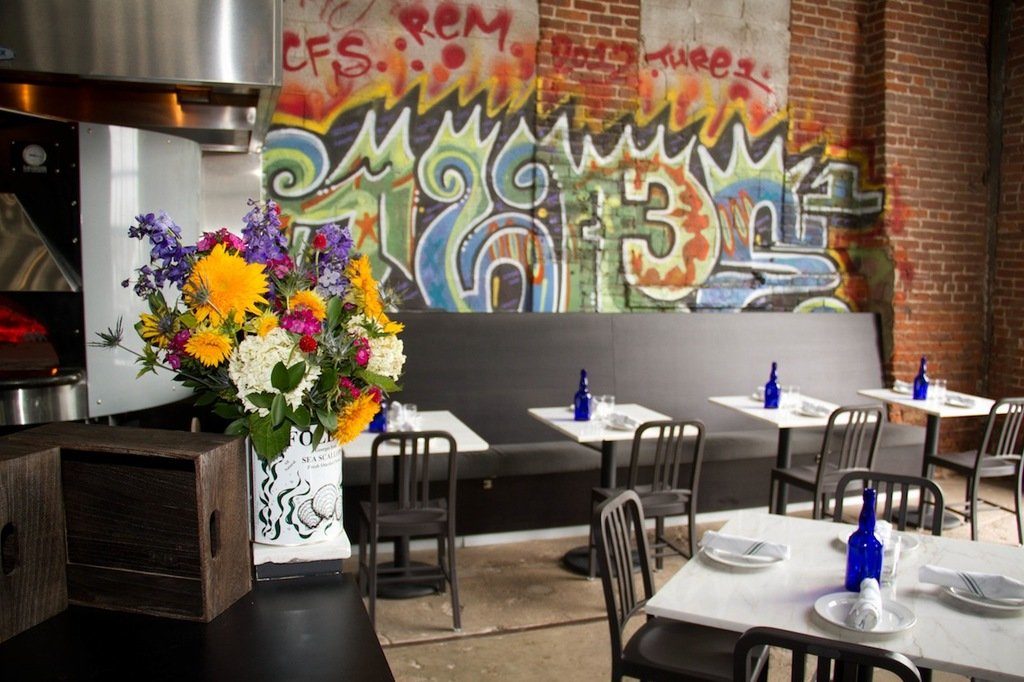 Photo by Designer Crystal Rhea
On first impression, Acorn bares no resemblance to its flagship restaurant, Oak. With its urban industrial decor and youthful attitude, Acorn is much less the direct offspring of its natural and whimsical Boulder-based mother and much more the awkward and rebellious child going through a punk phase. But that was largely their intention, even Steve Redzikowski, co-owner and chef , agreed when I noted the above observation. "That sounds about right" Steve admitted with a smirk and a shake of his head,  "but I didn't want anything to do with it at first". He went on to explain his initial trepidations of opening their second restaurant in the urban project that is The Source. He cited all the typical stress and risk that goes into such a project but he admitted what swayed him was the need to do something different. "I visit New York frequently and I feel we are always behind. But they are doing this sort of thing in Brooklyn so I thought it would be a good idea to do it here". This type of honesty was refreshing and makes the Source and Acorn feel a little less contrived. Because this 'urban market' concept, located off Brighton Blvd in an undeveloped part of RiNo, is definitely an attempt to make Denver 'cooler'. Which is okay, as long as we are all being honest.
The menu is no different at Acorn. Chef Steve explained that their dishes were also made with Denver's lagging creativity in mind. "We use ingredients where you have to know a guy to get them" pointing out the octopus' and iberico ham's presence in several plates. But despite these 'exclusive' ingredients, I felt the more impressive dishes where the ones that used more common components in uncommon ways. What stood out the most was definitely the  Scallop Crudo drizzled with brown butter. This decadent but delicate dish was unlike anything else I've had in town. And what I loved most was the fact that it shouldn't have worked. The very sweet and caramelized brown butter should have clashed with the light and delicate chilled scallops and radish, but it didn't. Instead it expanded my palette and made me think differently. That's truly when food becomes art.
But alas, when the bar is set so high everything else is going to pale in comparison, and the rest of the meal did just that. There were plenty of delicious plates though, I think I licked my plate clean when it came to the Shrimp and Grits and I enjoyed their cocktail selections (Rosie's Return smells like a french rose garden in a good way). However nothing was quite as creative and 'mind-blowing' as that Crudo. But expect me to be the first in line when their menu changes because  I am curious to see if they are ever able to top it. So far I have faith.