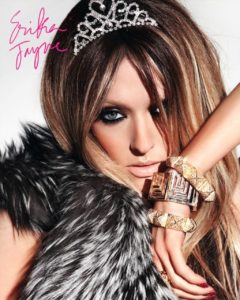 If you don't know pop diva, Erika Jayne, it's time to get yourself on the dance floor!
With the release of her 2009 album, Pretty Mess, Erika Jayne accomplished something that only Rihanna and The Pussycat Dolls were able to do before her. Namely, score six number one hits from a debut album on the Billboard Hot Dance chart: "Rollercoaster," "Stars," "Give You Everything," "Pretty Mess," "One Hot Pleasure," and "Party People (Ignite the World)."
This month, she releases her eagerly anticipated follow up: Glitz, Glamour, and Fun. And sets her sights even higher. A mile higher.
Says Jayne, "This (album) is really about having a good time. It's over-the-top, outrageous, audacious, and defiant – all of that stuff. It's Erika Jayne on steroids!"
Her first single, "Get It Tonight," pairs her with rapper/songwriting sensation, Flo Rida, known for tracks like "Good Feeling," "Wild Ones," and "Whistle." The song, about gettin' a little somethin' somethin' tonight,' has already become her most successful single to date, generating over 3.6 million views on YouTube.
'We stayin' in tonight / We turnin' out the lights / Let's get it tonight.'
"Get It Tonight – Erika Jayne (featuring Flo Rida), from the upcoming album Glitz, Glamour, and Fun (2013)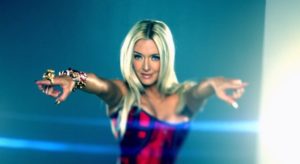 On the outside looking in, one might assume that Erika Jayne is the latest in a long line of talents, thrown into the big league, pop music scene to generate a few hit songs, make some record label fat cats a whole lot richer, and then disappear.
But that's not Erika Jayne – a hard working, independent artist in the truest sense.
Born and raised in Atlanta, Jayne grew up a student of music. Her mother was a piano instructor, teaching students out of the house. And it was there, surrounded by classical and contemporary compositions day and night, where Jayne developed an unquenchable thirst for music, from Madonna to Michael Jackson to Prince.
As a teenager, she attended North Atlanta High School for the Performing Arts where her voice matured and she fell in love with the stage and live performing. So much so, after graduating, she went straight to New York City at the age of 18, worked a variety of odd jobs, joined a few girl bands, and immersed herself in the club scene.
There, amidst the pulsating beats, the sparkling lights, and the fashionable crowds, she found her identity.
"I remember being in those clubs and there would always be that one song that would make you want to toss your drink to the side and run out and dance your heart out," she recalls. "And I realized instantly that those were the kinds of records I wanted to make."
Unlike the traditional methods for musicianship, Jayne never assembled a demo. She never approached a record label or sold her soul to get a recording contract. Instead, she worked tirelessly, focusing on her music and her image, utilizing the tools of the digital age, and assembling a crack team of Grammy winning producers, musicians (David Aude, Sheila E.), and stylists to help her build a unique brand – an intoxicating mix of hot beats, vocals, and showgirl style.
Today, whether she's out clubbing with Flo Rida, gracing the cover of Billboard magazine, or towering over Times Square, one thing is perfectly clear. Erika Jayne is taking over the world on her own terms – a world full of glitz, glamour, and a whole lot of fun!
What did you take away from performing arts high school?
Going to school in a performing arts magnet program, we performed about 3-4 shows per week. And that's where you really learned to love the stage and really hone your early performing skills. I wouldn't trade that experience for anything in the world! I think that every kid who wants to perform should have the luxury of going to a performing arts high school because it's really where you discover your early artistry, who you are, and what you want to do next.
Why New York? How were you surviving?

Why 'not' New York? That's the real question (laughs). New York City is such an awesome place with a lot of great artists doing great things at the top level. There was so much going on then and so much going on now. It was really 'the' place to go to hone your artistry.
I became a member of a couple of girl groups early on and performed at a few clubs around there. But basically, I was doing any job I could just to stay alive. A lot of extra work. I was a starving artist.
How supportive was your mother of your move?
Everybody in my family was extremely supportive because they really had no choice. They knew that this was the only thing that I wanted to do. So, they kind of gave in. It wasn't a hard sell, believe me.
What made dance-pop right for you?
I loved going out and going to clubs. I was always the fool by the DJ booth, dancing around, and acting stupid. So, I remember being in those clubs and there would always be that one song that would make you want to toss your drink to the side and run out and dance your heart out. And I realized instantly that those were the kinds of records I wanted to make. I was heavily influenced by Madonna and wanted to convey that same feeling.
You've created your own brand, your own sound, your own stage presence, style, and record label. A tremendous amount of work. How and why did you do it?
I started this project because I wanted to express myself and I wanted to say the things that I wanted to say and do the things that I wanted to do. The industry had changed so you could put your music out on the internet, on iTunes, and things like that. And it made an independent artist profile far more available than it used to be.
That was something that I took advantage of and made work. I've had a lot of help along the way – great choreographers, great stylists, great make-up artists, great hair people, etc. And I've been fortunate to be able to lean on those people to expand and grow my brand. It's been really cool.
Dance pop music has a tendency to be quite trendy. But you've been developing quite a track record over the last five-six years with countless chart topping songs.

I think dance-pop music is everything you hear on the radio right now. It's Rihanna, Chris Brown, David Guetta, will.i.am – that's dance-pop music. It's everybody.
So how do you stay relevant?
You just have to be yourself and realize that everything changes. Listen to what other people are doing and get inspired. Sometimes, you have to reach back and also get inspired by other artists. I'm pretty inspired by disco right now – Donna Summer, Giorgio Moroder, etc. I'm sure a lot of people are, but those are some of the artists that are whipping around in my head right now. You can never stop creating. You can never stop visualizing. As long as you continue to do that, you will never be stale or grow old.
We, as human beings, are constantly evolving. Never say 'I'm done' or 'I've stopped learning, loving, or growing.' You always have to be open to expansion.
What's most important to you in creating a song?
I write about what I know, what I feel, what I see, who I know, and all the experiences I've had. I share them with the producers and songwriters and whomever I'm working with at the time. Basically, you're exposing a very intimate part of yourself and seeing what you can come up with.
Are you still a Pretty Mess? How are you different from the time "Roller Coaster" came out in 2007?
(Laughs) I think that some things remain the same – who you are, your core, your likes/dislikes, etc. But I'd like to think that I'm braver and much more willing to reveal myself. I'm much more confident. I know that sounds kind of vain, but that's really the truth. As I've grown and the brand has grown and the shows have grown, I've had to step out and take more risks.
How would you describe your personal style?
I like to be all-woman, all the time. I like to be body conscience with heels and always showing off the feminine form. That's just what I like, in general. And there are some great designers that support that. I like women to be sexy, seductive, and pretty, which is what I do. I love being able to express the naughty side of myself!
Speaking of naughty, what's your 'one hot pleasure?'
You mean 'who' is my one hot pleasure? (Laughs) I'm not telling! My one hot pleasure is probably some wild fantasy that I've yet to dream of!
Erika Jayne – "One Hot Pleasure"
Everything Flo Rida touches turns to gold, it seems. Talk to me about "Get It Tonight." What was it like working with him?
Flo Rida is great. He's a great performer and a really nice guy. We had a lot of fun on the video set. He's one cool dude. I've never had a feature before and it was really great that we got to have him on the record. It really helped bring awareness to me, my brand, and to my stuff. I'm really thankful for that.
The song is cute. It's about gettin' it tonight. And I think everybody should get it tonight.
How does Glitz, Glamour, and Fun differ from Pretty Mess?
It's more of an expansion. I'm glitzy, I'm glamorous, and a lot of fun. I was actually in Miami when I thought of the concept. Pretty Mess, the album, was all about fantasy, love, and escape. And this (album) is really about having a good time. It's over-the-top, outrageous, audacious, and defiant – all of that stuff.
It's Erika Jayne on steroids!
Will you be coming to Denver with your new album?
If Denver wants me to come, I will be there. How about that?
You heard it here, Denver. What say you?
Mark Sells is a nationally recognized film/entertainment journalist and Critic-at-Large for 100.3 FM The Sound (Los Angeles). In addition to his blog on 303, you can follow The Reel Deal on YouTube, Twitter, and Facebook for the latest entertainment news, reviews, and interviews.
*Photos courtesy of Erika Jayne (2013) – erikajaynemusic.com and Ray Kay.

"Party People (Ignite the World)" – Erika Jayne, from the album Pretty Mess (2009)

"Pretty Mess" – Erika Jayne, from the album Pretty Mess (2009)

"Stars" – Erika Jane, from the album Pretty Mess (2009)