What: Brunch with a side of disco and a "silent" dancing competition
Where: The Corner Office, 1401 Curtis St, across from the Denver Center for Performing Arts
When: Sundays 7am-3pm
You've got to try: Dancing! Once a month, this Disco Brunch gets funkier as diners put on accessories like fluffy boas and big sunglasses and get their groove on for a chance to win a free brunch. The catch?  Dancers wear headphones pumping the disco beats to only them, creating a fun scene for the non-dancing brunchers too.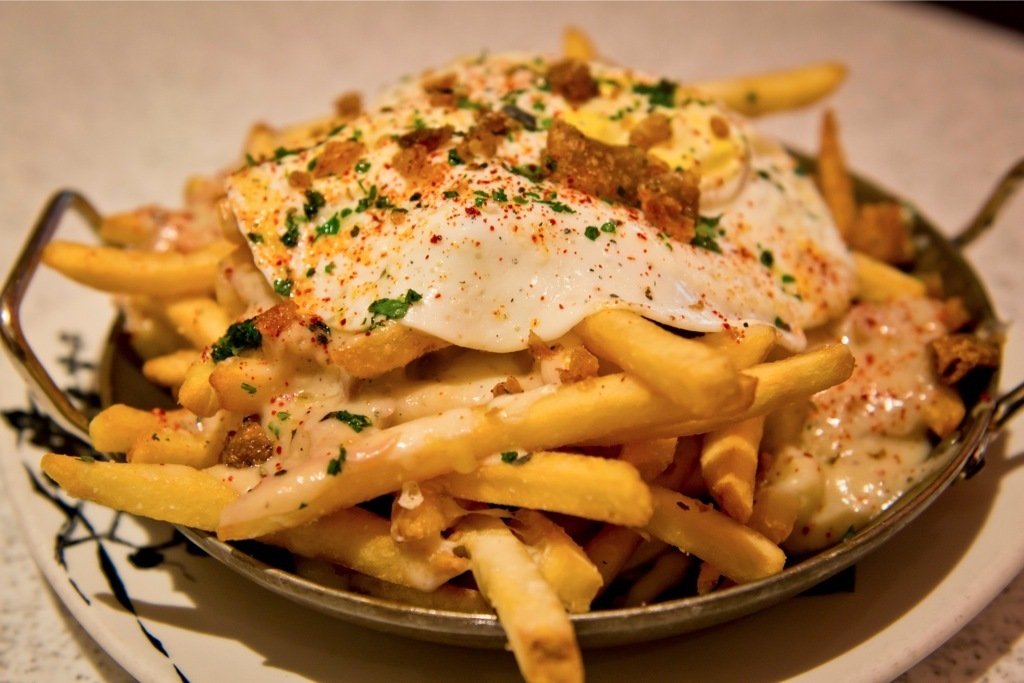 This wasn't my first disco. Well, Disco Brunch anyway. I may have missed boogying under the big disco ball in the 70's, but at The Corner Office, anyone can be transported back a few decades every Sunday. On the first Sunday of each month, though, Disco Brunch really gets boogying with a silent dancing competition. Diners who think they have some smooth moves can pop on a pair of headphones blasting tunes from a live DJ and take a spin. The dancing fun is all streamed to The Corner Office's Facebook page where the dancer with the most likes wins $50 worth of Disco Brunch eats and drinks.
I know I'd need some liquid courage before hitting the dance floor, and thankfully The Corner Office is well-stocked for loosening up diners. There's the essentials, bottomless mimosas and an impressively stocked bloody bar, of course, but Disco Brunch also features some unique cocktails that are worth taking for a spin. Coffee drinkers who like an extra kick should try the Beatnik's Bizz, a mix of espresso vodka, espresso and kahlua that's not too sweet, not too strong, and completely smooth and delicious. If you're looking for a really string kick in the bell bottoms, go for the Breakfast with Tiffany, a stiff libation made with bacon bourbon, maple syrup, orange, angostura, and soda and served with a slice of bacon on top. A fruitier option is the gin-based Bee's Knees with lemon, orange and honey serum for a slightly sweet finish.
Honey is not only delicious in drinks at The Corner Office, it's also pretty delicious when drizzled on butter and slathered on a Disco Biscuit. Big and buttery, these biscuits are a popular way to ease a hangover and the house-made tomatillo jam served alongside is a sweet and tangy addition. The Poutine is an appetizer that could be a meal in itself, so I'd recommend sharing liberally if you're still planning on getting an entrée as well. Fries are topped with melted mozzarella cheese curds and an over easy egg along with a rich duck gravy, making this version of the Canadian-favorite especially decadent.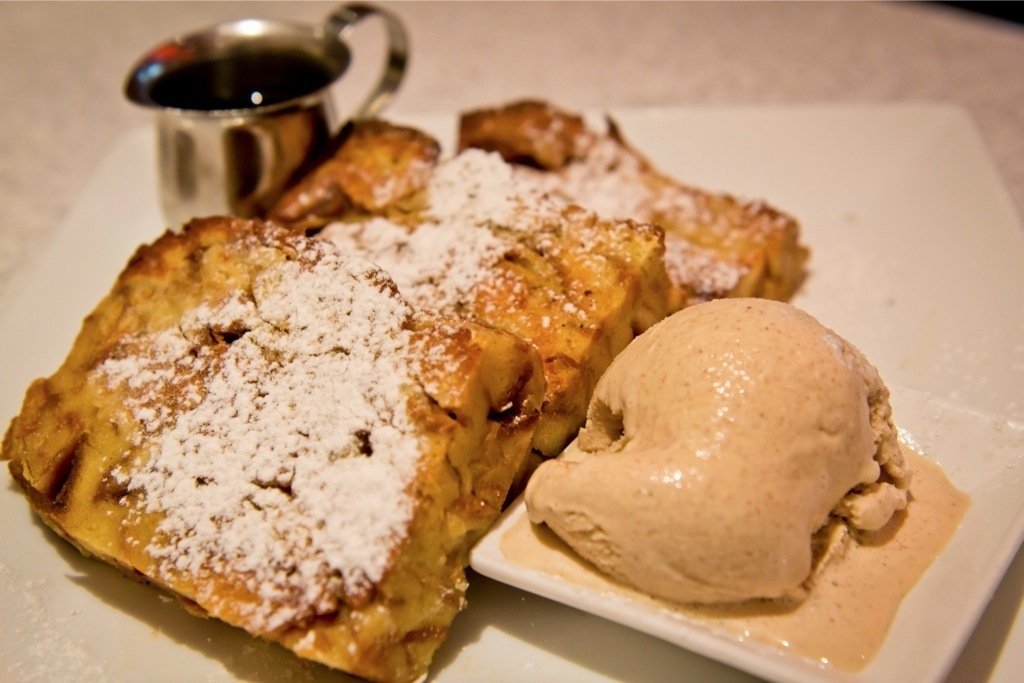 With a lot of variety on the record-shaped menu, choosing an entrée can leaving your head spinning if you're a bit on the indecisive side like I am. After some advice from the chef, I decided to indulge my sweet tooth and go for the Shag. And it was a Shag I do not regret. Bread pudding is a personal favorite of mine to begin with, so this dish of an already scrumptious apple bread pudding transformed into French toast and served with applejack syrup and cinnamon maple ice cream (ice cream! For breakfast!) left me feeling all kinds of satisfied.
If dessert for breakfast is a bit much for you, the Bee-Gee Quiche is a savory, yet still indulgent option. A light and flaky crust is filled with caramelized onions, queso fresco and spicy chorizo with fresh arugula for a refreshing bite. Silky hollandaise is served on the side, completing a dish that I ate every bite of (a rarity on my brunching exploits).
This brunch is not the place for a quiet recovery from a night out, but if you've got a group of friends who can't get enough of the dance floor, then The Corner Office is the perfect place to jive on a Sunday. If the food, music, and 70's-tastic theme isn't enough, the chance to win some free grub certainly kicks up the appeal even more, so throw on your best sparkly outfit and boogie down to Denver's only Sunday morning Disco experience.l indulgent choice. The light and flaky crust is filled with caramelized onions, queso fresco, arugula and spicy chorizo. A silky hollandaise is served on the side completing a dish that I ate every bite of (a rarity during my brunching exploits).
All photography by Adam Ripplinger