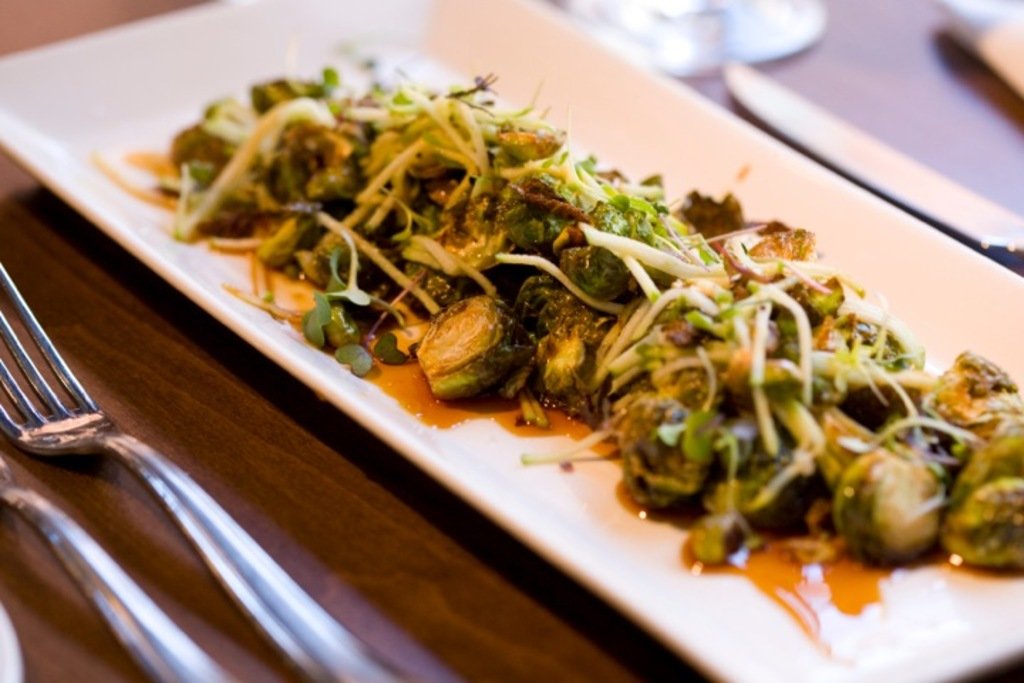 What: Panzano
Where: 909 17th Street, Denver, Colorado 80202
When: Happy Hour runs 7 days a week from 2:30-6:00 pm in the lounge
Don't Miss: Try the barrel-aged cocktails ($6) or the Pama Passion ($5). The best food items include the Brussels sprouts ($5), the mushroom stuffed crepe ($5), and the gnocchi with rabbit confit ($7).
The life of a food writer is filled with delicious food, intriguing conversations with chefs and bartenders, and many hours of writing at tea bars and coffee shops. It's a life of privilege. But every now and then, a restaurant makes my job very, very hard. How could this be, you ask? Sometimes a restaurant's food is so good that the hardest part of my job is finding fault. I have to winnow my recommendations down to a few top items. And this is hard. Not laboring-over-a-hot-stove-for-6-hours hard, but difficult nonetheless.
This week, Panzano made my job difficult. Chef Elise Wiggins heads the downtown institution that has garnered numerous local and national awards. Serving contemporary northern Italian cuisine for breakfast, lunch, and dinner, Panzano also delivers a killer happy hour seven days a week, from 2:30 pm to 6:00 pm. It's offered throughout their lounge area, which is large enough to serve as a great meeting spot for friends downtown.
Once you're settled in, the first thing you will notice is the extensive happy hour menu. Seriously, this thing is huge, with dozens of drink and food options. I recommend starting with one of their cocktails. I don't often recommend drinks that are on the sweeter side, but if lemon drops and martinis are normally your thing, try the Pama Passion ($5). Made with Absolute ruby red grapefruit, Pama pomegranate liqueur, and house-made sweet and sour, this drink goes down easy. For ginger lovers, the Ginger Kiss ($5) is also a good drink, made with Ketel One vodka, muddled orange, Canton ginger liqueur, simple syrup, and soda. If your favorite drinks are Manhattans or Negronis, ask about their barrel-aged cocktails. I must warn you, these drinks are not for the faint of heart. Panzano's crew puts pre-mixed drinks in barrels for 4-6 weeks and then pours them to a devoted following of cocktail lovers. I particularly enjoyed the barrel-aged Sicily ($6), with Maker's Mark Bourbon, Inga Amaro Siciliano, and Graham's 10 year Tawny Port. Offerings depend on availability but bourbon aficionados will likely find something to love. Secret tip: if you order the Manhattan, ask for extra cherries. They are divine.
The drinks were all great at Panzano, but their happy hour food blew me away. Let's start with the Brussels sprouts ($5). I usually prefer them with bacon, because, why not? But Chef Wiggins proves that the vegetable can stand on its own with a delicious combination of green apples, pistachios, rosemary salt, and an apple cider reduction. With our cooler weather I have decided they make the perfect fall appetizer. Another hit was the crespelle al funghi ($5), made with a blend of wild mushrooms, a cheese fondue, white truffle oil, and shaved truffles on top. You won't want to share this dish, because it is rich, decadent, and makes me salivate just thinking about it. At this point I thought that maybe I had ordered the two best things on the menu, but the hits kept coming. The gnocchi al coniglio ($7) consisted of sautéed gnocchi with rabbit confit, leeks, shallots, mushrooms, roasted tomatoes, and Gorgonzola cheese. Now, I am a bit of a gnocchi connoisseur. Too often the poor little gnocchi are hard, chewy balls that sit in your stomach for hours. But not at Panzano. Much to my delight, I bit into light pillows of wonder. If that's not enough, I also recommend ordering the piadina con crescenza ($6). This flatbread is topped with Crescenza cheese, prosciutto, white truffle oil, and a balsamic vinegar reduction. Like so many of the other happy hour menu choices, the flatbread is also on their dinner menu. That's what makes Panzano's happy hour food so appealing. Happy hour goers get the same high quality food that has been earning the restaurant awards for years. And although the stuffed ravioli ($7) was a bit underwhelming for me, everything else was elegantly prepared and flawlessly executed.
A dinner at Panzano does not come cheap. For those of us that love good food but have to live on a budget (and isn't that most of us?) happy hour is an excellent value. The aforementioned gnocchi, for example, runs $24 a plate at dinner. My suggestion? Head to Panzano for an early dinner, order 3-4 of the happy hour items, and let your taste buds run wild. With top-shelf drinks and high-end food, Panzano's happy hour is one of the happiest hours in the city.