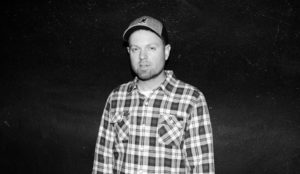 Trip-hop, instrumental hip-hop, progressive bass music, turntablism, experimental electronica – however you try to classify DJ Shadow's sound at any given moment is futile. The California-based producer/DJ has spent more than a decade experimenting with heavy underground beats, and he isn't interested in being labeled. 
"I think my sets are a lot of fun, and each set is very different," he says. "It doesn't feel like a history lesson, but it's also not ultra commercial EDM. It's progressive music that people seem to respond to, and I put a lot of effort into keeping it very current."
DJ Shadow, aka Joshua Davis, was hailed as the pioneer of trip-hop in the early 90s, but his sound and projects over the last 10 years have been versatile enough to allow him to collaborate with Cut Chemist and play alongside names like Bassnectar. Tonight, DJ Shadow brings his current "All Basses Covered" tour to Denver's Gothic Theater. Fresh from touring Japan and Europe, DJ Shadow spoke with 303 Magazine about curating his setlists, scouring for new sounds, and how he thinks social media changed the music industry.
303 Magazine: You just got back from touring Europe and Japan. How do your performances vary from city to city, and country to country?
DJ Shadow: Each of my shows are very different. More than ever, it really depends on the promoter and how the night or event is curated. I did one event in Begium with 7,000 people with artists like EPROM, Hudson Mohawke, Lunice and Machine Drum. So, the context was progressive and bass-driven music, which is what I've been playing lately. On the other end of the spectrum, I played in Japan with Death Grips, which is a band I really like. They are really progressive, but also very different from what I do. Salva is opening for me on the next round of tour dates, which works great, as well. I feel very aligned to the kind of music he makes and plays. The better a promoter understands what I do, the better context the show has, musically, and it's easier to communicate my music to the audience. 
You opened for Bassnectar at Red Rocks last May. How will your performance tonight be different? What can fans expect from your current "All Bases Covered" tour?
My set at Red Rocks was a lot of fun and was very bass-driven to align with Bassnectar's sound. Each tour has been so different. On my "Live from the Shadowsphere" tour, it was a big audio and visual project, and was my big production show. Before that, I was touring with Cut Chemist, which was four turntables each. This time around, my set is ultra contemporary, except for my own stuff, which I throw in here and there. It's very underground and progressive. Some would say aggressive, since I like hard beats and I grew up on hip-hop. It's pretty fucked up, basically [laughs].
You are known for including some of the most cutting-edge sounds in your sets. You've also own more than 60,000 vinyl records, which are stored in warehouses all across the Bay Area. How and when do you hunt for music to include in your sets?
When I'm traveling. When I'm in Russia, I meet kids and they give me beats they are working on. When I'm in Asia and South America, or when I'm in Europe, I meet new artists and producers. Also, any time I'm online. You can't really find this kind of music in stores – it doesn't live on vinyl. It's on the internet. That's where I search for it. For every hundred songs I listen to, I might like five songs that are perfect for my sets. I'll be scouring the internet for beats and will stumble upon a brand new producer who ends up living only 20 minutes away from me. I'm looking for a really specific sound to include in my set, and it seems like a lot of people in the Bay Area and Northern California have a similar aesthetic for what they feel is progressive.
You spend a lot of time creating a new set for each show. What is your process like?
By the time I'm done with my sets, they are meticulously curated. They are a body of music that works and has flow. It conveys a certain feeling and energy. You have to look for the right kind of music for a really long time, you can't just pull up Beatport's Top 10 and make your set. 
The other week, I got on the mic and told the audience, "A lot of these beats are by dudes with 200 Twitter followers." It might seem like an off-handed thing to say, but it's true. A lot of the beats I play aren't by big names. But, I like playing music by people who I really believe in who are up-and-coming. I like people who are great at programming new beats, who are creating really unique sound combinations with kicks and snares. I really like when someone creates something inventive.
Who are some new artists you are currently listening to and including in your sets?
G Jones from Santa Cruz just opened up for me in Seattle and he is doing some really interesting things. Salva, who is opening for me on my next run of tour dates is fairly well-known and makes incredible music. I play a lot of music by someone called Dear Lola – I don't even know where they are from. But, I've become a huge fan based on the work of theirs that I've been able to find. 
Shifting away from curating your live sets, what is most challenging for you about the production process?
In terms of producing music, as opposed to making a set, I've often struggled with the sonic part of music. Getting the finished product to sound like what I hear in my head can be a challenge. As a result, I often feel like I spend more time than I should trying to get my music to sound the way I want it to.
What do you consider to be the biggest moment of your career?
My time working with James Lavelle (Mo' Wax) was really important. He was such a champion of my work and really wanted to spread the word about what I was doing, especially in Europe. Without someone like him and his dedication to what I was doing, I would have never broken through. There have been a lot of people who put their own reputation on the line to be my advocate.
I tend not to like to talk about myself and hype myself up. Through the years, I've seen how important it is for someone to speak out on your behalf. I think every artist needs that. They need people to rally around what they are doing. Honestly, I think that's why I'm more comfortable talking about other people's music or sharing other artists' music. I'm not good at being like, "Get ready, my single drops next week!"
So then, how do you feel about the rise of social media in the music industry, where self-promotion is key? When you first started out, Facebook, Twitter, Hype Machine and music blogs weren't around. How has social media affected the music industry?
More than ever, if you want any kind of opportunity, you have to impress corporate interest with your online presence. The first thing a record label is going to do is look at how many Twitter followers and Facebook followers an artist has. It used to be about what an artist was selling and album reviews. Now, they want access to numbers. I've never tried to concern myself with what everyone else is doing. I want to be genuine and not hire someone to write a bunch of my tweets. I would rather be more about quality than quantity. I don't know if that is wise or not wise [laughs].
I always feel like if what I'm doing is important and worthwhile, then there will be a community of people who will do that on my behalf. Maybe that's naïve, but that's how I've always looked at it.