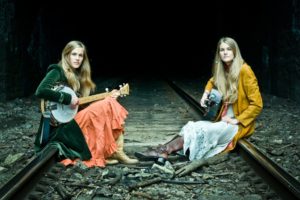 Portland, Oregon's quirky folk band, Shook Twins, is bringing their eclectic and eccentric blend of folk, roots, and pop to The Walnut Room's Walnut Street location tonight. The show starts at 8 p.m. Tickets are $12 in advance, $15 at the door.
Identical twins Laurie and Katelyn Shook are at the heart of the band. Their gorgeous twin harmonies are accompanied by a surprising mix of banjo, mandolin, fiddle, upright bass, glockenspiel, and even the occasional beatboxing by Laurie. Band members Kyle Volkman (bass), Niko Daoussis (bass, mandolin, guitar), Russ Kleiner (drums, percussion), and Anna Tivel (fiddle) round out the band's unique sound.
The band has been raising eyebrows with their experimental brand of indie folk, turning repurposed telephone microphones into instruments and erupting mid-song with original beatboxing. Ultimately, Shook Twins recalls the genius of indie giants before them – like Andrew Bird – but their execution is flawless and not contrived in the least. If the band's enthralling performance on Colorado Public Radio's OpenAir last February (below) is any indication of what their performance will be like tonight at The Walnut Room, show-goers are in for a treat.
—
Shook Twins play tonight at The Walnut Room's Walnut Street location with Poet's Row. Tickets are $15 at the door. Show starts at 8 p.m.