Highbrow/Lowbrow: A weekly update on Denver culture from deliciously fancy to wonderfully mundane
STATUS: Highbrow
WHAT:  "Whisky 101: What kind of whisk(e)y are you?" Hosted by Dabble
Is it me or is whiskey becoming the new drink au courant? Last year the Moscow Mule ruled with vodka as King. I am noticing now more than ever the rise of the "Old-Fashioned," "Manhattan," and "Side Car" at my favorite local bars, both the trendy and hole-in-the-wall. I can't say I am a fan of the stout brown liquid. To me, it tastes like rubbing alcohol smells. I am quite sure I'm getting the eye-roll from the more sophisticated pallets of our 303 readers for that blasphemy. I have partaken rarely in a shot of Jameson, my capitulation to peer pressure or to achieve a quick means to an end. However, there is something intriguing about the recent uptick in popularity.  Was I missing something? Was there more to this beverage than meets the eye? As if on cue, sent from the alcohol Gods, I received an invite to attend "Whisky 101: What kind of whisk(e)y are you?" hosted by Dabble.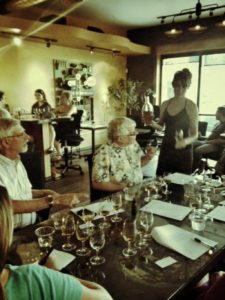 Dabble, a startup business recently introduced to the Denver market, offers unique one time classes. They furnish a charming mix of both highbrow and lowbrow experiences, including recent offerings such as "Cannabis Homegrown 101," "Tour de French Wine," and "Startup 101." There is truly something for everyone depending on your fancy or vice. I was apprehensive about my first real foray into whiskey, but I must say I was quite surprised.
The attendees of the class were an eclectic mix of hipsters, grandpas, couples and like me your average whiskey neophyte. "Whiskey 101" was taught (excellently I might add) by Mistral Wine Company sommelier and consultant Ashley Vaughters. Ashley introduced us to the world of whiskey with a detailed account of its origins and production techniques. We started our tasting journey in Scotland with Johnny Walker Black, one of the smoothest types of scotch ever made; due to its blends I'm told. We continued our Scottish tour of hooch with a very unique single malt scotch called Bruichladdich. The taste was more brutish than the Walker Black. About as subtle as a flying mallet, but due to excellent descriptors from Ashley, I truly was able to taste the honey and nutmeg notes. Who knew whiskey had any notes besides fire?
For the last part of the evening, we moved to American made whiskeys with their rich history steeped in prohibition era and by the end of the night we had tasted single malt, blended scotch, irish, rye, bourbon and tennessee straight (I had a most difficult time getting up). Although I am still no whiskey aficionado, I am able to have a deeper appreciation for the mechanics, taste and history of the beverage. I was so enthused with my new found education we decided to continue whiskey sipping at Stranahan's Distillery for yes the ever so popular "Manhattan." I sipped and smiled smugly as I imagined all of the complex notes I tasted. "Here's to good old whiskey.  May those who use it, never abuse it."
I highly recommend you Dabble in something different. Check out some of Dabble's other unique classes below.