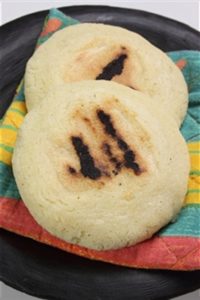 What: Quiero Arepas
Where: Find their location at @quieroarepas
When: Check them out every Sunday morning at the S Pearl St Farmers Market
Recommendation: Perico arepa and a seasonal refresco
Its easy to work up an appetite while soaking up the sun and strolling through the stands of vegetables and  crafts at the Pearl Street Farmers. Fortunately  there is the perfect way to satisfy your cravings. Start your morning with one of Denver's only Food truck that serves breakfast, Quiero Arepas.
Gluten-free never tasted so good. That's the idea behind the Venezuelan food truck Quiero Arepas, where they have popping out 100% gluten free eats since their beginning. Being sans gluten is just the beginning of what makes this food truck unique. Quiero Arepas is known for their breakfast and they don't disappoint; so after perusing the market you can grab an arepa and a spot on a bench and have a leisurely lunch. Quiero Arepas focuses on using fresh and local ingredients to ensure they produce high quality food, something us Denverite's should always champion.
My recommendation when visiting this tasty truck is the Perico arepa. The Perico is Quiero Arepa's rendition of a breakfast sandwich. After tasting this gem you're gonna kiss those McGriddles goodbye. This sandwich starts off with the classic arepa bun which is corn based bread. They slice it open to form a warm pocket where all the ingredients to get to know each other. The Perico comes stuffed with fluf
fy scrambled eggs, a healthy amount of fresh avocado, and some creamy cheese. Now depending on when you visit Quiero Arepas your Perico can have various additional toppings. Right now it gets tops with a tangy clitantro sauce that gives your tongue an acid kick.
Every good meal needs to be accompanied by a killer drink and Quiero Arepas deliver. You have to try their seasonal fruit Refrescos. True to their name, the Refresco might just be the most refreshing drink to ever pass these lips, especially during these hot summer days. The Mango Refresco makes its debut in the summer and is light and cool.
Quiero Areoas serves up over 16 arepas ranging from shredded beef and plantains to smoked salmon and capers. Anyone you bring by is sure to find something they like. Also the whopping size of the arepas is prime for sharing so feel free to buy a couple and pass them around.
Part of why Quiero Arepas is able to put out such amazing food is the Venezuelan roots of the man behind the griddle, Igor. He and his wife Beckie run the show at Quiero Arepas and wanted to bring a little taste of home to the streets of Denver. Their hard work is paying off too because Quiero Arepas was included in Forbes 101 Best Food Trucks in America list. So if you want to try a piece of the arepa on everyones mind stop by Quiero Arepas, you'll be glad you did.