The 2013 People's Fair is right around the corner and this year's exhibits are better than ever. Schomp MINI is planning one of the most unique exhibits including a test drive and a photo booth with a MINI Cooper, but they're also bringing in tattoo artist extraordinaire, Robin Munro to spray paint a MINI.
If you haven't been inked by Munro, you still might have seen his work before. He helps organize Colorado Crush—an event with a mission: "to embrace the element of graffiti as a positive medium, uniting our community on a conscious level through art, music and fun." And this isn't the first time he's painted a vehicle, either.
To prepare us for what we're about to experience this weekend at the People's Fair, 303 talked to Munro to get some insight.
303 Magazine: You said that you've painted a car before. What was that for?
Robin Munro: The last one was for Denver Street bus. I painted some graffiti and a Red Rocks background with sunset. It was a lot of fun.
303: Do you have a plan for how you're going to paint the MINI?
RM: I have a few ideas drawn out, but I'll freestyle a lot of it. The colors are going to be primarily black, grays, whites and reds…a mechanical 3D look.
303: How long will it take you to complete the entire car?
RM: It will take me around 12-16 hours.
303: Tell me a little about your day job.
RM: I'm a freelance artist with a graphic design background. I work at Old Larimer Street Tattoo, paint murals, and help organize an event called Colorado Crush. We do a block party every year and host graffiti, emcee and b-boy contest.
303: How long have you been an artist for?
RM: I have been an artist for as long as I can remember and have pretty much done it all when it comes to art. But nothing is as satisfying as the rattle can or tattoo machine.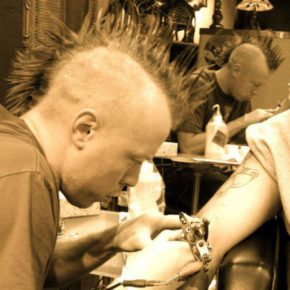 303: What's your favorite tattoo that you've done?
RM: …a sleeve that is an Egyptian and Alien concept. I have had a lot of creative freedoms with it. I can't wait to finish it.
303: Are you essentially tattooing this MINI?
RM: Well, not really. I mean, it's similar in the fact that it has rounded smooth surfaces much like the human body…
303: What is unique about your artistry?
RM: I like to try and use all my art forms to influence each other. I relay like photo-realism and freehand rendering…being able to take a photo and render it accurately just with my eyes, hands and paint.
303: Anything else you'd like to add?
RM: Please check out www.ColoradoCrush.org for murals and Old Larimer Street Tattoo for tattoos. Thanks for all the support.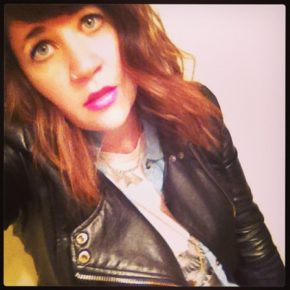 Lindsay is 303 Magazine's Managing and Lifestyle Editor. She's a California native who loves leather bags, killer heels and a bright shade of long-lasting lipstick.  She's always on the lookout for a great guy in skinny jeans, but puts her independence and writing first, traveling to some of the best hotspots in Denver and all over the world looking for a good lede.