Caroyln Barlock has taken her porcelain work using ancient techniques by her use of 22-Karat Florentine Gold and ancient Persian Luster's to yet another level of artistic creativity.  It may have old-world style yet is with a new-world flare that keeps it fresh and everlasting.
Carolyn Barlock is not an artist that just sits and waits for things to happen, she is a mover and a shaker keeping her inventive spirit flowing.  This year Carolyn Barlock joins the impressive list of 54 other local Colorado artists for the 22nd Annual Governor's Invitational Art Show and Sale that runs April 28th – June 2nd, with the Opening Gala this Saturday, April 27th, 5pm-9pm, at the Loveland Museum/Gallery, on 5th Street and Lincoln Avenue, Loveland,  CO.  http://www.governorsartshow.org.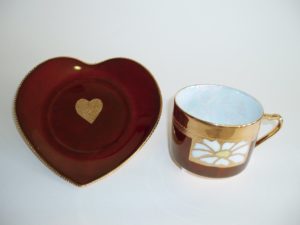 Carolyn is also joining Art for Life the 12th Annual Project Angel Heart event at Abend Gallery in Denver, May 17th, 6pm-9pm, tickets are $65.00 each, $120.00 for two.  Abend Gallery is located at 2260 E. Colfax Avenue, 303-355-0950.  An evening of fine art, with hors d'oeuvers, cocktails, dessert and wine.
Barlock's porcelain work is fresh even while keeping with centuries-old techniques.  Barlock has been able to find and develop her own style of artwork after perfecting the Chinese Ming Dynasty Enamel work to Persian Luster's and Gold by chiseling the surface of her porcelain, creating a new dimension.
"As with any piece, my greatest challenge is the chiseling. The porcelain is a uniformly think medium compared to wood or stone and the precision of my designs does not allow for anything except exactitude of line," smiles Barlock and continues "Outright breakage when chiseling a piece is disappointing. However, more devastating is a microscopic stress crack that may have resulted from the chiseling process that breaks during the piece's many fires, which can reach over sixty fires. Even after 25 years of chiseling, pieces sadly break as a result of this process."
Barlock's grandmother was her greatest influence and lit the artistic fire by introducing Barlock to her passion for beautiful things by being a caretaker of heirlooms that were passed down from generation to generation.
"My grandmother helped me to develop an appreciation for the finer aspects of life," states Barlock.
Barlock has always enjoyed making things, but it was her interest in the lasting quality of porcelain that has kept her fascinated.  With each piece she is constantly challenging herself to surpass what she has created before by pushing herself in new directions in texture, shading, symmetry and how all the elements interplay.
2013 is marking Barlock's 17th year in the juried Sculpture in the Park in Loveland, Colorado, in which she collaborated with bronze artist Jack Kreutzer.
"I am hoping to collaborate works with other artists" states Barlock "It would be especially rewarding at some point to team up with my son, Steve, who is working on nude sculptures."
Barlock has also been accepted the past couple years in Sculpture at the River Market in Little Rock, Arkansas, and won 2 Gold Medals at the 2012 International Porcelain Show in San Mateo, California.
Carolyn Barlock's work is currently showcased at Columbine Gallery, Loveland, Colorado, www.columbinensg.com, Gallery 1261 Delaware Street, Denver, Colorado, www.gallery1261.com, and Total Arts Taos, New Mexico, www.totalartsgallery.com.  Visit any of the galleries listed for more information on Carolyn Barlock, Colorado Artist.
Carolyn Barlock not only creates art, but her art resonates in your soul.  Be a collector.
Wendy L. Pitton R. is a culture writer for 303 Magazine and the owner of WENDO Productions.  WENDO Productions is an artistic production and artist representative company. WENDOProductions.com