After sitting with founder and CEO of La Ishá Natural & Organic Skincare, Sharon Gnatt Epel, I had a hard time defining her. I'd probably place her qualities somewhere in between that of Mother Theresa and Oprah: successful, humble, and genuine – although I have a feeling she might describe herself as a realist and a normal human being.  I was, at first, somewhat timid and apprehensive to meet up with the former Juilliard graduate, who was literally introduced into the concert circuit as a child prodigy at the age of three. Sharon also then went on in her graduate studies to include aromatic medicine, human physiology, essential oil therapy, and nutrition among others but, sometime throughout the interview it turned into more of a conversation. I found myself divulging personal info, amazed at the ease, cadence, and encouragement Sharon expressed about her life and what ultimately brought her to where she is now. It's no surprise with Sharon's drive and tenacity that La Ishá has experienced a wealth of success.
A locality to Denver, La-Ishá (a Hebrew word meaning "for the woman") is committed to producing all-natural skin care that cares for more than just a penny in the pocket and truly restores those of which it's used by.   Featured on ABC News, 9 News, and an expanding list of other media mentions, winner of the coveted Next Big Zing Award for The Beauty Category 2012 and Truth in Aging's Five Best of 2011 Award for best bodycare, La Ishá is dedicated to helping women 35+ look their best, and is making a statement that beauty doesn't have to cost us gals our health. La Ishá's dedication to holistic beauty is rooted in a personal experience: her son suffered 2nd degree chemical burns during a white water rafting excursion in Costa Rica and was faced with the grim possibility of permanent disfigurement. Unbeknownst to her son, runoff of illegal agricultural chemicals from neighboring farms and plantations had seeped into the water leaving invisible deposits on the water's surface from the previous night's torrential rainfall.  The burns were so extensive that traditional burn therapy would most likely leave large amounts of scar tissue, in turn causing dexterity issues. After consulting with various doctors, one of whom was an integrative physician, Sharon and her son came up with a list of pros and cons and made the unnerving decision to opt for clinical essential oil therapy instead, a gamble that more than paid off. Today, Sharon's son hasn't so much as a single residual scar, a remarkable feat considering the extent of the injuries.
Although the discovery of these powerful essential oils plays a major role in La-Ishá's restorative properties, this is still only the means to the end that created the skin care line.  Sharon's true passion lay in helping restore people which is now an integrative part of La-Ishá's philanthropic business practices.  She also needed a way to fund making a difference in women's lives and with the invention of the company's first product, Breast SOS and subsequent products, Sharon found a way to provide funding for her cause. I asked Sharon what accomplishments she was most proud of within La-Ishá's advancements, Sharon's response was her work within the breast cancer survivor community. Women who have undergone chemotherapy and radiation treatments often watch their
"skin become dull and dry…it doesn't retain moisture the way it used to…there is often hyperpigmentation, rashes, peeling, sensitivity, itchiness…the skin is often just not quite the same. And so very much by accident we found out through women who were starting to use the Breast SOS for other reasons like sun-damage, that our products were bringing their skin back to life and normalcy."
The company was also named by Denver Magazine as one of their favorite top 30 green companies in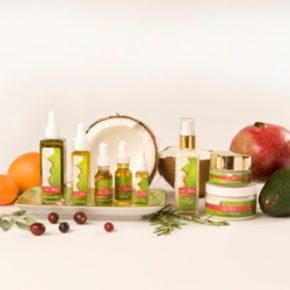 Colorado. Social responsibility is the cornerstone of La Ishá's corporate policy, they use recycled shipping materials, no-frills packaging, and containers made of glass and recyclable plastic. In order to create a smaller waste imprint on the environment, all La Ishá products come without boxes, and contain all their pertinent info on the label, no small feat considering the amount of detail required by the FDA. Sharon also has a no nonsense approach when it comes to protecting our health: she believes in full disclosure of all ingredients used in skincare and makeup products, and lists the ones used in her own skincare line on La-Ishá's website.  La-Ishá's potent essential oils come from all over the world and rank among the top 1-2% of the purest medical grade oils available.
In her spare time Sharon lectures on the myth of cosmetic safety and helps educate people about the toxic ingredients lurking in personal care and beauty products. You can be sure there are no carcinogenic or hormone disrupting substances in La Ishá, this stuff is top notch and natural- the way nature intended it.  A local company who celebrates life, health, and beauty- we should feel privileged to have businesses such as this in the 303 area code.  Sharon's favorite quote seems quite fitting for La-Ishá's present day success, from the Roman philosopher Seneca the Younger, "Good luck is what happens when preparation meets opportunity."