There's lots of media buzz surrounding Tiger Wood's blossoming relationship with alpine ski racer, Lindsey Vonn. While she's blonde and buxom, not unlike Tiger's type, her career as a professional sports player is especially intriguing. Could Tiger's wandering eye been based less on his sexual appetite and more about trying to find someone with shared interests and commonalities? Vonn can relate to Tiger's training, practices and obsession with his sport while his ex, Swedish model and former nanny Elin Nordegren likely couldn't truly understand the devotion and discipline required for being a top-performing athlete.
Similarly, Andre Agassi was married to gorgeous actress and supermodel Brooke Shields but ultimately ended up falling and staying in love with renowned fellow tennis champ Steffi Graf who was far less comely.
Musicians, actresses, models and athletes "cross-date" all the time but perhaps those with staying power genuinely understand their partners passions. Psychology Today published an article on the "7 Keys to Long-Term Relationship Success" and among such factors as trust, communication, financial values was "Shared Activities" or interactions that build a positive memory bank of shared experiences. An expert in the article explained that when partners spend time together they can build unique ways of relating that transform the relationship and deepen the bond.
And what of Tiger's ex-wife–did she like golf or try and play the sport? Nordegren was never photographed playing with Tiger or golfing herself. She was only  photographed as a spectator at event.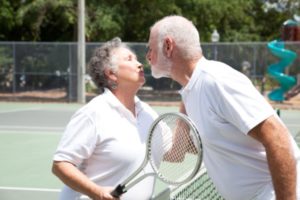 Another key discussed by the site www.userniche.com is equity, wherein partners have to feel like they're in a "balanced" relationship. One of the world's greatest golfers might have found over time that the relationship felt shallow, and that Nordegren's attractiveness wasn't enough to counter all his hard-earned success.