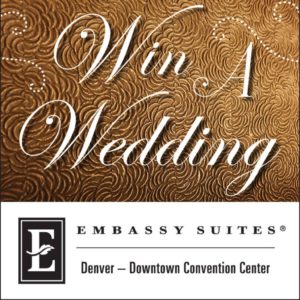 Every girl dreams of having a fairytale wedding: The long white gown, fresh flowers and a dazzling venue. You splurge on your wedding because it is said to be one of the best days of your life. But with a great big wedding, also comes a great big price tag. Imagine being able to have your dream wedding come true, for no cost at all.
Thanks to The Embassy Suites Denver-Downtown your dream may become a reality. This January you have the chance to duke it out with other husband and bride-to-be's for the chance to win an all-inclusive $30,000 wedding.
The Embassy Suites Denver-Downtown will be giving away a complete wedding with all of the amenities through the Win a Wedding contest.
"We are so excited to help one special couple start their life together with an amazing wedding," Ed Blair, Embassy Suites General Manager said. "We were blown away at the response that we got from so many great vendor partners; everyone is really excited to be a part of this."
The Embassy Suites Denver-Downtown will host this event on May 18, 2013 for a party of 100 people. The lucky couple will win a complete wedding including invitations, the wedding dress, flowers, tuxedo rental, the wedding cake, entertainment and more!
In order to win this wedding giveaway, all couples must register at www.denverwinawedding.com by providing a link to their video or submit a paragraph telling The Embassy Suites why they deserve to win a complete downtown Denver wedding.
A panel of judges will then choose three finalist couples. Facebook fans will then vote on their favorite couple and the winners will be revealed on Valentine's Day. The hotel's Facebook fans will also vote on all of the details that go into the big day.
So if you're looking to have a dream wedding and you're not willing to pay an arm and a leg for it, then register for The Embassy Suites wedding giveaway. But act quickly because the deadline to enter is Monday, January 14. Who knows, you may be the next bride and groom to walk down the aisle at the Embassy Suites.