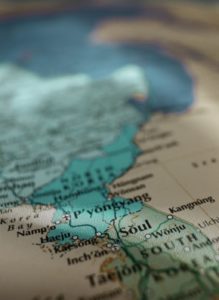 If all had gone right I'd be packing my bags as we speak. However as many of you know, plans do not always work out. Rather I'll be spending the majority of my 2013 in America rather than Seoul, South Korea. No matter, while I patiently wait my departure I've decided to explore Denver's Korea. Luckily during the last six months I have been collecting information about this part of the world because I believed I was moving there. But alas no such luck was in my future and instead I will share my information with you.  So if you want to get to know a little bit more about South Korea here is how to experience here in Denver.
Eat: If you haven't had Korean barbeque yet then you're missing out.  This type of Korean cuisine is the most popular here in the U.S. and for good reason. I have scoped out a couple of local places that have gotten considerable buzz and I've picked two that I believe are the best.
Seoul BBQ: This modern eatery might not seem like it is as "authentic" as the restaurant's with more traditional décor but the crowd will tell you differently. Because it is always a good sign when an ethnic restaurant is packed on a weekday night and filled with people from that population. Seoul BBQ always seems to fit this description even to the point where you can barely find a parking spot. However the plentiful private dining rooms make this place comfortable and not overcrowded. Make sure that you are able to get a barbecue table with a vent though because without it you won't get the full experience. The first thing you need to order is the traditional Korean drink, Soju a rice hard-liquor like vodka. However Soju is considerably tastier than vodka and a little bit more like sake due to its higher sugar content. I personally enjoyed Chamisul Fresh because it has a slight berry after taste. Next when you order make sure to get the short rib barbecue. This was the best by far but we also enjoyed the pork belly but it has a high fat content so if you're looking to watch your weight choose a leaner meat. The next thing to arrive to your table will be 14 small side dishes that accompany the barbecue and are comparable to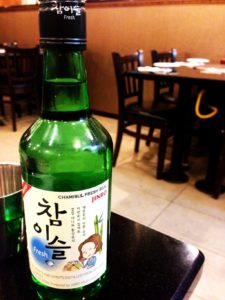 Spanish tapas. However they are very far from your traditional European tapas. Rather these sides consist of three kinds of Kimchi (a fermented vegetable such as radish, cucumber or cabbage), fried shrimp tails, mung bean jello, fried cod fish etc. All of them are fairly good, personally I liked all the kimchi's the best. They will also provide rice and lettuce so you can make a sort of spring roll once your meats have been properly cooked. Make sure to use your metal chopsticks and not your fork because metal chopsticks are traditional utensils and unique to South Korea. Finish off your meal with rice punch, a fermented rice and sugar drink that is sweet and taste slightly like rice pudding and cornbread…weird, yes but also delicious.  Located at 2080 South Havana Street, Aurora
Shin Sa Dong: For a more traditional Korea feel try Shin Sa Dong. This place also has a stylish and clean interior and is perfect for dinner parties or a weekday meal. Try their different noodle bowls especially naengmyun (cold buckwheat noodles) as well as their BBQ. Located at 10293 E Iliff Ave, Denver just a block from Seoul BBQ.
Do: H-Mart: H-mart is the quintessential Asian market and is probably the most popular in Denver. It has a huge selection of goods and you're likely to find anything and everything you need here when it comes to ethnic foods. It's highly unlikely you'll be able to leave this store without buying at least five different rice candies or something freeze dried.  It is also really close to the two Korean restaurant's I listed above so if you are feeling inspired you can pick up something for home, making ingredients for kimchi….? Located at 2751 S Parker Rd Aurora, CO
Make: Kimchi. Anyone I know that has either visited, lived or is from Korea always talks of Kimchi this wonderful fermented vegetable. If you are going to make anything Korean, Kimchi is probably were you should start. However if you have not pickled anything before this will be quite the experience. Here is a quick and easy cucumber kimchi recipe courtesy of Food&Wine.com and Chef David Chang:
1            pound Kirby cucumbers, halved lengthwise and cut into 1/2-inch spears
1 1/2     teaspoons salt
2 1/2     tablespoons sugar
1 1/2     tablespoons Korean red chile flakes or 2 teaspoons crushed red pepper
1 1/2     tablespoons thinly sliced strips of peeled fresh ginger
4             garlic cloves, thinly sliced
1             tablespoon Asian fish sauce
1             tablespoon soy sauce
1/2         teaspoon dried shrimp (optional), minced
1             small carrot and 1 scallion, thinly sliced into 2-inch matchsticks
1/4         small onion, thinly sliced
In a colander, toss the cucumbers with 1/4 teaspoon of the salt and 1/2 tablespoon of the sugar and let stand for 10 minutes.
In a bowl, mix the remaining 1 1/4 teaspoons of salt and 2 tablespoons of sugar with the chile flakes, ginger, garlic, fish sauce, soy sauce and dried shrimp. Toss in the carrot, scallion, onion and cucumbers. Arrange the cucumbers in a shallow dish, spooning the shredded vegetables and liquid on top. Let stand for 15 minutes, turning once or twice, then serve.