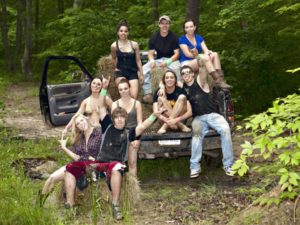 Despite copious amounts of national news pre-coverage and an even more focused attempt by West Virginia State Senator, Joe Manchin, to prevent MTV from airing its newest reality series, the network debuted Buckwild last night, and I tuned in. I'm assuming the entire state of West Virginia and the rest of the country who have always wondered what life is actually like in the Mountain State tuned in as well, at least that's the impression I got when I searched #Buckwild on Twitter, and was pleasantly entertained by some colorful commentary last night.
The anticipation of the show created some interesting conversations in my Facebook feed as of late including outrage that the show, which follows a group of young adults  in the small town of Sissonville, WV, was misrepresenting the state and its residents as a whole. While I won't disagree that it misrepresents everyone in WV, it behooves me to mention that the representation does, in fact, quite accurately depict activities and accents with which (eye roll and a head shaking) I am very familiar.
I admit, and my friends and family will attest, I was that girl who couldn't wait to leave WV, to explore our country and abroad, and I did. Following high school, I attended college in North Carolina and Ohio, traveled the world and placed roots in Pittsburgh with my husband for three years before making the voyage west to Denver. In fact, when asked where I'm from, I more often than not claim Pittsburgh (to my credit, I was born there). I claim Pittsburgh because the times when I claim WV, I usually face people who think it's part of Virginia (despite their acknowledgement of The Civil War), or think that West Virginians marry their cousins, don't wear shoes or own a toothbrush, and I simply can't be bothered with those people. I claim Pittsburgh to spare them the sound of my scream proclaiming, "I'm not a hillbilly! I'm not a hillbilly! We're not all like that!" And, I'm not like that, most West Virginians aren't like that. But some are.
Listen up, Joe Manchin, some West Virginians are like that, just as some New Jersey residents are exactly like the characters depicted in Jersey Shore. The bottom line is, no matter where you go, there will always be people that represent stereotypes of that particular place. After all, there's truth to every stereotype in some way.
So, to my Mountaineer friends, I pose the question, why aren't you tuning in? Why the protest? Why the outrage? For a state and a people that have so much pride, shouldn't you claim even the parts that aren't exactly like you? Don't pretend you don't know people like the characters on Buckwild, because you do. I know people like that and they are quite entertaining and outrageous. They are the people that I went muddin' with as a teenager. They're the same people who shared their instructions with me about how to make a potato cannon (yes, I had one, and I'm pretty sure my dad still has it in his basement). They do exist, don't be ashamed. Some of you are like that even though you don't think you are, and like Seinfeld said, "Not that there's anything wrong with that." The argument that the series is furthering stereotypes makes me yawn. Don't be so touchy. Be proud of who you are, and if you aren't like the characters on Buckwild, then you aren't … but some are.
While I don't return to WV often to spend time in the "hollers," I greatly look forward to
tuning in every week to reminisce about spending my childhood in a state where we had nothing but beautiful wide open spaces to roam and room to get in trouble. I'll tune in every week from my couch in the great city of Denver, surrounded by culture, fashion, cowboys, world-class athletes, and plenty of people getting high. That's Denver's stereotype, right? Everyone isn't getting high all the time, but some are.
Episode 1.
303 Lifestyle Editor, Lindsay Maynard has questions for Editor in Chief, Jenny McGlincy. 
LM: Is that girl, Anna, a man, or just an amazon woman? And how many guys does it take to carry her drunk ass?
JM: While I can't verify her sexual orientation as I am not privy to her medical records, I would say that she is, in fact, a woman. Farm work is hard, they breed strong women in WV. As far as the number of guys it takes to carry her drunk ass, I'd say one guy per shot of moonshine consumed.
LM: What's a puppy baby daddy?
JM: Think of the last guy that woke up in your bed. He could be your puppy baby daddy.
LM: Where can I ride in a tractor shovel like Shain did?
JM: I'm willing to bet we can find someone at the upcoming Western Stock Show who could make this happen.
LM: Is Snuggles the dog pregnant or what?
JM: Poor dog.
LM: Where can I buy a tater gun?
JM: You don't buy tater guns. You make them, and they are very dangerous.
LM: How/why does everyone get there own house…errr trailer?
JM: Because the cost of living is a hell of a lot cheaper in WV than it is in Denver.
LM: Can you really get evicted after one noise complaint? Or it is that just when you live next door to Willy Wonka?
JM: I don't know, but her hair was all sorts of amazing. 
LM: Have you ever swam in a dump truck swimming pool? I sure haven't. Next 303 pool party??
JM: No, but I've seen people turn the beds of their trucks in to pools while tailgating at a WVU Mountaineers game. 
LM: I've never seen flip flops worn in a club, but I guess it makes sense when the club is called Rehab.
JM: You've never seen flip flops worn in a club?  Oh god, I really am from WV.