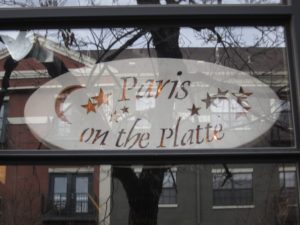 If you are looking for a chic cafe to spend your morning sipping on Bloody's while admiring some cool artwork, look no further than Paris on the Platte.  Located in LoDo, this cafe is currently holding an art exhibition titled "The Bohemian Spirit," until December 31st.  The exhibit celebrates what it means to be a bohemian: someone who sets their own rules, regardless of what society says.  For bohemian artists, the possibilities are endless.
The artists were chosen in a contest by juror Faye Maguire, who just so happens to be the owner of Paris on the Platte.  I was lucky enough to sit down with Faye and chat about the artwork, which adorns the brick walls of the cafe.
Out of the 23 artists who entered the contest, 20 were chosen.  The exhibit includes everything from acrylics, oils, photos to colored pencil.
What particularly caught my eye were three pieces by Victoria Eubanks made with encaustic painting.  This process uses hot wax on wood, with color added later.  The coolest thing about this style is since the painting is made of wax, it can be altered anytime by melting the wax.
In a world where going outside the box can be very risky, it is fascinating to see what happens when artists ignore traditional conventions, creating one of a kind pieces.
Presented by Art D'Elke, a partnership of artist Elke McGuire and marketing specialist Denise Robert, the exhibition successfully captures the essence of art without rules.  All pieces are framed and ready to be purchased (not to mention under $500).
On Thursday, December 13th, a reception will be held featuring all the artists from 5 to 7pm.  Make sure to come and enjoy the avant-gard atmosphere while viewing some fabulous artwork.  Everyone, including bohemians, are welcome.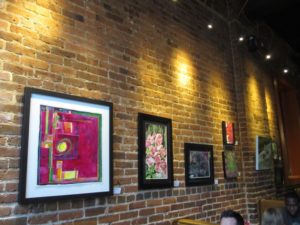 Paris on the Platte
1553 Platte Street
Denver, CO 80203