Are your tastebuds on the wild side? Do the thoughts of wild boar, bison, and elk frighten you, or entice you? Kachina Southwestern Grill, the newest restaurant creation of the Sage Restaurant group, just opened in the Westin Westminster. When you enter the hotel, you'll notice an inviting adobe-style wall set aglow with rows of candles. You don't need to be brave to pass through the imposing wood and iron door, though. You just need to prepare yourself for a dream-like experience in Southwestern fine dining and atmosphere.
The menu is stunning in its rusticity and complexity. Prepare to spend 15 minutes studying all of the menu options and hard-to-pronounce ingredients such as huitlacoche, epazote, and escabeche. Don't fret, though, the menu includes a convenient dictionary for those of us who go, "huh?"
Chef Patrick Hartnett's creative menu ranges from elegant (Crispy Quail Eggs) to fun (Blue Corn Dog) to the daring (Chipotle Shrimp & Waffles). Corn, of the blue and yellow varieties, dominates the menu. I've heard of Caesar Salad being prepared at your table, but Kachina takes that concept to a new level with their traveling grilled corn cart. A lovely young lady will grill ears of corn for you, tableside, and finish them off with a variety of toppings such as cilantro, cotija cheese and an ancho chili powder. I didn't want to mess my fingers so they politely shaved the kernals off for me. Then I regretted it as I felt I missed half of the experience. Don't be a wuss like me — go for it and get your fingers, and cheeks, dirty.
We sampled almost every category of the menu.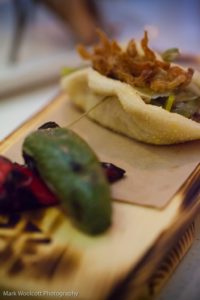 Starter
"Texas Boar Croquette" – far from boring and accompanied with an ancho BBQ and ranch slaw.
Soup
"The New Mexican Green Chile" – included fine ground pork floating in a thickened veal and pork broth flavored with dark beer and accompanied by a flour tortilla for dipping
Navajo Tacos
"The Mojave" – (see photo) drippily moist duck confit, pickled cactus, chipotle agave, and manchego cheese were mounded atop a deep-fried and puffed-up tortilla. (This is NOT a low-cal option.)
For the Table
"Blue Corn Dog" – the batter wasn't actually blue, and I was a little disappointed by that, but the sweet pinky-sized sausages and the polenta fries made up for it. Despite knowing the 'fries' were made of polenta, the soft nubby texture was still a surprise.
Main Dish
"Chipotle Shrimp & Waffles" – (see photo with the recipe below) The 'blue' waffle was hiding a soft and fluffly greenish interior so colored because of the abundance of jalapenos, whose heat the Chef said is "subdued by the addition of sugar". Five perfectly grilled shrimp, smothered in a spicy chipotle butter and a grilled corn salsa, lay innocently next to the waffle.
Dessert
"Chocolate Beignets" – the best I've had since I was in New Orleans.
"Ice Cream Sampler" – (see photo) Huckleberry, Lavender, and Fresno Chili Sorbet (sweet going in and hot going down)
Drinks
"Blackberry Singing in the Dead of Night" – Leopold's Blackberry Liqueur, red wine, mango puree, and Sprite
"Mole Fashioned" – Knob Creek, house-made mole maple syrup, Aztec chocolate bitters, angostura bitters, lemon, and marasca cherry.
Thank you to the chef for sharing his recipe for the Blue Corn Waffle and Chipotle Shrimp.
RECIPE BY:                               Chef Patrick Hartnett, Kachina Southwestern Grill
PHOTOS BY:                             Mark Woolcott Photography
STORY BY:                                Patricia Bainter, ThePatricianPalette.com
LOCATION
Kachina Southwestern Grill
10600 Westminster Blvd,
Westminster, CO, 80020
PHONE
303.410.5813
WEB SITE
www.kachinagrill.com
Blue Corn Waffle with Chipotle Shrimp
Chef Patrick Hartnett
Serves 4-6
(slightly edited for non chefs by TPP)
Blue Corn Waffle
2 cups blue corn meal
1 cup all purpose flour
4 ounces whole butter, melted
20 ounces whole milk
4 eggs
2 Tbs. baking powder
7 jalapenos, diced and seeded
1 bunch cilantro, washed of all sand, and chopped
Combine the dry and the wet ingredients. Mix. Stir in the jalapenos and cilantro. Season with salt.
Preheat waffle iron. Coat the surface with vegetable cooking spray.
Pour 4 ounces of batter on iron and cook according to manufacturer instructions.
Sautéed Shrimp
25 Shrimp, peeled and deveined (Chef recommends Gulf White Shrimp)
¼ cup vegetable oil
2 Tbs. salt
3 tsp. crushed red pepper
Zest of five limes
8 oz Chipotle Butter
½ cup white wine
Mix first five ingredients together and marinate for up to 4 hours refrigerated.
Drain the shrimp but keep them coated in some oil.
In a sauté pan over medium heat, cook the shrimp on each side until golden brown about one minute per side.
Add ½ cup of corn salsa to the pan and allow the salsa to warm not cook.
To finish, add the chipotle butter and white wine to pain. Let this simmer, while moving the pan and swirling to let the butter dissolve in to a sauce.
Corn Salsa
2 ears of sweet corn
1 small poblano pepper, diced small
2 Tbs. yellow onion, diced small
3 red peppers, diced small
Zest of one lime
2 Tbs. cilantro, chopped
1 Tbs. ground coriander
1 Tbs. olive oil
Sauté all ingredients over medium heat in a large skillet (adding color to the corn adds flavor). Season with salt and black pepper.
Chipotle Butter
1 ounce chipotle in adobo, chopped
Zest of one lime
½ Tbs. lime juice
1 pound butter, softened
5 ounces roasted red peppers, well chopped
½ Tbs. garlic, chopped
2 Tbs. shallot, chopped
¼ cup white wine
1 jalapeno, chopped
½ Tbs. smoked salt
½ Tbs. chipotle powder
1/3 cup heavy cream
In a food processor, puree the roasted red peppers, zest, jalapeno, shallots, garlic, chipotles, wine, and lemon juice.
Add the butter to the bowl and incorporate. Slowly pour in the cream until all is completely combined. Season with smoked salt and chipotle powder.
To Plate
Place a waffle on the place and pour five shrimp and plenty of sauce with the shrimp to soak the waffle.
Patricia Bainter is a blogger and writer for 303magazine. She trained at Le Cordon Bleu London and shares her culinary musings and recipes at her own website ThePatricianPalette.com. Photos by Mark Woolcott Photography.